Weddings
Give Me S'more
Chocolaty, gooey, melty and at your wedding? The s'more has finally hit the wedding scene.
By Ettie Berneking Photos by Kevin O'Riley
Dec 2012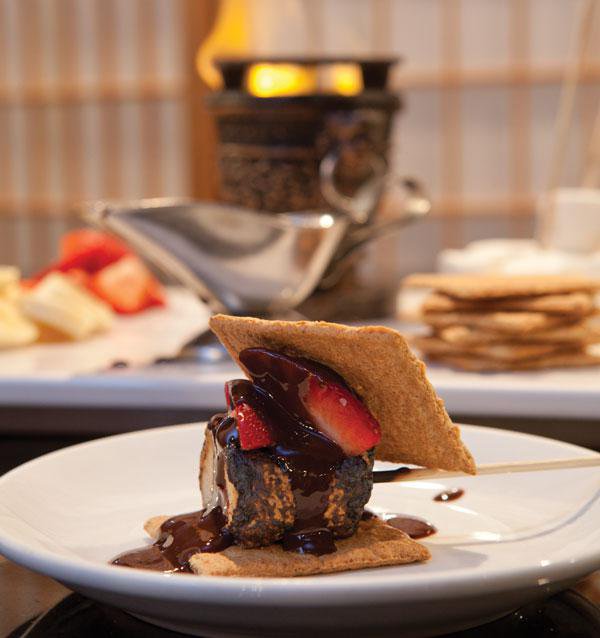 MELTY DELIGHTS:  Ocean Zen created this custom s'mores bar perfect for any wedding reception. 
The campfire favorite, the s'more, has gotten a little classier since its arrival on the wedding scene. And one of the biggest perks of this latest food trend: versatility! Whether these pillowy morsels are served on china plates or paper napkins, they're sure to be a crowd pleaser. Megan Matrone and Becca Murdaugh at Social Graces share tips for hosting a s'mores bar. 
Basic ingredients and necessities: graham crackers, chocolate, marshmallows, roasting sticks and fire. If you want to bring in some local flare, use Askinosie Chocolate and marshmallows from Elle's Patisserie. 
Creative twists: There are many inventive set-ups, like s'mores in a jar, which uses graham cracker crumbs, chocolate pudding and marshmallows. 
What could this replace at the reception? This would make for a fun groom's cake. Another way to highlight the treat is to have a smaller cake for the bride and groom and serve the s'mores bar for the guests.
Tips from the experts: Go for a rustic look with fire pits, wooden skewers and wooden serving plates. Or add a modern feel with stainless steel skewers, white or glass serving plates and rock fire pits or candlelight.