Weddings
The Dish on Dining
Whether you're planning a formal sit-down dinner or hosting an outdoor picnic reception, these 417-land dining experts have the dish on each option.
By Ettie Berneking Photos by Kevin O'Riley
Dec 2012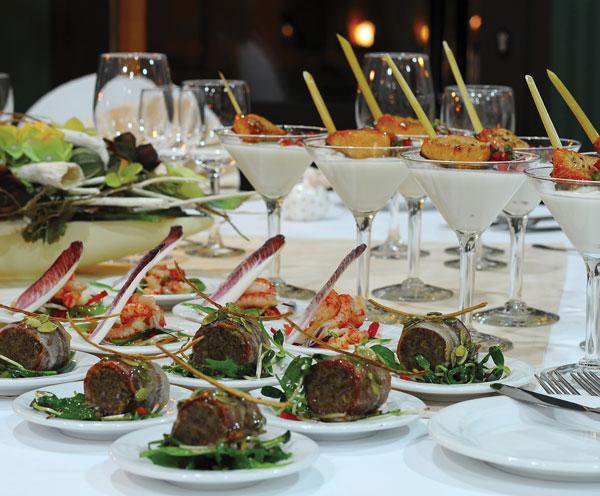 A Sit-Down Dinner
Ryan Tiller with Dining By Design Gourmet, Inc. 
Ideal For: Higher budgets. This dining option offers a more classic style and upscale setting.
Dinner Details: Multiple entrée options, a salad, bread, two sides and beverage service. Servers are included. 
Advice: It is just as obtrusive to have too many servers hovering as it is detrimental to have too few servers. A safe bet is always having one server for every 12 to 14 guests. 
Price Point: Minimum of $18.95 per person. 
Cocktails

and Appetizers

Laura Stewart with Party Works Catering

Ideal For: Brides who want something more casual and want guests to be able to mingle. 

Dinner Details: Appetizers can offer a wide variety of food and make it easier to accommodate vegetarian and vegan guests. 

Price Point: Can be done fairly inexpensively, $8-10 per person as a minimum.

Advice: Choose a minimum of six menu options. This is a menu you should have fun with, and use your imagination. 

 
Buffet
Mary Douglas with Bringing it Together Events and Patty Wingo with Simply Delicious Catering 
Ideal For: A bride who wants a meal that's less formal. The buffet is a more social option. Guests can walk around and mingle.
Dinner Details: Brides typically choose two meats, a salad, a starch, a vegetable and rolls. 
Price Point: Starts at $15 per person.
Advice: If brides are worried about guests waiting in line, they can have salads plated at the tables, so guests can snack on something while they wait. 
Casual Barbecue
Jill Baron with Infused Catering
Ideal For: Outdoor weddings. A barbecue adds a more relaxed atmosphere and isn't as formal. Smoked meats offer a good home-cooking aroma, and barbecue makes people feel full. 
Dinner Details: Smoked pork and smoked brisket with two sides allows you to cater to either the country style or something a little fancier. Don't forget bread and butter.  
Price Point: Starts at $10 per person.
Advice: Knowing your guest count is important. Sample your caterer's work, and ask them about serving sizes. As far as barbecue goes, make sure you have plenty of sauce. Some brides offer several different sauces on their buffets.  
Food Stations
Kim McDonald with Avanzare Catering 
Ideal For: More social atmospheres. People are able to mingle as they move around the stations and fill their plates. This concept works great with a venue filled with high-top tables. 
Dinner Details:  Brides can choose anything they want, but heavy appetizers such as stuffed ravioli, Italian meats and cheeses and bruschetta work best. Depending on the price point, food stations can be used for both casual and elegant affairs.
Price Point:  Averages $15 a person 
Advice: It's best to always have a server. You don't want to worry about keeping the food area clean, and it's a small price to pay for peace of mind. 
Reception Trend
"The biggest trend I've seen is that things have gone a lot more casual. In years past, everyone wanted the formal dinner. I think brides are a lot more conscious of people wanting to interact." —Laura Stewart with Party Works Catering