Weddings
Bite-Size Sweets
When it's time to get your sugar fix at the reception, 417-landers are moving away from huge cake slices and shrinking their plates for more bite-sized desserts. We rounded up some of the biggest hits in mini dessert bars, and these tiny tastes will still
By Rose Marthis | Photographed by Brandon Alms
Dec 2015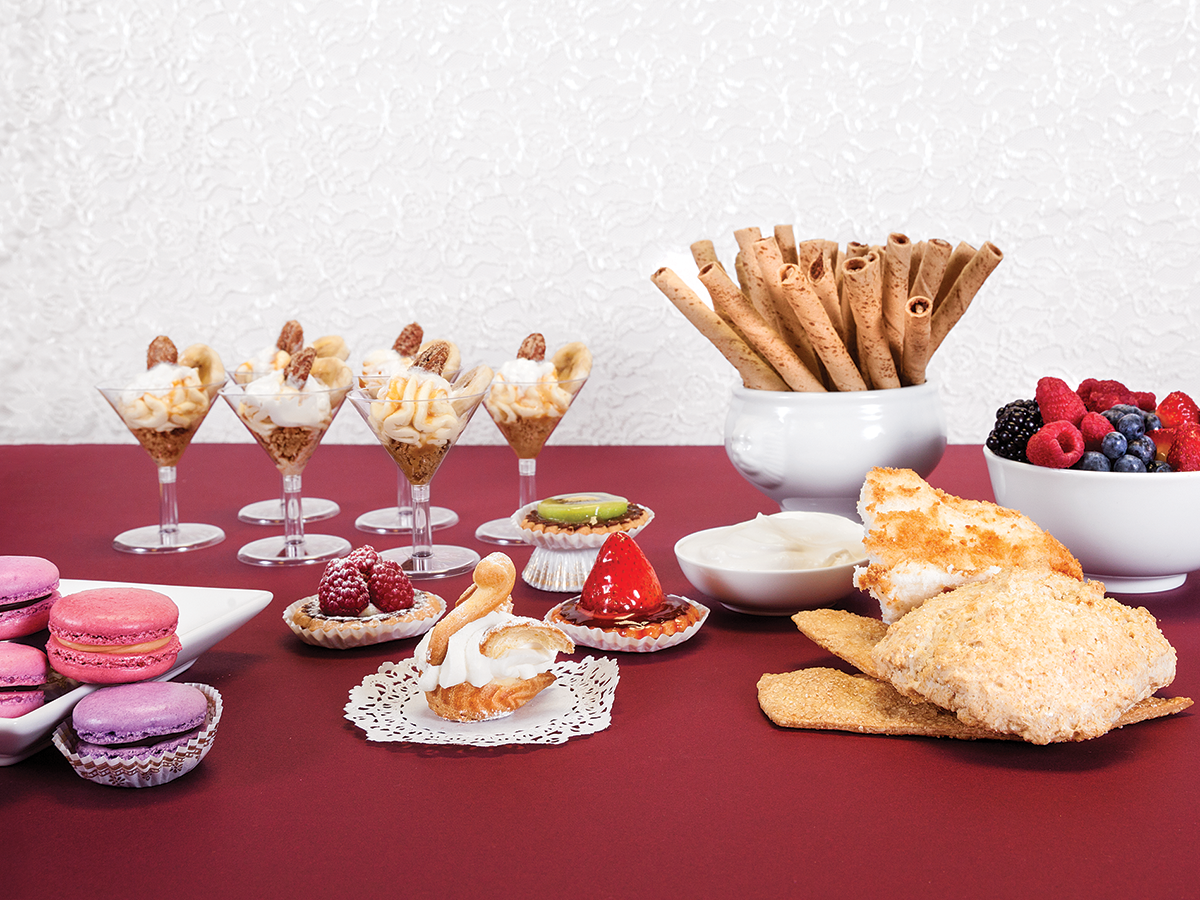 Bananas Foster Shots

From: Simply Delicious Catering 
Love-Worthy: Crunchy granola crumble, banana custard, caramel drizzle, whipped cream, banana slices and candied pecans are layered in a mini martini glass to make this light and creamy dessert. 
 
Macarons 
From: Elle's Patisserie 
Love-worthy: Macarons are the traditional French meringue cookies that are naturally gluten-free. These poppable desserts can be filled with creamy chocolate ganache or your favorite fruity jelly. 


Fruit Tarts
From: Aviary
Love-worthy: Perfect little pies in bite-sized pieces, these fruit tarts are sure to please a crowd. Shortbread crust is topped with melted chocolate and pastry cream, then piled high with your favorite fruits. 


Berry Shortcake Bar 
From: The Traveling Chef
Love-worthy base: Treat your guests to a build-your-own cake bar that starts with soft angel food cake, biscuit-like shortcakes or sugared pie crust.
 
---


Eat your cake, too 
"Typically, when doing a dessert station in lieu of wedding cake, we will make the bride and groom a small cake for them to be able to cut and feed each other for the obligatory photo."—Patty Wingo with Simply Delicious Catering 
Customizable confections
"The macarons have colors and flavors that match your theme. Present them in a tree to add a variety of colors, height and depth to your dessert table."—Elle Feldman with Elle's Patisserie 
Timing is everything
"I think the hardest part about dessert at weddings is that it's usually last. People tend to leave the wedding, or they're partying and not eating. Use truffles or macarons at the table as favors, or maybe have the dessert bar with the cocktail hour as an alternative to appetizers. You could also make sure you serve it right after the cake or alongside a buffet style meal."—Feldman 
Switch it up
"Variety is key in dessert bars. Vary the colors and textures to get something that looks great and appeals to everyone's tastes."—Wingo
Be creative
"I like to do expected things unexpectedly. Like, who ever thought to eat bananas foster shots out of a little martini glass? It's important to have fun with it."—Wingo 
Feed the crowd
"I generally suggest that the couple order three pieces per person when doing mini desserts. It offers an opportunity to taste several flavors."—Heather McGuigan with Aviary
Add height
"[Mini desserts] are best displayed on a tiered stand of some kind."—McGuigan
---

Dessert Bar Recipes
The Aviary shares their recipe for a delicious bite-sized treat.
Fruit Tarts
Make a shortbread crust, roll out and cut into rounds with scalloped edges, and bake until a light golden brown. While the crust is baking, cut a handful of strawberries or other fruits and set aside. Let the crust cool, then spread a layer of melted chocolate over the crust using a spoon or your fingers (don't be afraid to get a little messy!). Place a dollop of pastry cream centered on the crust, then pile the fruit on top of the cream. Brush on a thick strawberry or neutral glaze and voila!