Home Profiles
Best Dining Room
Nathan Taylor of Obelisk Home helped this dining room without walls and with floor to ceiling windows define its own space while still working with the rest of the open concept.
By Jennifer Adamson
Jun 2019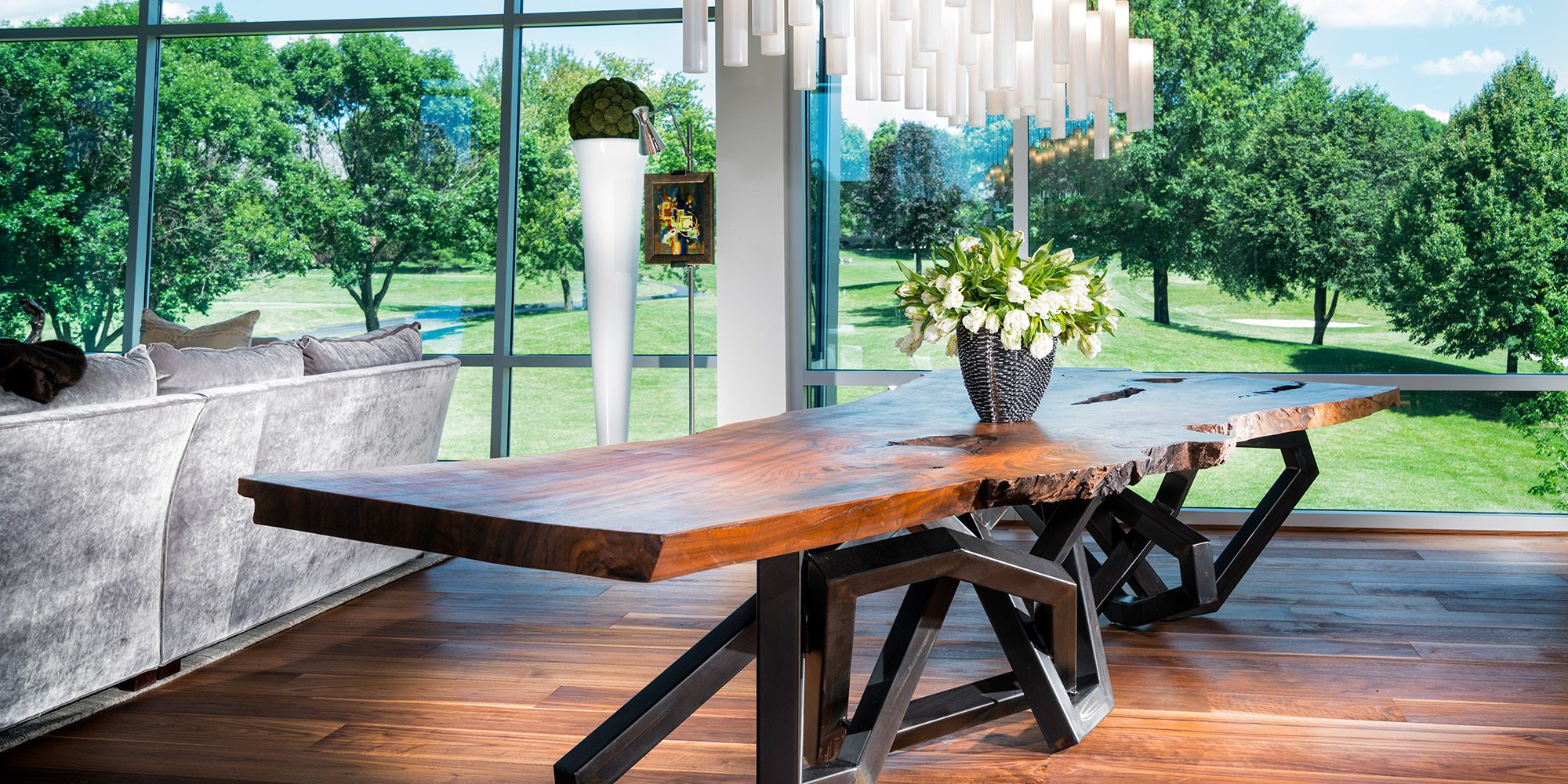 WINNING DESIGNER: Nathan Taylor, Obelisk Home
PROJECT GOAL: Without walls to define this space, as well as floor-to-ceiling windows that convince the eye to wander past the interior, this dining room presented challenges. The designer needed to figure out how to designate a formal eating area with some serious appeal. His vision centered upon a statement table weighty enough to stand alone but striking enough to command attention and connect the homeowner to nature without having to go outside. 


---

When guests step into this modern dining room, they immediately notice the unique dining room table. Getting into a bidding war with a Hollywood celebrity over the wood for this table was a clear indication the designer of this dining room was onto something good. Within 24 hours, he had to decide whether to pay top dollar or move on to something else, but the opportunity to own a table with so much character (and such a great story) was too good for the homeowners to refuse. Add to that the custom-sculpted base made of intersecting pieces of heavy, burned iron, and you've got a real showstopper.

"We wanted the dining table to be like a piece of art," says Nathan Taylor, project lead and co-founder of Obelisk Home. "We started out with something very rigid, but it just didn't seem right for the space." So Taylor went back to the drawing board and found this 12-foot walnut slab, which adds that organic component that is now so popular in design. "We all want to feel like we're connected to nature somehow," he says. "If you can incorporate something raw or pure, it just kind of creates an element you can put anything with."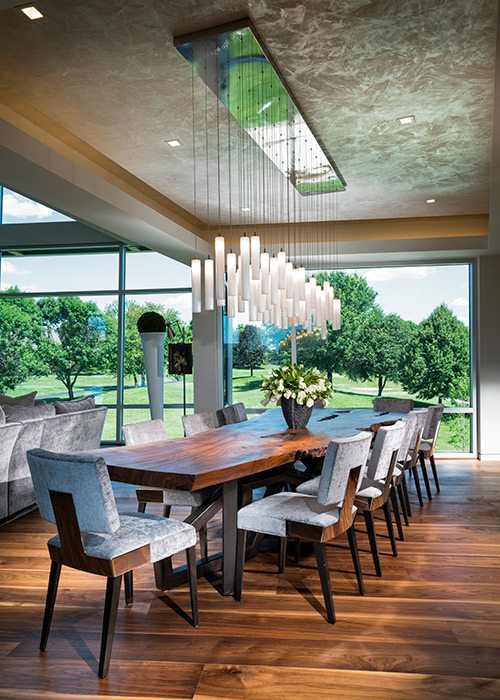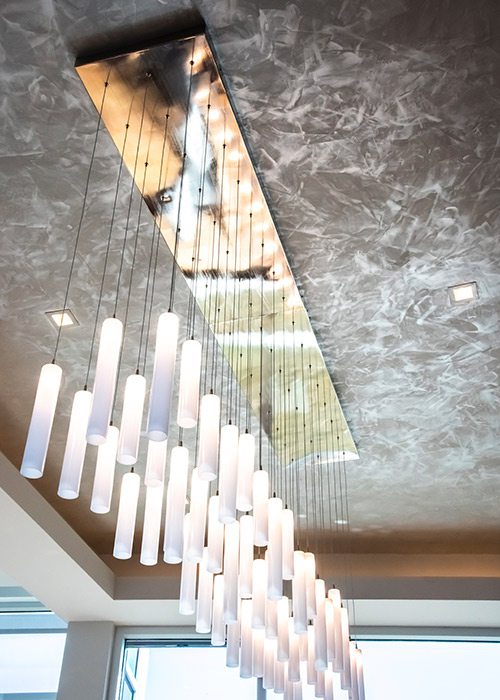 Photos by Jeremy Mason McGraw
In other words, nature is the new neutral. And the ceiling is a perfect example. Though the opulence of waxed gold Venetian plaster contrasts with the table's rusticity, the treatment isn't foreign to the overall aesthetic of the room, especially with the addition of a massive chandelier that visually pulls together those two elements. Another custom creation, the fixture's 48 glass tubes hang at varying heights to represent undulating music notes while light glows from within. "The whole idea was to have softness and not rigidity," Taylor says.
Softness is repeated in the chairs, designed with detached backs that float away from the seats, lessening their weight against the hefty table. Upholstered in smooth velvet, a design trend of the future, Taylor says, they have stainless back supports and sleek, hard lines that juxtapose nicely with the crude table edges. Overall, no expense was spared in this exquisitely executed space. Together with a picturesque view of the backyard golf course, it is easily on par with other enviable dining rooms in southwest Missouri.
RESOURCE LISTINGS
Where to find the looks and materials used to create this winning dining room design in Springfield, Missouri and surrounding areas.


LIGHT FIXTURES
214 W. Phelps St., Suite 101, Springfield
417-616-6488
WOOD FLOORS
2684 Horseshoe Drive South, Naples, Florida
239-206-1898