Home Profiles
Best Use of Color in a Living Room
Nathan Taylor of Obelisk Home used bright pops of color and texture to help this living room achieve the homeowner's goal of a living room with enough seating for a large family plus friends without feeling formal or stuffy.
By Jennifer Adamson
Jun 2019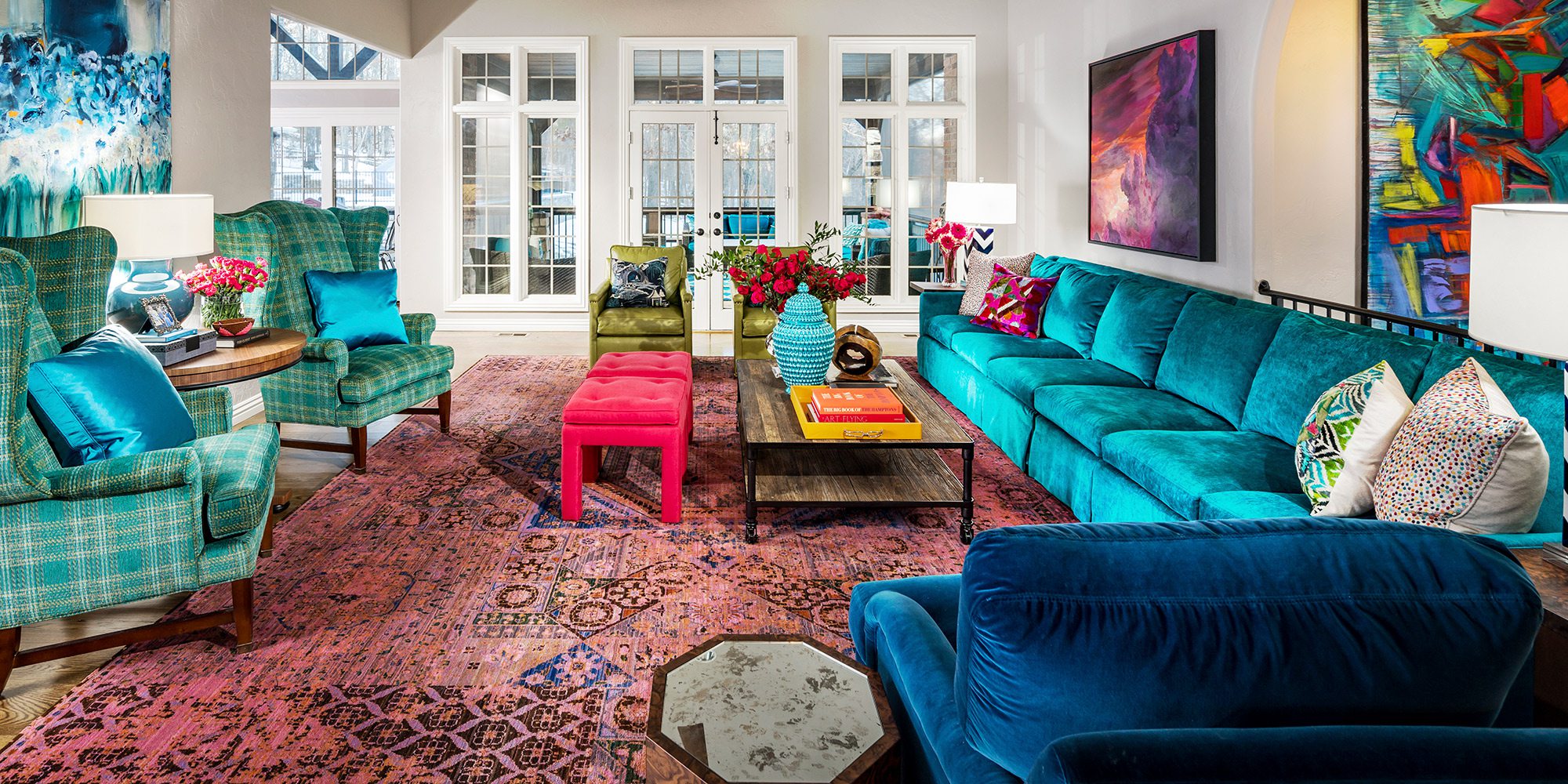 WINNING DESIGNER: Nathan Taylor, Obelisk Home
PROJECT GOAL: The homeowners wanted a gathering spot with enough seating for their very large family plus guests, but they didn't want to feel like they were entering a formal lobby or waiting area every time they utilized the space. With the amount of furniture necessary to accomplish this goal, the solution was to layer color and texture to create visual interest. 


---

(Editor's note: This winning design tied for Best Use of Color in a Single Room with a design by Jeremiah Lee and Susie Edie.)

Color is the interior design choice most people notice first when they walk into a room. The inclusion of color and to what extent reveals a lot about homeowners' personalities and lifestyles. For this fun-loving family of 10, a monotone palette would never do. But how do you incorporate every color of the rainbow without it feeling like a mismatched circus?

"You have to find the commonality," says Nathan Taylor, co-founder of Obelisk Home and designer of this vibrant living area. "While there is a lot of color in this room, we took the elements from nature. This is the spring—green trees, blue sky, pink flowers. You think of all the colors of a beautiful garden."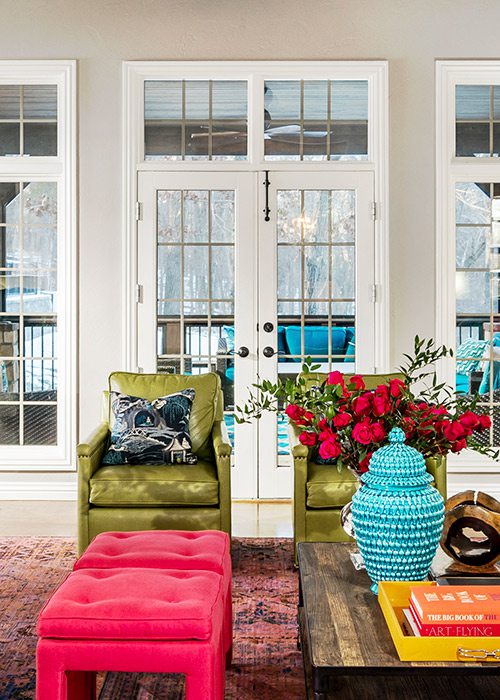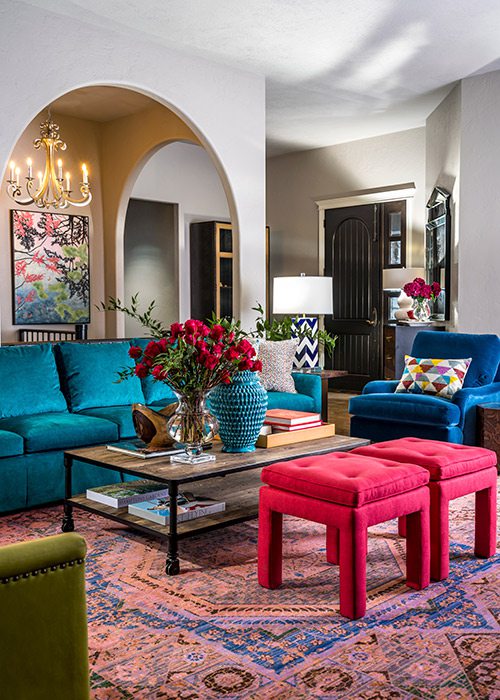 Photos by Jeremy Mason McGraw
With the room's color story established, the next challenge was figuring out how to fit the entire family plus guests in the room at the same time—something they had never experienced. Removing a small wall near the entry and relocating a staircase to pad square footage helped, as did the introduction of an unconventional 12-foot sofa. Custom made by meshing two standard sofas together and upholstered in the matriarch's favorite color, the velvet stunner seats at least six people. And despite the luxuriousness it exudes, it's a comfortable enough place that everyone can kick back and relax. 
A pair of plaid chenille over-scaled wingback chairs, two leather swivel chairs in apple-green leather and one Prussian blue velvet chair, all situated around the perimeter, as well as a pair of portable raspberry ottomans, give everyone a spot to unwind. To increase visual interest and synthesize the look, an over-dyed Persian rug and equally vivid accessories, including original art and a few heirloom pieces, were chosen.
The end result packs a punch but is not at all standoffish, just as the homeowners and designer intended. Such intense saturation in all the right places also proves that sometimes, color belongs everywhere except the walls.
RESOURCE LISTINGS
Where to find the looks and materials used to create this winning bedroom space in Springfield, Missouri and surrounding areas.


FURNITURE
214 W. Phelps St., Suite 101, Springfield
417-616-6488
LIGHT FIXTURES
214 W. Phelps St., Suite 101, Springfield
417-616-6488
CARPET
214 W. Phelps St., Suite 101, Springfield
417-616-6488
WOOD FLOORS
Hetherington Design and Consulting
3545 S. Lone Pine Ave., Springfield
417-838-6443
PAINT
535 E. Saint Louis St., Springfield
417-862-7483
DECORATIVE PAINT CONTRACTOR
Hetherington Design and Consulting
3545 S. Lone Pine Ave., Springfield
417-838-6443