Home Profiles
Miscellaneous Design
With space limitations in his downtown loft, Colby Kern of Obelisk Home made the bold decision to also use his master closet as his office space.
By Jennifer Adamson
Jun 2019
WINNING DESIGNER: Colby Kern Obelisk Home
PROJECT GOAL: With limited space preventing Kern from having an office in his small residence, his solution was to create a stylish workspace in his enormous closet. He used accessories like framed art and books to display his personality. 


---

Blogger Colby Kern knew he was taking a risk when he decided to combine his closet and home office. After all, a closet may not seem like the most inspirational place to generate and edit content, but he had a plan for how to make his radical idea work.

"I had to pay a lot of attention to making it feel like I wasn't just sitting at my desk in my closet," Kern says. "At that point, it just kind of became about adding touches you normally wouldn't find in a closet."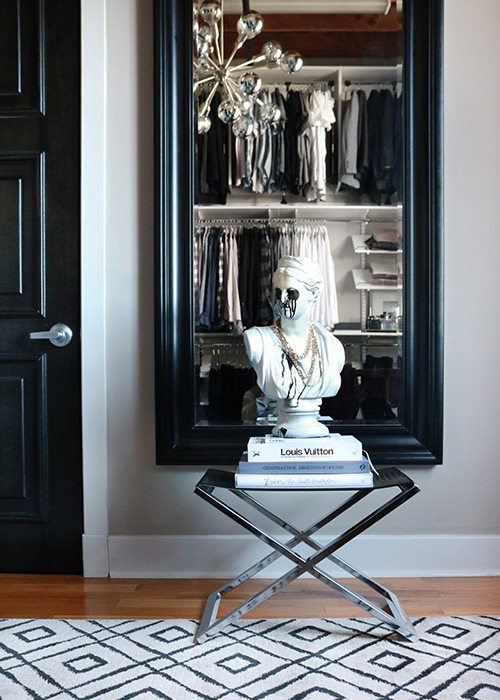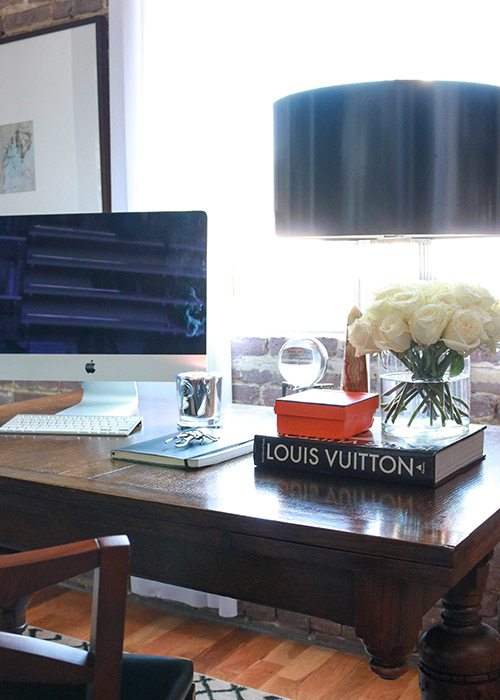 Photos by Colby Kern Morrell
From there, Kern, who is also lead visual merchandiser for Obelisk Home, worked his way up to this jaw-dropping transformation, collecting pieces he was drawn to over time rather than purchasing everything simultaneously. He acquired the 1860s antique desk, for instance, from someone who just wanted to get rid of it. The intense shade of oak is a perfect contrast to the black-and-white rug, another piece typically seen out in the open. By floating the desk away from the wall, it becomes a focal point and reiterates the dual purpose of the space.
Another show-stopping feature is the chrome sputnik chandelier. Purchased on sale from a big-box store, Kern swapped out the fixture's standard Edison bulbs for chrome-dipped bulbs that reflect his edgy style. The magnitude of the 35-inch-diameter fixture also draws the eye up, emphasizing the closet's 18-foot ceilings.
Other accents include artwork from Kern's personal collection, fresh flowers picked up weekly at the farmers market, fashion books useful for adding height to vignettes and an unorthodox bust of Diana of Versailles. The closet is now more than a spot to get dressed. It's a place where he can clothe himself in creativity.
RESOURCE LISTINGS
Where to find the looks and materials used to create this winning master closet and home office space in Springfield, Missouri and surrounding areas.


FURNITURE
214 W. Phelps St., Suite 101, Springfield
417-616-6488
LIGHT FIXTURES
214 W. Phelps St., Suite 101, Springfield
417-616-6488