Home Profiles
Best Use of Technology
Nathan Taylor of Obelisk Home, along with a technical designer and theater engineer and designer, created a state-of-the-art theater experience in the basement of this family's home.
By Jamie Thomas
Mar 2021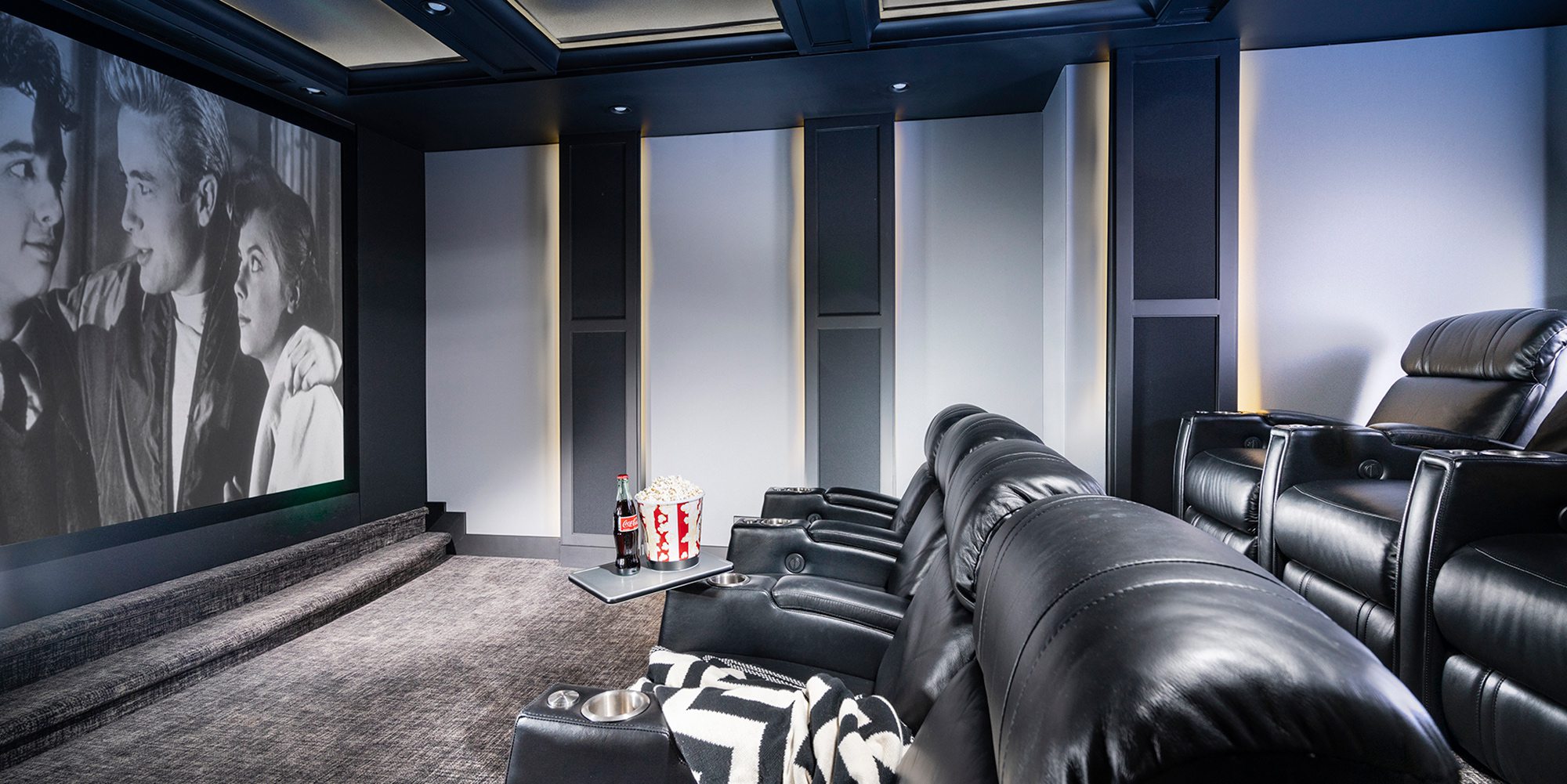 WINNING DESIGNER: Nathan Taylor, Obelisk Home
PROJECT GOAL: If you've ever dreamed of having your very own at-home theater, this home's high tech home cinema should be your go-to inspo. Not only does this Best Use of Tech winner include sound-proofing and luxury seating, but a functioning popcorn machine, too.
---
To install a home theater with all the bells and whistles, Nathan Taylor of Obelisk Home, along with a technical designer from Utah, were tasked with seamlessly integrating all the necessary tech required. "It was a crawlspace," says Taylor, describing what they had to work with at the outset. "From start to finish it took about nine months."
The theater itself, according to Taylor, is totally soundproof to preserve the cinema-quality sound. "[The] technical designer created the sound system," Taylor says. "The husband is very into the technology and did all kinds of research. That's when they brought in the theater engineer and designer. He came in and programmed everything."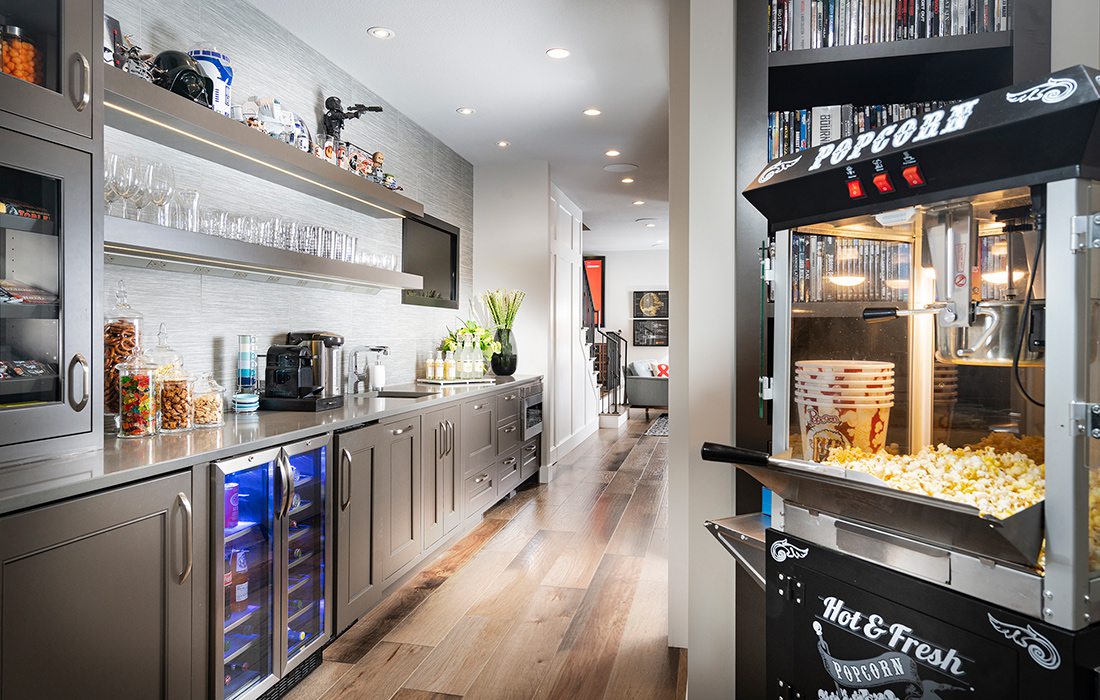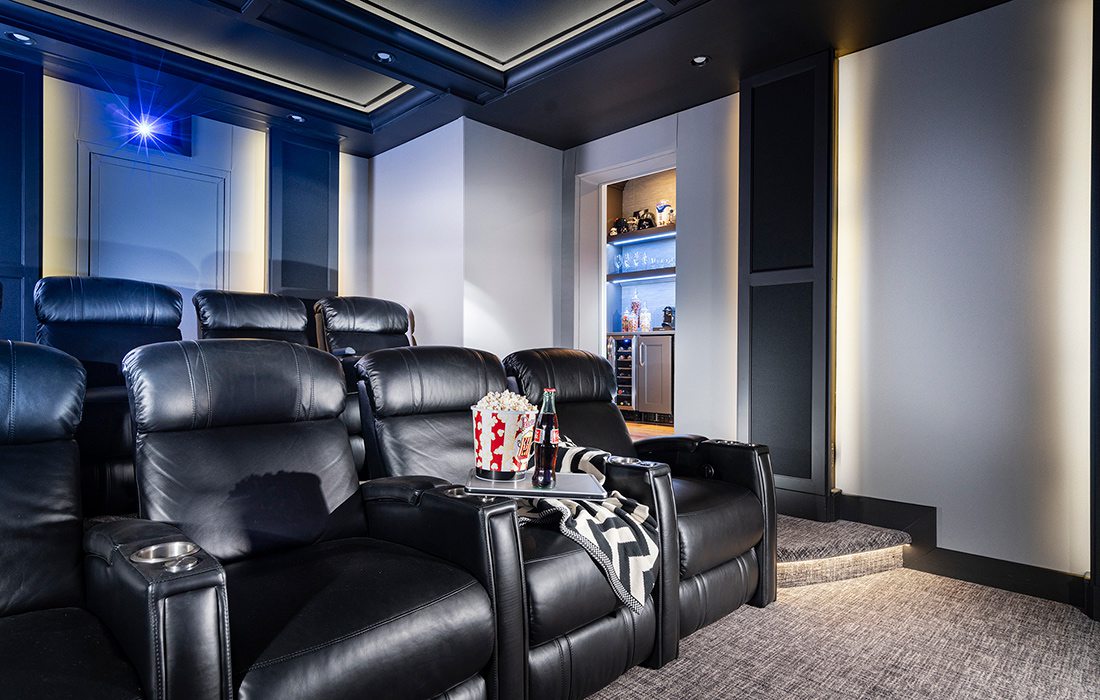 As for the look, neutral colors and clean surfaces were chosen to keep things classic. "We wanted it very dark and very dramatic," says Taylor. "But didn't want to do something that they felt like they would have to change because of getting tired of a pattern. That's why we went as neutral as possible."
The theater is outfitted with luxurious leather seats, complete with cup holders, to match the clean, timeless gray-and-black design of the rest of the space. Balancing the aesthetic with the technology was a unique experience for Taylor. "I think the biggest thing was [designing the space] not to disrupt the sound. The most important thing to the husband was that no sound was disrupted, so we had to insulate everything to be acoustically as good as possible." The theater also maintains the authenticity of its experience with a working projector, although the setup does allow for whatever movie is being shown on the big screen to be fed through to three other television screens installed throughout the rest of the space. That way, Taylor says, the audience doesn't have to miss anything if they need to get up to grab more snacks.
Speaking of snacks, the foyer area, also designed to evoke the atmosphere of a real movie theater, even has its own functioning popcorn machine—not to mention the array of snacks you'd expect when you buy a ticket for a blockbuster. "They have a lot of nieces and nephews that come over," says Taylor. "So they wanted to have a candy counter and popcorn machine. All of the [design] details were incorporated with the technology." The popcorn machine was sourced by the homeowners themselves, while Taylor and his team made use of the space they had to install it. Now, says Taylor, what was once just a crawl space has a new lease on life. "They loved it, they use it all the time."