Home Profiles
Best Bedroom 2021 Winner
Using a beloved painting as inspiration, Beverly Moore gave her own bedroom a fresh new look to win the Best Bedroom award in the 2021 Design Awards.
by Tessa Cooper
Jun 2021
WINNING DESIGNER: Brock and Beverly Moore of Moore to Love Homes
Project Goal Summary
To give this bedroom a refresh centered around a beloved horse painting.
---
For many interior designers, redesigning their own bedroom is a dream project with ultimate creative freedom. Unfortunately, it's a project that often gets put on the back burner. With more time at home in spring 2020, interior designer Beverly Moore of Moore to Love Homes got the chance to complete her own bedroom refresh inspired by a fateful run-in with a horse painting.
"I was in a friend's house, and she had bought this piece of art for her daughter," Beverly says. "I love horses. I have had horses and rode, and I just love them. So she sent me the link and I went and got it. I was going to put it up above my sofa. But I realized it was the perfect size for over a bed, so that's what I ended up doing. I just redid my room around it."
Typically, Beverly admits she prefers calming neutrals, but this painting features a subtle pop of red. She allowed this primary color to be the focal point but drew from more subtle colors in the background for the rest of the rooms color palette. "Normally, I don't like red, so you know I like [this painting] a lot if I put that in there with the red in it," she laughs.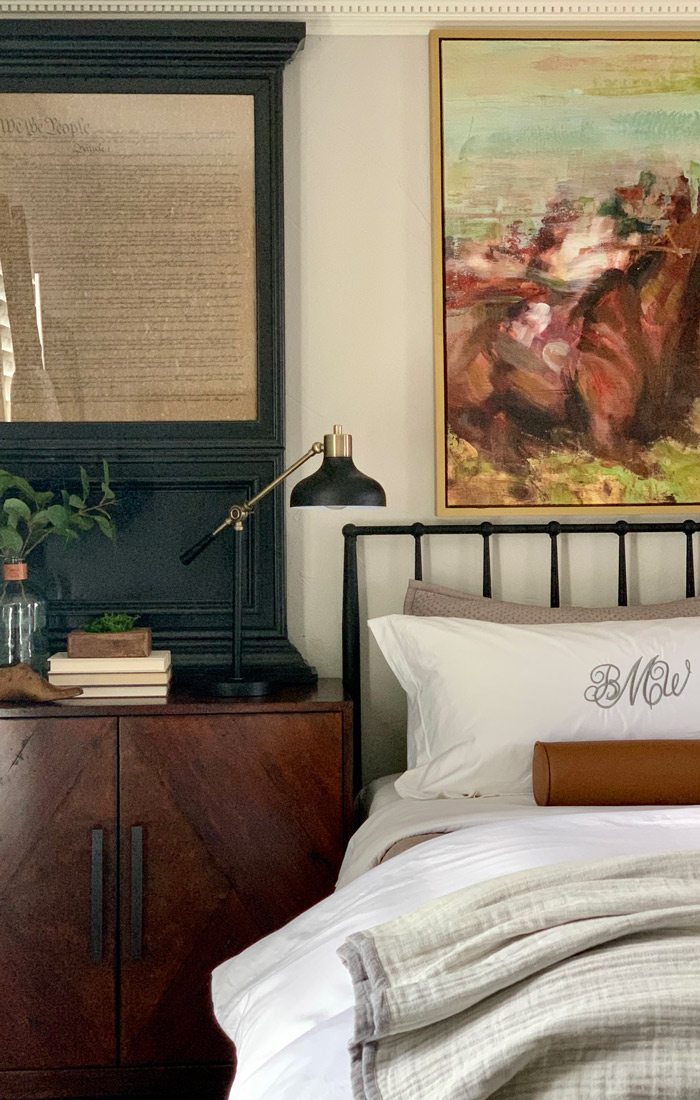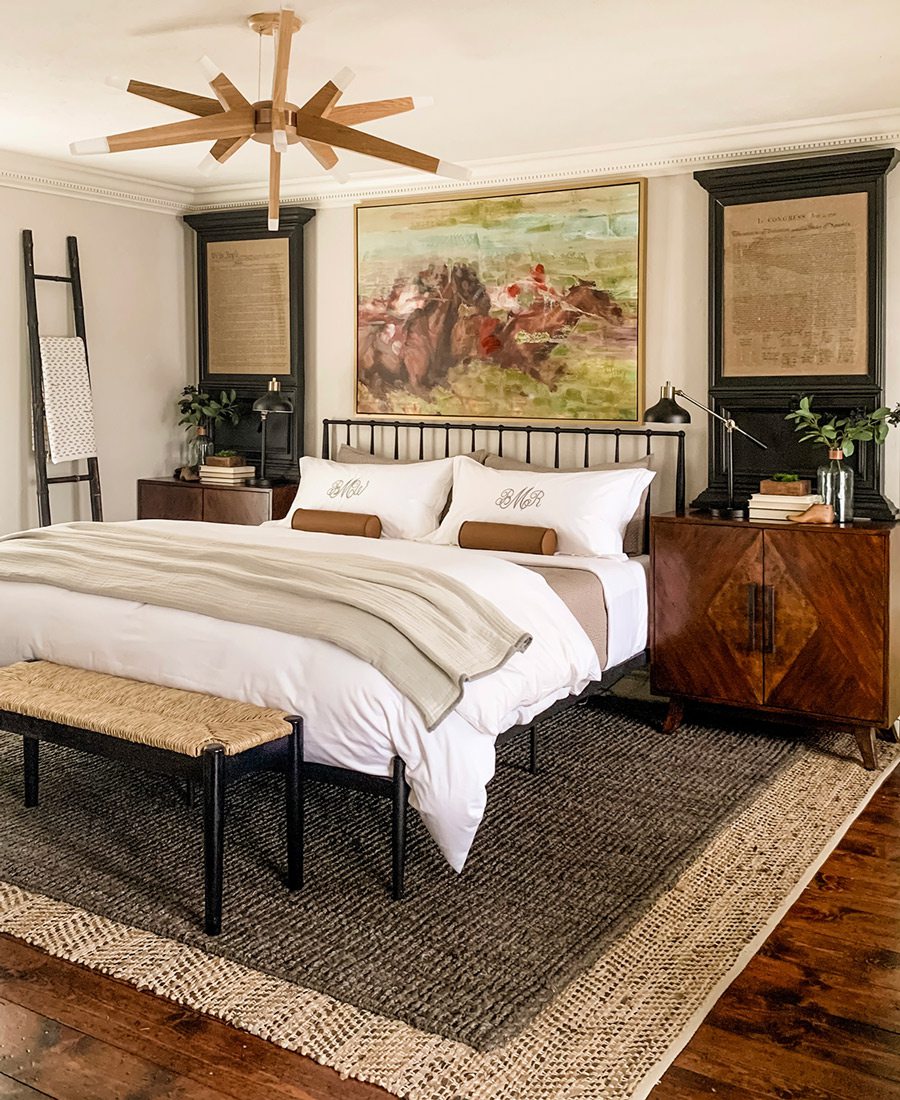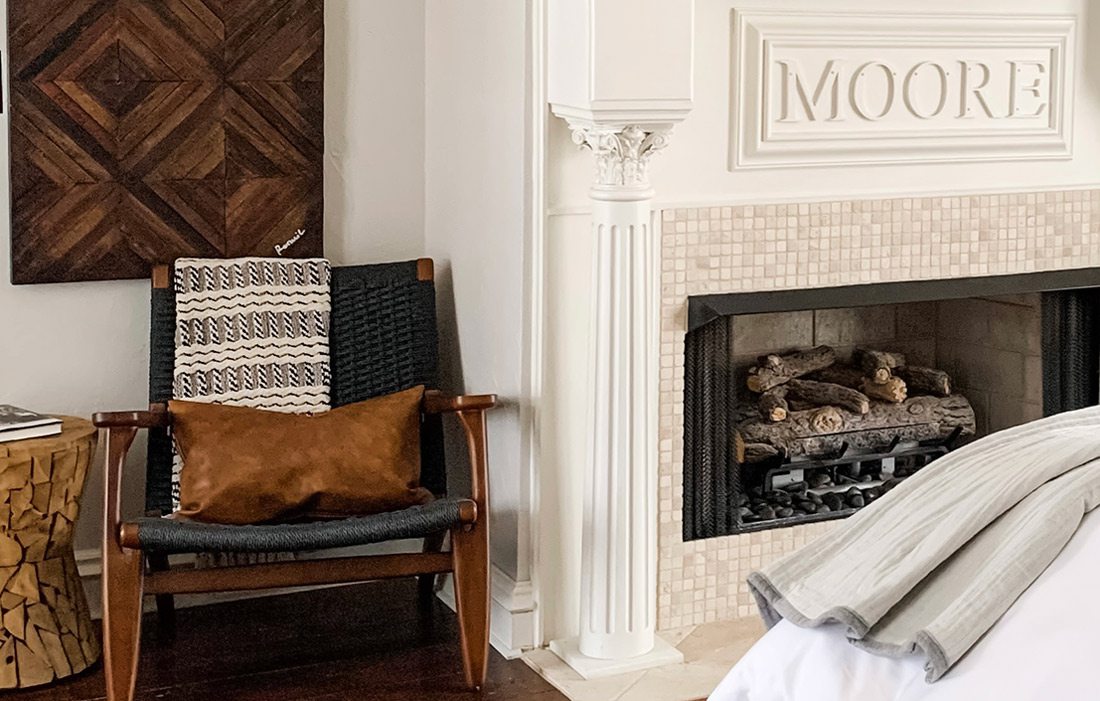 Beverly's husband, Brock Moore, happens to be a builder and contractor, so the two of them were able to custom build and design their own home in 1996. Thanks to their timeless choices, this bedroom refresh didn't require updating flooring or even crown molding. Beverly was able to devote more time and more of the budget to choosing new paint and furniture.
This project was a family affair. One of Beverly's favorite touches is the artwork above both nightstands. She picked up these prints of America's Charters of Freedom on a trip to Washington, D.C. Her niece and builder at Moore To Love Homes, Morrell Flowers, custom-made the frames based on a mirror Beverly saw at Restoration Hardware. They're the perfect fit, leaving not an inch to spare between the nightstands and crown molding.
Beverly chose a modern light fixture with traditional antique furniture and tied it together with a layered rug look. And she wasn't afraid to mix brown with black. According to her, the key to matching these two neutrals lies in your intuition. "For me, it's my eye," she says. "If they've got the same richness about them and the same undertones, they'll work together."
Resource Listings
Where to find the looks and materials used to create this winning bedroom design in Springfield, Missouri and surrounding areas.