Designers
Best Use of Space 2021 Winner
A formerly dated home office gets a playful and creative makeover with this Best Use of Space winner.
by Colin Shea Denniston
Dec 2021
WINNING DESIGNER: Fernanda Edwards of GMI Design Group
Project Goal Summary
This office was a dramatic transformation. The client wanted to make this space work for three different purposes: her workspace, a guest bedroom, and a place for her to be creative and have a break from her new busy routine. My goal was to bring life, energy, light and functionality to the space, and give this mom of three a place to call her own. This now is a fun, colorful, light-filled home office that perfectly suits the client.
---
At the beginning of the pandemic, Fernanda Edwards, lead designer with GMI Design Group, was asked to turn a dated home office into a bright and refreshing space where the homeowner could  work daily and could also serve as a quiet retreat for the busy mom and wife. On top of that, the space needed to be able to sleep overnight visitors and weekend guests.
Not wanting to force a workspace, lounge space and sleeping area into the already limited footprint, Edwards got creative. "The space was limited to have, you know, a bed and an office. And honestly, having a bed in your office is not very productive because all you can see is the bed and you want to lie down and take a nap—especially for this client that is a mom," says Edwards.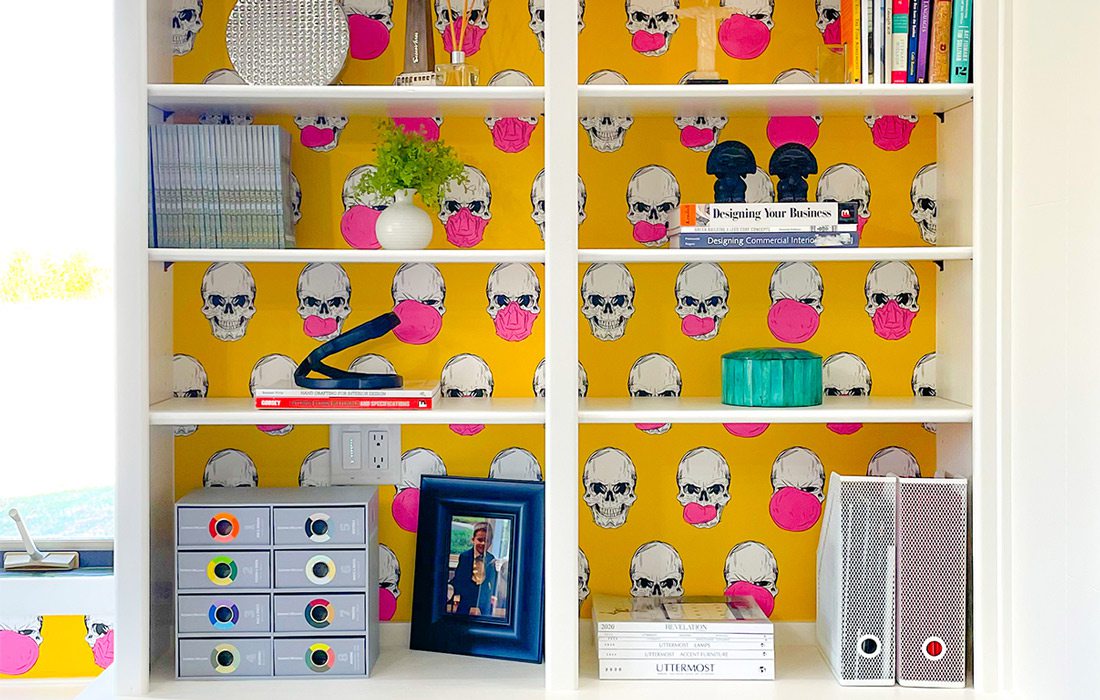 Her solution: Create a flexible, multi-purpose working and living space that can be configured to a desired function. "A Murphy bed was really the best way to go about it because you can open it when you want to use it and close it when you're not using it—which is 80% of the time. She'll still have the office that she needs and still have the bedroom on the weekends," says Edwards.
The flexible design maximizes the space while still keeping form and function in mind. The bookcase added to the side of the Murphy bed provides more shelving and helps make the space feel finished and cohesive while the bed is tucked away. For when the room is not being used as a bedroom, Edwards brought in a small blush pink couch to fill the space. "The Murphy bed really kind of disappears while she's using it as the office because she has a couch right in front of it. The couch is really lightweight and is easily movable," says Edwards.
The walls and ceiling got fresh coats of paint and new lighting was installed to enhance the overall brightness. Edwards added small inviting details like speakers, essential oil diffusers and a TV for when her client is out of work mode. "It really is a multi-purpose room" says Edwards "It's an office, it's a guest bedroom, but it is also a hiding place for mom when she needs it."
RESOURCES
Contractor
Photographer
Wall Coverings
Furniture
Hardware
Light Fixtures
Paint
Other Suppliers
Murphy Bed