Designers
Best Mudroom or Laundry Room 2022 Winners
The tied winners of the 2022 Design Awards Best Laundry Room or Mudroom set out to create contemporary spaces with classic style.
by Colin Shea Denniston
Sep 2022
Winner Designer: Nathan Taylor, Obelisk Home [TIE]
Project Goal
To create a multi-functioning yet beautifully designed laundry room, continuing the contemporary-meets-traditional style of the new construction family home. 
A tucked away laundry room—whether it be in a basement, back hallway or primary bathroom—often exists to serve a function rather than make a strong design impact. But when a home's laundry room is also a thoroughfare between two highly trafficked areas, style is as important as usability. 
During the design process for this new construction contemporary home, the homeowner expressed that she "[didn't] want this to feel like a laundry room," recalls Nathan Taylor, owner and principal designer of Obelisk Home. "She said, 'I want to feel like this is just another room in my house—it looks pretty like everything else and has a multi-use space,'" Taylor says.
With its open connection to the rest of the home, Taylor continued his "contemporary meets traditional" design approach into the l-shaped laundry room. "You have to walk right through the middle of [the laundry room] every time you come from the garage to go to the kitchen," says Taylor. "That's why the cabinets are finished the same color as the kitchen cabinets around the corner—because we didn't want it to feel like it was disconnected or a separate room."
In addition to the room's the custom finished white oak cabinets, high-end details—like the quartz countertops, brushed gold hardware and custom printed marble floor tiles—can be found throughout the space, elevating it beyond a typical utilitarian-style laundry room. 
The mix of contemporary and traditional continues into the backsplash behind the sink. Taylor selected a beveled black subway tile and then applied it in a herringbone pattern. "It's very traditional in a lot of ways, but in that application, it looks—in my opinion—kind of contemporary," says Taylor. Rather than installing can lights over the countertop, Taylor opted instead for a lighted rod—providing additional hanging room while also brightening up the workspace. 
The rest of the room's design includes a built-in desk to make the most out of laundry time and custom designed lockers and cubbies for each individual family member. In addition to shelves, drawers and hanging space, each cubby has its own outlet—perfect for recharging heavily used electronics, while the home's inhabitants do some recharging of their own.
Interior Design/Decorating Project Lead(s)
Nathan Taylor, Obelisk Home
Architect/Home Designer(s)
Dale Peer
120 E. Woodhurst, K-100, Springfield
Builder(s)
Travis Miller
1998 Union Chapel Road, Nixa
417-724-0973
Photographer of Project
Jeremy Mason McGraw
Global Image Creations
Furniture
Obelisk Home 214 W Phelps, Springfield
417-616-6488
Hardware (knobs, cabinet pulls, etc.)
Cabinet Concepts by Design
4123 State Hwy H, Springfield
417-725-3400
Plumbing Fixtures (faucets, spa, etc.)
Harry Cooper Supply
605 N Sherman Pkwy, Springfield
800-426-6737
Light Fixtures
Obelisk Home
214 W Phelps, Springfield
417-616-6488
Kitchen Cabinets
Cabinet Concepts by Design
4123 State Hwy H, Springfield
417-725-3400
Kitchen Countertops
Custom Granite
1445 W Chestnut Expy, Springfield
417-864-0999
Stone/Tile
Obelisk Home
214 W Phelps, Springfield
417-616-6488
Wood Floors
Obelisk Home 214 W Phelps, Springfield
417-616-6488
Paint (brand)
Sherwin Williams
535 E St. Louis Street, Springfield
417-862-7483
Cabinet Finishing
Johnny Smith
Wonder Faux
Appliances
Metro Builders Supply
3252 N Glenstone, Springfield
417-833-1113
Custom Woodwork
Luke Tanking
Straight Line Building
5412 S Hampton Avenue, Springfield
785-221-3081
Artwork
Obelisk Home
214 W Phelps, Springfield
417-616-6488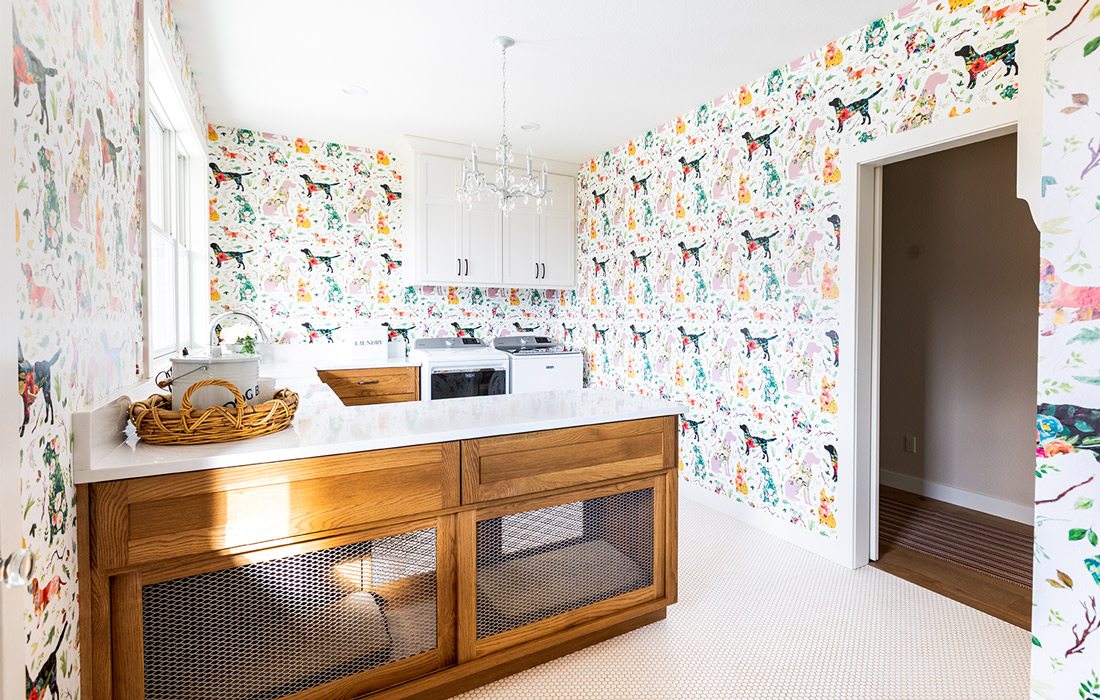 Winning Designer: Haden Long, Ellecor Design [TIE]
Project Goal
To design and build a highly functional, farmhouse-style laundry room where storage is abundant, and everything has its place (including the dogs).
When your client is a successful business owner and professional organizer, there's one aspect of your design that's bound to be a major focus: "function, function, function," says Haden Long, Owner and Lead Designer of Ellecor Design. 
For this from-scratch laundry room design—as part of a larger, whole home new construction project—Long's client's main goal for the space was for it to be multi-functional, with lots of smartly designed cabinets and storage spaces throughout. Or as Long puts it, "making sure everything had its place and there was a place for everything—including the dogs. We were combining a laundry room with extra storage with also dog home."
Beyond the "must have" list of ample storage and a space for the dogs, Long was given the freedom to let her creative juices flow, have fun and let inspiration be her guide. "That's where the colorful dog wallpaper came in," says Long. "Because it ties in the dogs and gave her some color." 
Long's thoughtful selections in the laundry room connect the space to the rest of the home's farmhouse-style design. Elements like the white overhead cabinets complemented by the custom stained oak lower cabinets, penny round floor tiles and quartz countertops with subtle veining of both gray and gold for a touch of warmth. 
When it came to incorporating storage and space for the four-legged members of the family, Long started with sliding doors under the peninsula for the pups. Below the sink, pullout drawers allow for easily removable—yet hidden—trash storage and an inset pocket designed specifically for paper towels keeps the countertop clutter free. Another pullout drawer for laundry sits next to the washer and dryer and across from the peninsula, and adjacent to the door to the patio a floor-to-ceiling cabinet with pullouts holds appliances, cleaning supplies and a charging station for the vacuum. "There's specific pullouts for everything she wanted to store in that space," says Long. "Everything has a place in there."
Interior Design/Decorating Project Lead(s)
Haden Long
Ellecor Designs
Organizational Designer
Betsy Miller
2B Organized
Photos Courtesy of Betsy Miller
2B Organized
Wall Coverings
Ellecor Design
623 S Pickwick Ave, Springfield
Hardware (knobs, cabinet pulls, etc.)
Bills Custom Woodworking
Plumbing Fixtures (faucets, spa, etc.)
Harry Cooper Supply
Light Fixtures
Vintage
Kitchen Cabinets
Bills Custom Woodworking
Kitchen Countertops
Solid Surface Designs
Flooring
Missouri Tile