Trends
Designing a Simple Basement Showstopper
A simple color palette, dramatic artwork and plush-yet-durable furnishings combine to create a versatile basement for a family of five.
By Dayle Duggins
Jun 2020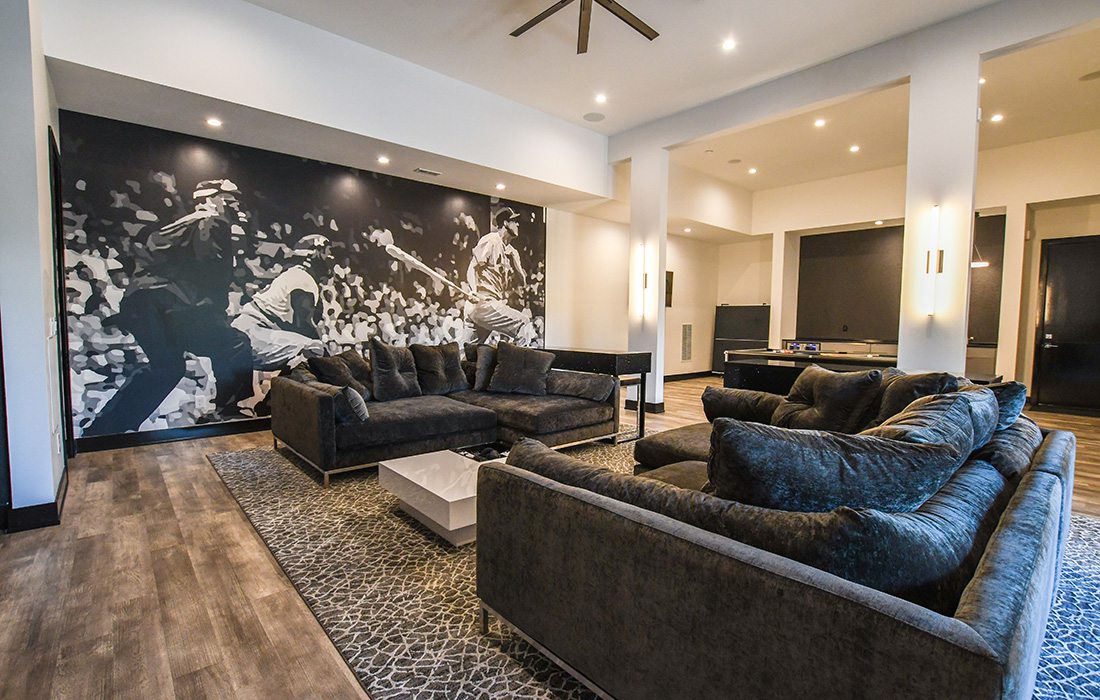 When the opportunity arose for a local architect to build a home to raise his kids in, a basement was a necessity. After years of living in a house without a basement and three growing children that love having friends over, it was time to create a separate space. "We thought, let's just make it a fun place for the kids to hang out and they can have their friends over after dances, watch movies, play pool and go swimming," says the homeowner, who prefers to remain anonymous.
To start, a black, white and gray color palette was chosen for the space in an effort to create a hint of masculinity. Luxurious-looking flooring and fixtures blend together with furnishings sourced by the homeowners to give the basement an upscale, yet approachable feel that's durable enough for kids.
Upon entering the lower level, you're immediately greeted by a show-stopping, larger-than-life black and white watercolor mural of St. Louis Cardinals legend Stan Musial. The statement piece is a whopping 26 feet long and 10 feet tall. "If anybody knows us, we're a baseball family," the homeowner says. "We didn't want to just put the photograph up there, we wanted it to be architectural and design-oriented."
Beyond the theater room is a dance studio, a batting cage, a basketball hoop, and a pool table, all housed under 13-foot ceilings. In warmer months, the basement acts as an extension of the backyard's in-ground pool. Offering a little bit of everything, the space meets the interests of family members effortlessly.