Retailers
Take a Tour of 417 Vintage Market in Branson
At 417 Vintage Market, a plethora of perfectly time-worn furniture and décor items fill a historic three-story building, making it a must-see destination worth exploring in downtown Branson.
By Heather Kane Kohler
Jun 2022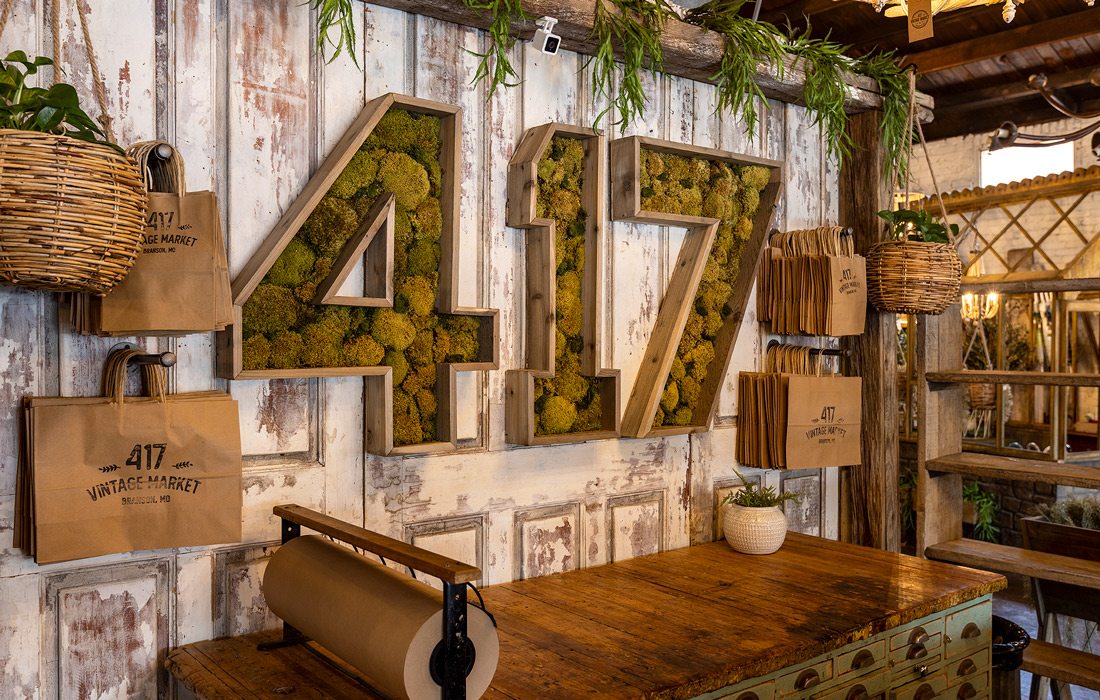 The Setting
When thinking of the downtown Branson area, your mind might wander to ice cream parlors, old-fashioned candy shops or hand-made quilt stores. But in the last few years, a new and noteworthy spot has taken up roots on Commercial Street, and it too celebrates the past. 417 Vintage Market (114 N. Commercial St., Branson, 417-320-5010) opened its doors in May 2019 and since has grown from a one-level vintage-inspired home goods shop to a three-story store, complete with its own gourmet coffee shop, Commercial Street Coffee. At 417 Vintage Market you won't find fussy and expensive antiques, nor will you see dust-covered flea market booths. What you discover are beautifully rustic vignettes showcasing expertly arranged living and dining spaces, where everything is for sale. Yes, everything! No "for display only" signs in sight. From leather chesterfield sofas, to perfectly painted flower pots, there's something for every style of home. 417 Vintage Market is a space where every corner is worth exploring, and that's just what owners Jeremia and Jessica Froyland were going for. "We wanted to cultivate an environment that people want to be in," explains Jessica. 
The Owners 
When the Froylands started building their dream home in Branson three years ago, they struggled finding the right pieces to match their industrial farmhouse aesthetic, and thus the idea for 417 Vintage Market was born. "We have a fondness for the downtown area and already had a business in this building. We grew really attached to it," says Jessica. When the building went up for sale they jumped on it, and their story has evolved from there. "We started out as one level and just kept adding on during the last two and a half years" explains Jeremia. The couple takes trips with their two young children, pulling their 16-foot cargo trailer to places like Arkansas, Oklahoma, Texas and Kansas City to source a variety of home goods for the market.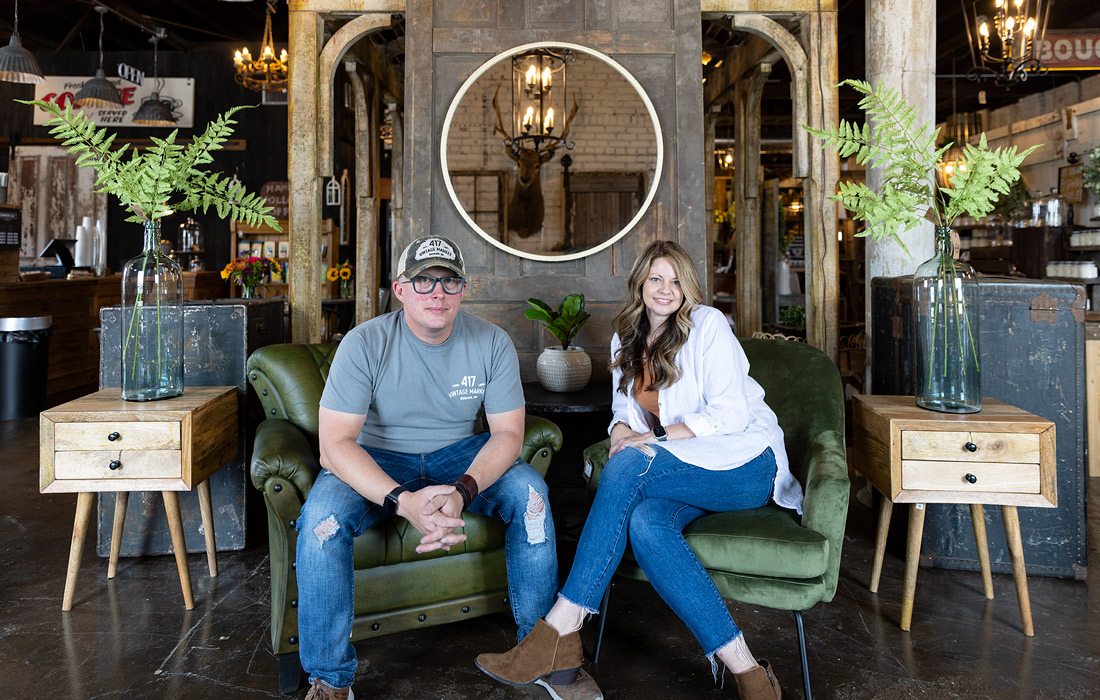 The Goods 
The shop caters to homes in the Branson area and carries furnishings that work well in lake homes, farmhouses and open floor plans. "I'd say the store is 50% new and 50% vintage," says Jeremia. Customers can shop for new pieces of furniture and an array of refurbished and reupholstered furniture as well. Jeremia focuses on sourcing and styling the bigger pieces and the lighting for the market, while Jessica does all the staging and accessorizing. "I'm always moving things around my own home, so we work really hard to keep everything fresh in the store," says Jessica. The Froylands aim to keep pieces affordable, casual and livable. "We want you to sit and drink here. Spills and kids are part of life!" explains Jeremia. Shoppers will also find dinnerware, art, vintage murals and wallpaper, clothing and jewelry throughout the market. 
The Reason to Go 
Whether you're looking to furnish your home with furniture and lighting, or you just want to add seasonal decor to your home, 417 Vintage Market is absolutely worth exploring. Just plan to stay a while, because with over 15,000 square feet of home goods and vintage items to see, you will want to take your sweet, sweet time.