Retailers
Get to Know Ron Johnson Owner of The Thicket
Ron and Debbie Johnson own The Thicket in Springfield. Ron talks about the shop's cottage style decor that also fills their home.
by Ettie Berneking
Jun 2021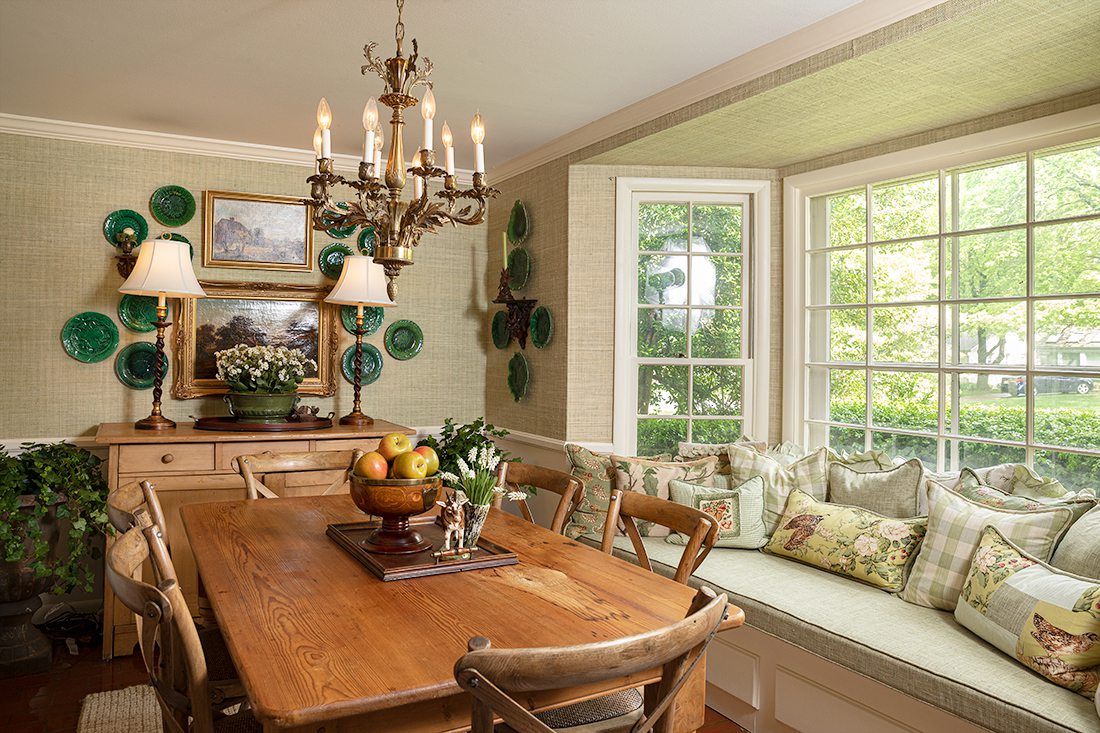 417 Home: How do you describe the style of decor in your home?
Ron Johnson: It's about as casual as you can get, and most of the decor is antiques. The look is super-cottagy. 
417: Looking around, it's clear that your accent color is definitely green.
R.J.: I like green because it's such a neutral, and it looks good with every season. It's great in the spring, and it's great in Christmas.
417: When did you start collecting antiques?
R.J.: I started when I was a little boy. It was rocks, fossils or sticks. I've always been a collector, and once you find something you like, that's how it starts. You see something you like and then the next thing you know you've got a big collection.
417: Do you remember the first real antique you bought?
R.J.: My first antique item… I remember I bought it when I was in college. It was a wood crate that had a cool label on it. From there I started collecting wooden duck decoys. 
417: When did you start adding in the figurines that are apart of your decor now?
R.J.: They're called Staffordshire; it's English and is from the mid 1800s. My first piece would have probably been in the early '90s. I like to think about where they've been and the things they've seen. 
417: Is there a certain style of item you look for when adding to your collection?
R.J.: I like anything that's botanical or dog-themed or deer-themed. You're attracted to what you like. But I don't have a place in mind when I find something I like. I just mix it in.
417: What's your tip to layering different styles? 
R.J.: I like using trays to gather collections together. I also like using books to elevate. I'm really big on coffee table books. They add a great texture, and they're also fun to sit around and look at.
417: Do people ask you about how to pull off the cottage style?
R.J.: All the time. One thing people need help with is layering. People are afraid to mix things together a lot of times. But I just think that the more you mix, the more interesting things become. 
417: What about mixing in some of your items that have a ton of detail? I'd worry they'd get lost in the collection.
R.J.: That's where a tray comes in handy. You can contain things and draw attention. It ties things together. A good example is in the  family room. This room is a little more masculine, and I have a collection of wood carvings. The carvings are called Black Forest. I'm fascinated with the details. It's fascinating to think these were hand carved, and the detail!

417: Do you still have time to antique shop and collect items?
R.J.: We don't pick up a lot of antiques now because we don't have space. This house isn't big, and it's packed full. But you should see what we have in storage. What's on display is about half of what we have. Our collection is out of control.

417: Do you ever wish you had a bigger home to show off the full collection?
R.J.: No. We've lived here 28 years. When we were looking for a house, my wife wanted to move to University Heights. It's still so hard to get a house here. We both would drive through every day on our way to work looking for For Sale signs. We drove through one day, and someone had put up a For Sale sign. We went to the nearest pay phone and asked if we could come over.
417: How have you enjoyed using the house?
R.J.: It's cozy, and even though the house is small, we've had probably 70 people here, and we've been on Cup of Cheer Homes Tour two times. We're always the tiniest house on that tour, always.

417: Do you think the style of your home's decor is different than the style you've curated at The Thicket?
R.J.: Really, the style is pretty similar. At the store, everything is new, and I spend a crazy amount of time searching for things we sell in the store. It doesn't have the same meaning to me. I like things that when you go into a space, it tells a story of the people who live there.

417: What item in your collection best tells your story?
R.J.: You know I remember all of them, but one of my favorite things is the oil painting of the cows. It's by a local artist, Debbie Sutherland, and she gave me the painting. It's one of my favorite things in the house.