Things to Do
Best Corn Mazes Near Springfield
You can find many maize-based mazes around 417-land in the fall, and we've picked a few, from family friendly fun to some spookier thrills, all accompanied by some bad maze/maize puns.
By Jamie Thomas, Jo Jolliff
Oct 2023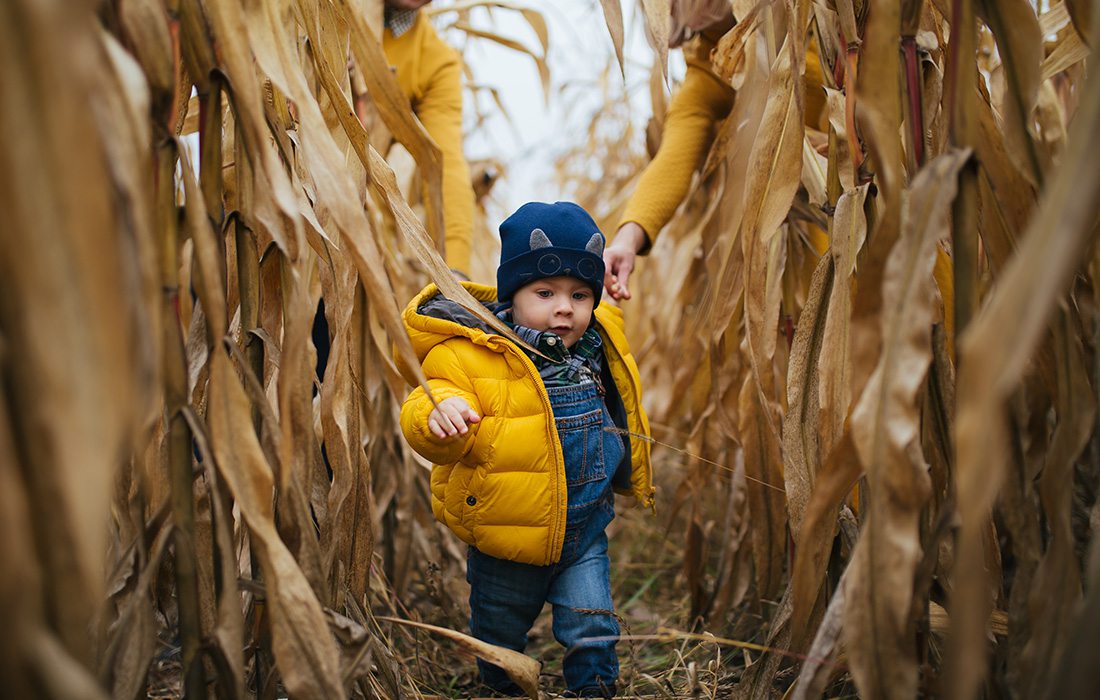 20701 Lawrence 2200, Aurora, 417-498-6071
Aurora Maize offers a 5-acre cornfield maze to get lost in. Before you do get lost, or after you manage to find your way out, you can also enjoy a whole haystack of other activities. There are hayrides, a mechanical bull to try and cling to, and a play area for little guests. But there's much more here than just activities. Aurora Maize has plenty to eat when it's time to sit back and enjoy that fall feeling. All your favorite festival eats can be found including funnel cakes and deep-fried Twinkies. Sweet treats abound here, as do savory snacks including fresh pizza and pretzels, hot dogs, brisket, pulled pork, chili and much more. Aurora Maize also takes reservations for cozy campfire evenings.
State Hwy. MM, Exeter, 417-846-3959 
Exeter Corn Maze & Haunted Attractions has everything you need for your corn maze experience—including the Halloween-perfect haunted maze and haunted barn experiences. If you want to add some action to your fall festivities, Exeter offers zombie paintball, so you can help rid the farm of its pesky zombie infestation before you stop off at Barnwood BBQ for a pulled pork burger and dessert at All Hallows Sweets. Perhaps the most impressive thing about the Exeter Corn Maze is the layout of the maze, which can only be seen from above. Check out the farm's Facebook page to see this year's design.
1663 E 490th Rd, Bolivar, 417-326-6758
Fieth Family Farm in Bolivar has maze experiences that are fun for both little and big kids. The full-sized corn maze and hay bale mazes offer up some of the most fun you can have getting lost—with wagon rides to and from the maze, so you save that energy for finding your way out of the maze. And you'll definitely want to save your energy because there's much more to do here. There are rope swings, sling shots, a giant tree house (complete with a slide), barrel train ride and more. Photo ops abound at this picturesque farm that's flush with fall colors. Plus, if you're still hunting for pumpkins, you'll find a selection of different gourds to pick in the pumpkin tent at Fieth Family Farm. 
181 State Rte AM, Cabool, 417-962-2676
Plenty of 417-land's fall attractions offer spooky fun, but if you want something really geared toward the scary stuff then the Monster Corn Maze in Cabool is what you're looking for. A three-story haunted house, an eerie forest and, of course, a creep-infested corn maze are all awaiting thrill-seekers who are looking for a serious rush of adrenaline. But don't worry, monster-infested it might be, but the Monster Corn Maze is also family-friendly, as long as you're all brave enough, that is. Kids younger than 13 are allowed as long as they're with an adult. This spooky corn maze is open from dark until midnight on Fridays and until 11 p.m. on Saturdays until October 28. Along with the Monster Corn maze, Nixa's Field of Screams Haunted Trail and Forest (2142 N. Sports Complex Ln, Nixa; 417-365-5383) offers an adrenaline-filled trip through the forest
3825 W. Farm Road 146, Springfield, 417-830-0243
Head to Rutledge-Wilson Farm Park for hours of family fun. The pick-your-own-pumpkin patch allows you to pick that perfect pumpkin right off the vine. Across the way is the corn maze, where your little ones are bound to have a ball. Stick around in the evening for a toasty bonfire.