Home Decor
Tasteful Teal for Your Decor
Rich, vibrant and earthy teal brings a punch to interiors this year.
By Heather Kane Kohler
Mar 2023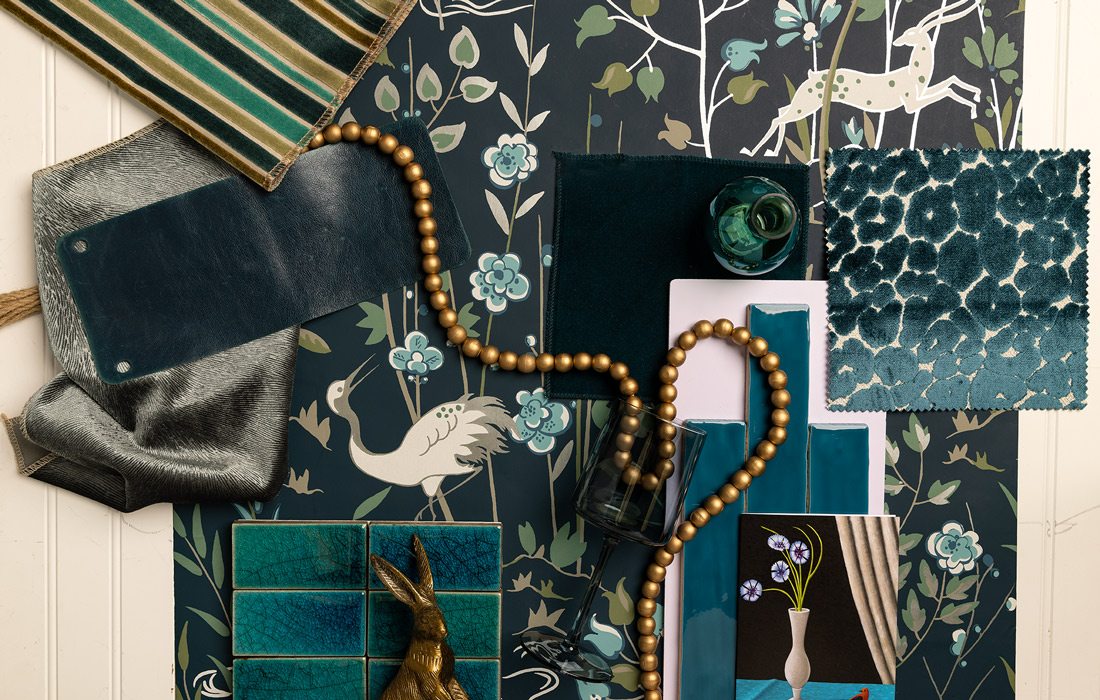 If you're a lover of color, then may we suggest teal? Given that teal is a blue and green hybrid, it's no surprise that this color offers rich jewel-tone vibes while still feeling earthy. Don't confuse teal and turquoise when shopping for the perfect shade to add to your home. Teal is darker and has lower saturation, where turquoise is quite bright and even has elements of yellow.
Give new life to boring cabinets and bookshelves with a fresh coat of glossy teal paint or try adding an upholstered teal ottoman or rug to your space to create a punch of vibrant color. Chenille is a great fabric choice when playing with teal solids. It adds a bit of sheen and is so luxurious!
When looking for colors to pair with rich teal furnishings and paint, keep things sophisticated with navy, camel brown and copper. Layering these colors is not only unexpected; it also creates a gorgeous and rich natural palette that feels worldly and cozy at the same time.
Aspen HO2128, York Wallcoverings $80 single roll at Seminole Decor; Wineglass $16.50 at Harrison House Market; Gold beaded chain $16.50  at Harrison House Market; Teal glass vase $9.50 at Harrison House Market; Brass rabbit $16.50 at Harrison House Market; Mont Blanc Marina leather by American Leather, $34 per sq ft at Obelisk Home; Teal fabric 2844-433, Bernhardt, $180 per yard at Obelisk Home; English riding velvet, Ralph Lauren $210 per yard at Obelisk Home; S3402 Aegean, Anna Elizabeth, $148 per yard at Obelisk Home; Alley, Teal Lillian August, $74 per sq ft at Obelisk Home; Euphoria, Voo Doo crackle, Sonoma Tilemakers price upon request, to the trade at Unique Tile; Watercolors High Tide, Anthology $20.68 per sq ft, to the trade at Unique Tile; Notecard, The Ballerina, by Jane Troup, $5 at Obelisk Home