Trends
Find Serenity in This Nature Infused Kitchen
This nature-inspired kitchen is based on a design philosophy that's guaranteed to lower your stress.
by Lucie Amberg
Mar 2021
Have you been spending a little more time at home lately? Maybe for the past year? If so, you may have been dreaming of ways to make your indoor space an oasis. Nancy Dahlberg of Dahlberg Design Studio suggests biophilic design, which leverages natural elements to increase a space's connectivity to the outside world.
Dahlberg used these principles in the Garden Kitchen, which she created with clients Angela McNeal and Adam Carver who prize sustainability and the great outdoors. The result is a culinary conservatory with a showstopping plant wall, perched over the stovetop like a May Day flower crown. This plant wall was constructed in four sections of wood frame. After considering all the ramifications of using living plants, such as watering, leakage and maintenance, Dahlberg and her client worked with The Thicket to select the ideal silk flowers. The result is a canopy worthy of the Amazon, complete with happy greenhouse vibes.
"Because of the pandemic, the whole trend is to bring as much nature in our homes as we can," Dahlberg says. "It adds a sense of calm and joy."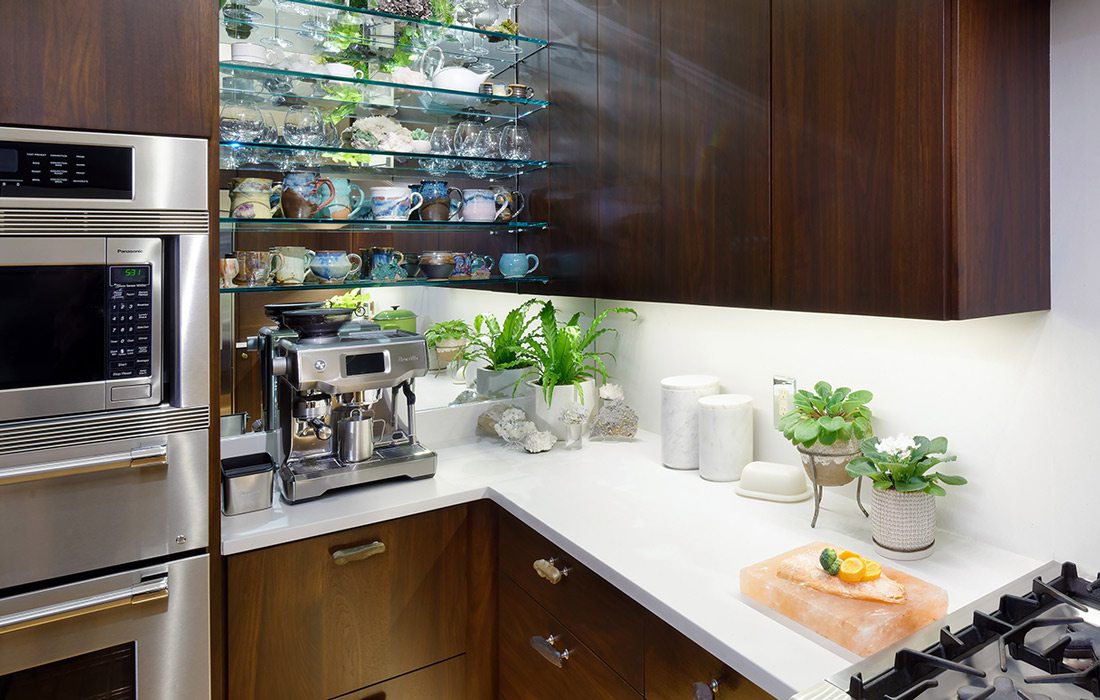 Three Tips to Turn Your Kitchen into a Retreat
1. Tackle Kitchen Storage
The Garden Kitchen boasts impressive organization, which Dahlberg says is the result of "copious lists." She spent weeks tracking her clients' needs, identifying what items were used regularly enough to warrant easy access and which items could be stored further from reach. This process can feel intimidating, but, Dahlberg says, "You start somewhere, and you just keep working and analyzing."
2. Dial Up the Contrast
Dahlberg's clients knew they wanted to use natural wood for their custom cabinetry. They tried out several samples before settling on sleek, dark walnut, which was further customized with a double stain. This choice created an elegant color contrast with the light wood floors. Dahlberg then added a textural contrast by using natural rock drawer pulls.
3. Illuminate Your Space
Ron's Electric helped Dahlberg come up with a dramatic lighting scheme that maximizes the kitchen's usability. "The cabinets are all lit from within and underneath," Dahlberg says. "At night, it's absolutely stunning."