Home Profiles
Peek Inside Heather Kane Kohler's Bright, Colorful and Whimsical Nursery
Heather Kane Kohler ditched gender-focused nursery design, instead opting for a graphic, colorful approach to welcome her new arrival.
By Lillian Stone
Sep 2020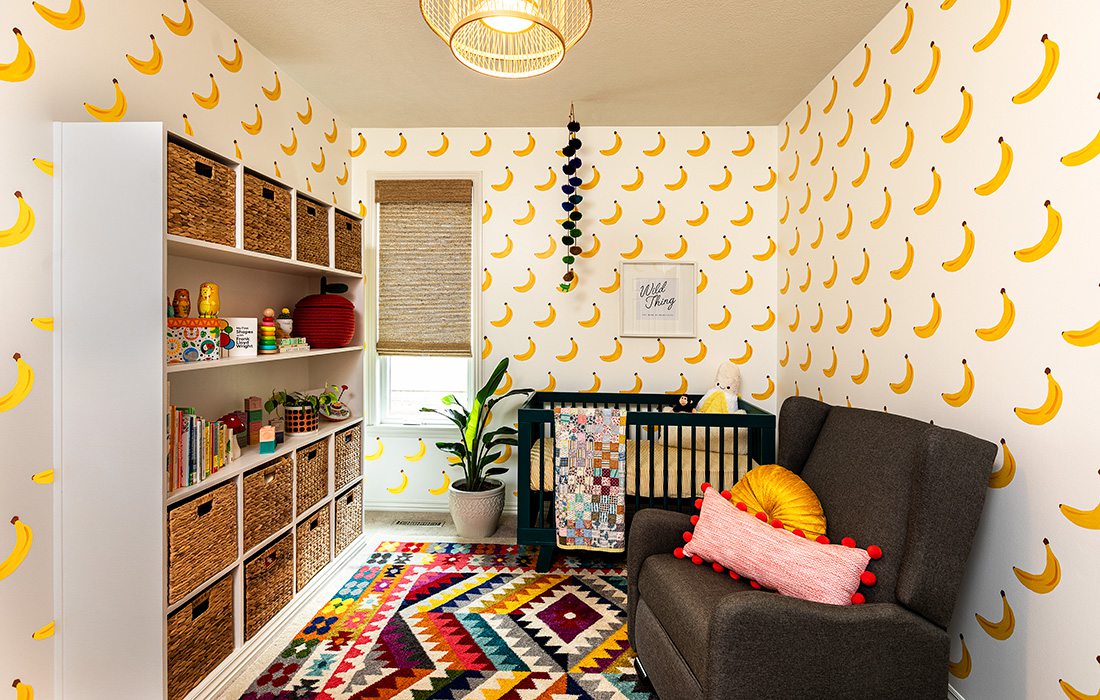 With a baby boy on the way, 417 Home's Editor-at-Large Heather Kane Kohler knew she wasn't interested in the more traditional nursery themes that abound on Pinterest. Kohler wanted a bright, creative space filled with color and light, so she took inspiration from an unexpected source: a photo of Tommy Hilfiger's whimsical bathroom in his Miami home. "The bathroom had this amazing wallpaper, and I saved the photo as inspiration for a really long time," she says. But when it came time to order wallpaper, Kohler couldn't find a design that fit her vision. Instead, Kohler and her husband, Ben Kohler, opted for the DIY route. Kohler plucked a banana out of her kitchen, traced it onto a slab of insulation foam and made a series of stencils; then, she and her husband measured the nursery walls, using the stencils to cover the walls in orderly rows of vibrant yellow bananas. Finally, Kohler went through and touched up each banana by hand. "I love color, and I saw this as an opportunity to have a color explosion in a way that you can't really do in the more adult rooms in the house," Kohler says.
By the time Kohler's son, Archie, was born in early June, Kohler had finished the room with rattan accents, including rattan blackout window shades from Bloomin' Blinds of Springfield. Also instrumental in the final design was a built-in shelf that Kohler's husband constructed. "Babies have a lot of stuff, so we needed space to display Archie's books and toys and things without opting for a giant dresser or bulky furniture." Kohler also converted the nursery closet into a changing area, leaving more space in the main room. Now, little Archie has plenty of space to grow surrounded by creative accents like locally sourced paintings and kid-friendly art books.
Build Your Own Gallery
Kohler prioritized graphic pieces to keep her little guy engaged, including several pieces from independent artists.