Inspiration
Weathering Wintertime at Blue Heron Farm and Bakery
At Blue Heron Farm & Bakery, the colder seasons are as essential and enjoyable as spring and summer.
By James Boosey, chief operator at Blue Heron Farm & Bakery, as told to Kate Duby
Dec 2021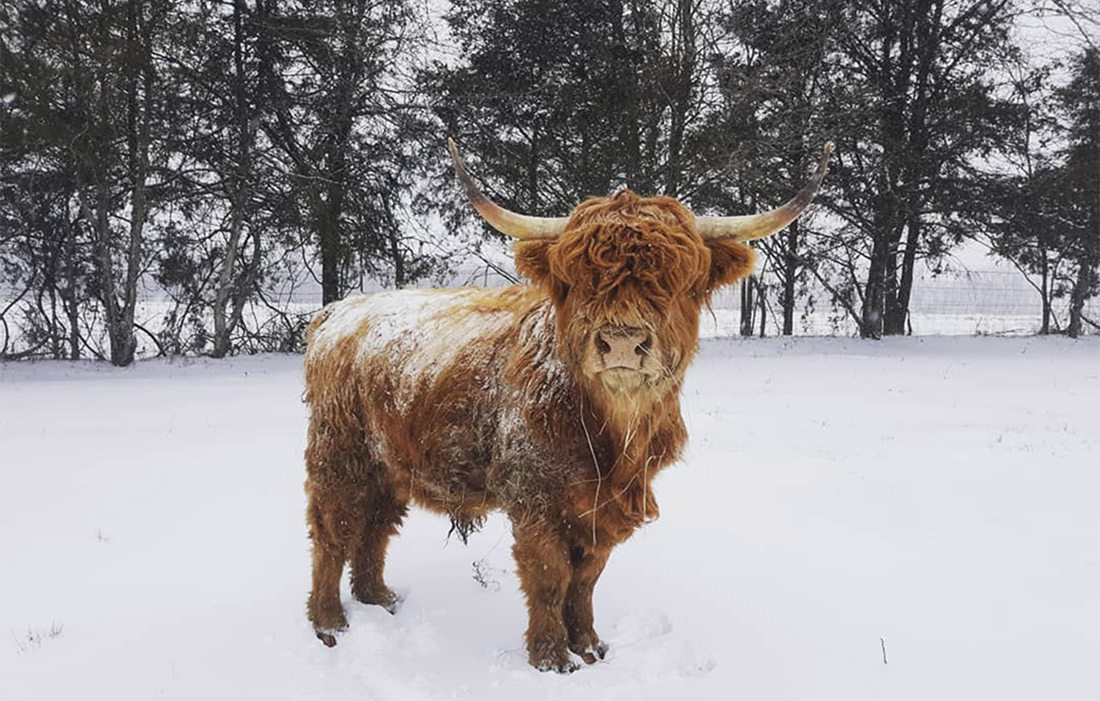 Life on a farm is quite diverse. Every season offers you a different way of looking at [the work] you're doing. Going out and just walking and enjoying the land in a different season is a large part of it. When you work outside a lot, I think the biggest change is the aesthetic. You go from dense, lush green—a lot of woodland that's pretty impenetrable during the summer months—and as fall and winter come in, you start to see the trees again in a completely different way.
Because things aren't growing as vigorously, life is more dormant and you get to focus on other projects… [and] when it's crisper, the humidity has died down and the climate is much drier, it's just a nice time to be out.
Our business has evolved quite dramatically over the last few years—we have a bakery now, and that's an increasingly large part of our revenue. We also roast and now offer espresso-based drinks at our farmer's market, so we do a lot more than just farming. That's very much how we approach the winter as a business, because we have a lot of diversity and depth in what we offer and how we use the farm to promote that.
As far as winter goes, we are a four-season farm, so our focus now is our cows. We raise a breed of cow called Scottish Highlands. They're a medium-sized cow, they have a very long coat and they also have big, long horns. They're very distinctive looking, and they're quite sassy—lots of personality. In the winter, [our] focus is just keeping them well-fed. We breed them in the fall so that they will calve in the latter part of the winter, so the priority is looking after their nutrition and helping them mature until about late January or February when they actually start calving.
This time of year, we're clearing up after the summer, so we're taking down the gardens, putting things away after the growing season, composting, preparing beds for next year as much as we can before the spring and just trying to get general maintenance done around the farm before winter sets in. Fall and winter are also [when] we do a lot of fencing, especially the boundary fences, which are very overgrown during the summer months with vegetation and brambles. In the winter that dies down, and it gives us the opportunity to check that all the fences are secure and make any modifications or improvements that we might want to make.
We have a bakery that we run full time all year, so that doesn't change [in the wintertime]. We also operate what we call a pop-up cafe at Farmers Market of the Ozarks, so that's our primary market. We're quite proud to be at the farmer's market; [it's] a year-round market, and we think it's very well run. We do a little pop-up cafe there that we call the "all-weather café" just to illustrate the point that we're there year-round and whatever the weather.
Find Blue Heron Farm and Bakery's products at Farmers Market of the Ozarks and follow them on Instagram, or click the link to visit the website.