Things to Do
A Guide To Rides on the Branson Strip
All the thrill rides you can find in Branson MO without leaving the strip.
By Jamie Thomas
Aug 09 2019 at noon
If you live in 417-land but you've somehow never been to Branson, Missouri, this blog is for you. Don't know where to start? Check out this itinerary of what to do in Branson, MO while sticking to the strip.

What is The Strip?
You've probably heard a few people casually mention the "strip" when they talk about Branson. For the uninitiated, "the strip" refers to Highway 76, which runs through Branson like an aorta for tourism. Although there are attractions both in and around Branson, a lot of the biggest and best known are found on the strip.
What to Ride
What better way to kick off your visit than with something to get your blood pumping? Branson is home to all kinds of rides; some are easy-going, some are more exciting, others are...well, keep reading.
Find the Best Things to do in Branson, Missouri
Want more things to do in Branson? Check out our full roundup.
The BuzzSaw
Location: Branson Sawmill
Why start small? The BuzzSaw takes you over 120-feet into the air and spins at 10 revolutions per minute. The smooth ride gives you a sweeping panorama of Branson without jolts or drops and is a great way to ease yourself into a day of thrills. As long as you open your eyes.
The Branson Coaster
If you want something that gives you a little more control, the Branson Sawmill is also home to the Branson Coaster. The ride lets you control the speed of your on-rails cart (which can hold either a single person or a pair) as you glide smoothly through the trees. Not as dizzying or terrifying as a typical coaster, but enough to prepare you for something bigger.

The parking lot at the Branson Sawmill is on a steep incline, so keep that in mind if there's anyone with you who struggles with steps or more strenuous walks.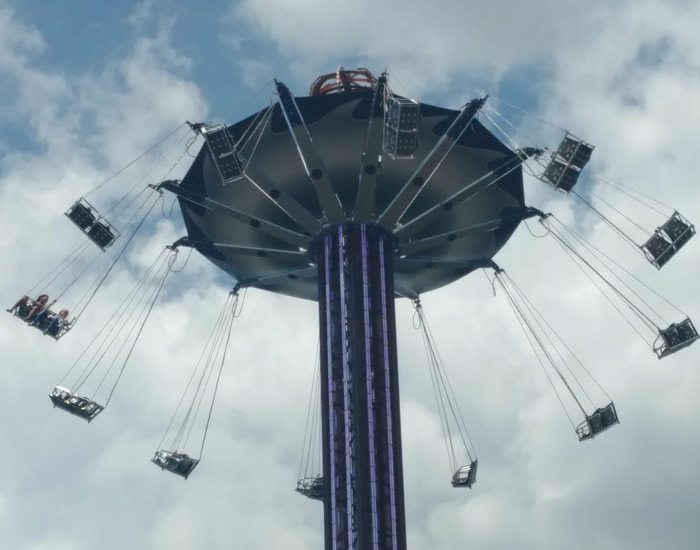 Photos by Jamie Thomas The BuzzSaw and the Branson Coaster at the Branson Sawmill.
The Skyscraper
Location: Track 3, Tracks Family Fun Parks
If you're looking for something truly intense, the Skyscraper is it. You can read about my own harrowing experience with this new Branson thrill ride in a previous blog. Four seats, two on either end, take riders for a 60 mph spin, with some brief respite at the top that lets you see all of Branson from a 160-foot-high perch. Oh, the seats also swivel as the whole thing spins. I recommend a light breakfast.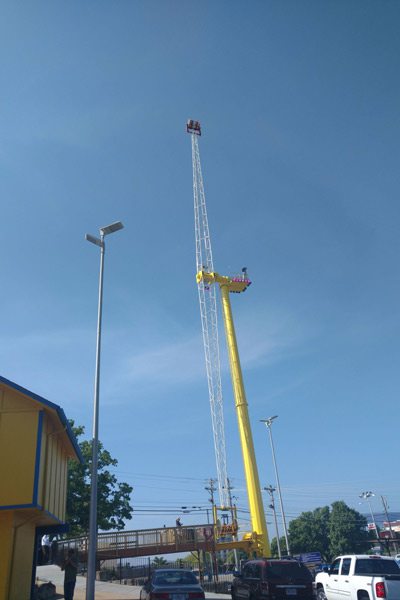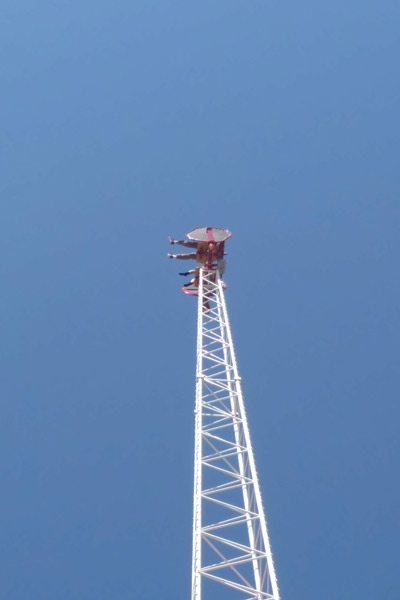 Photos by Jamie Thomas The towering Skyscraper at Track 3 of the Tracks Family Fun Park.
The Gravity Bomb
Location: Bigfoot Fun Park
The Gravity Bomb is a 200-foot tower that takes you all the way up before dropping you all the way back down. What makes the Gravity Bomb special is seat belts. Unlike other rides, the Gravity Bomb has you strapped with only a seat belt across your lap. No hefty shoulder restraints to cling onto for dear life—the Gravity Bomb removes that sense of security so you feel every bit of the drop. Don't worry, the seat belts hold you securely in place. It just won't feel like it on the way down.
The Super Sling
On the other side of the Gravity Bomb is the Bigfoot Super Sling. The Bigfoot Super Sling puts two riders back-to-back, strapped into a saddle of sorts. Then they're launched 100 feet into the air. Just like the Gravity Bomb, the sling holds you in place with secure but sparse straps, so you really get a feeling of speed and weightlessness. Seasoned slingers can even learn how to shift their weight to add some extra moves when they're in the air. You can even take a look at some fun park team members demonstrating this one over on their Facebook page.
Bigfoot Discovery Expedition
The park also offers the Bigfoot Discovery Expedition. If you've got a couple of hours to spare, take a trip out into the wild, feed some friendly cows and just maybe spot a sasquatch.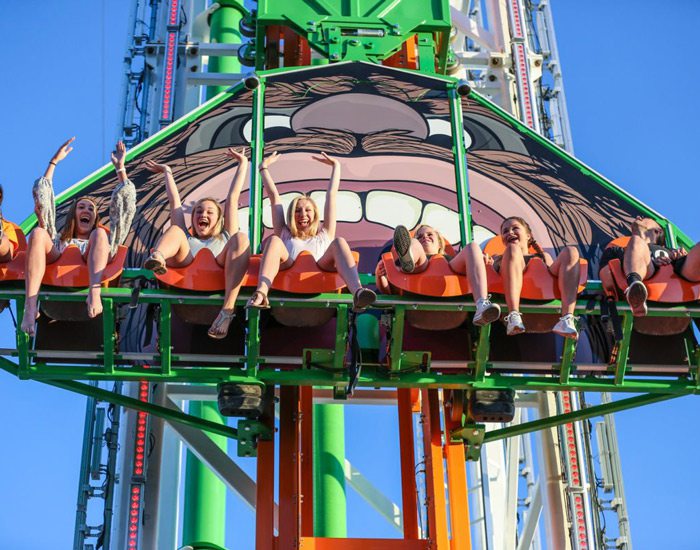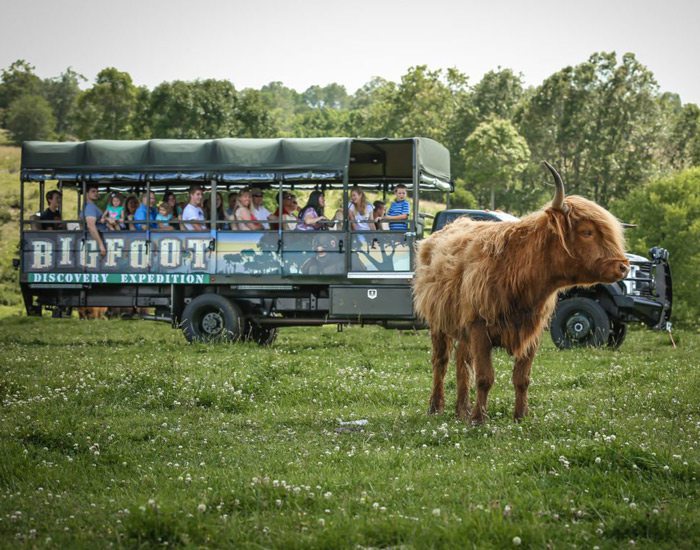 Photos courtesy Bigfoot Fun Park
Branson Ferris Wheel
Location: Track 4, Tracks Family Fun Parks
The Branson Ferris Wheel is a classic fairground attraction that offers all of the views of the terrifying rides without any of the terror. If you're not the thrill-seeking type but still want to say you at least rode something, this is for you.
The Skycoaster
Also located on Track 4 is the Skycoaster. This is the closest thing to being able to soar like a superhero you'll get. Riders are strapped in and attached to a bungee cord, lifted a hundred feet, then dropped into a free-falling, gravity-defying swing. The swing reaches speeds of up to 70mph, combining the pulse-pounding experiences of sky-diving and hang-gliding, and creating a sensation akin to your skeleton trying to remove itself from your body.

Helicopter Tours
Right next to Track 4, you'll find the Branson Helicopter Tours helipad. This is a great option for anyone who wants to do something a little thrilling who can't (or won't) go on any rides. They offer a variety of different options for tours, including a 5-ish-minute quick ride or a lengthy 20 minute flight. Keep in mind that there is a two-ticket minimum.

Chopper Charter Branson is another option, just a little past the Hollywood Wax Museum.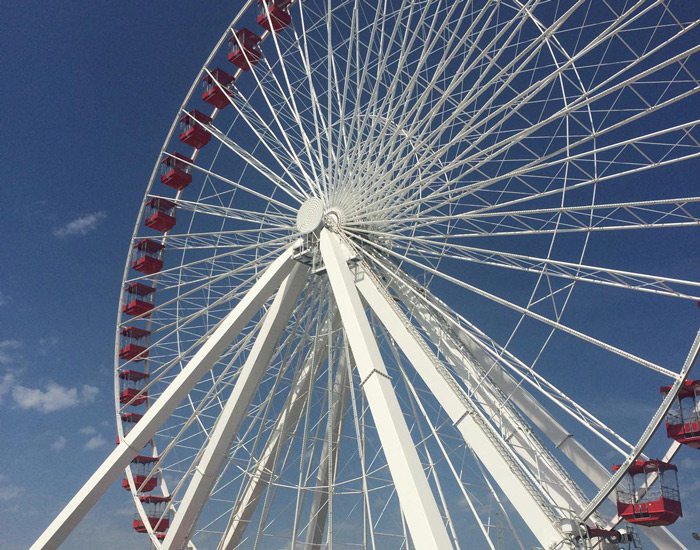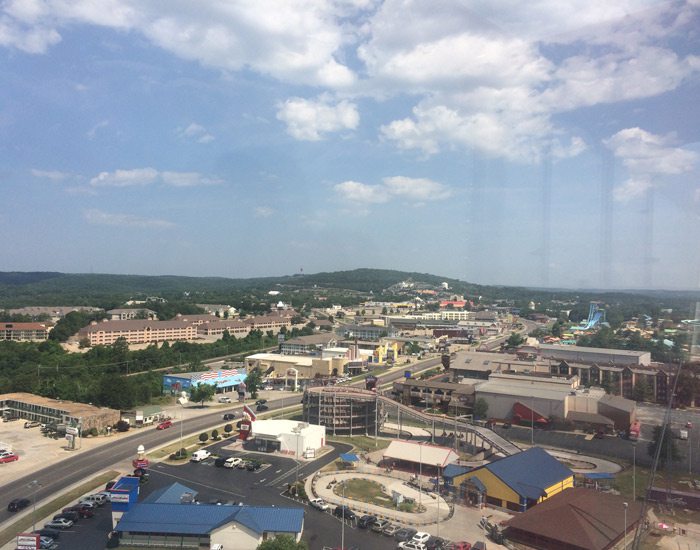 Photos by Adrienne Donica The Ferris Wheel and a view from the top.
Where to Eat
There are a lot of places to eat in Branson. A lot. If you want something easy and familiar, all the usual chains are on the strip. You'll find Steak 'n Shake, Dairy Queen, McDonald's, Andy's Frozen Custard, IHOP and many other standards. But why not try out something local? With so many options, I'm just talking about my favorite as an example.

Billy Bob's Dairyland
Billy Bob's Dairyland is small, but packed with old school American character. Bring your appetite—their servings are considerable (the double cheeseburger is well worth unhinging your jaw for.) You might want to hold off on eating here until after you've been on a few rides. Billy Bob's gets busy during lunch hours, so be ready to wait if you bring a group. Make sure you have cash, too—they don't take cards.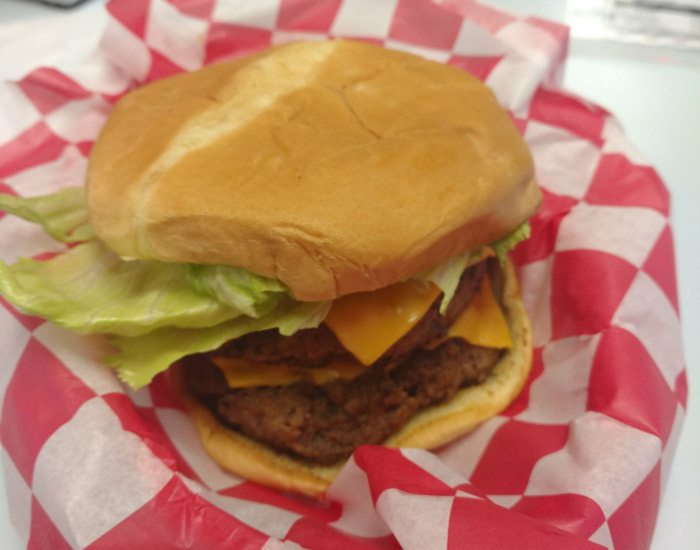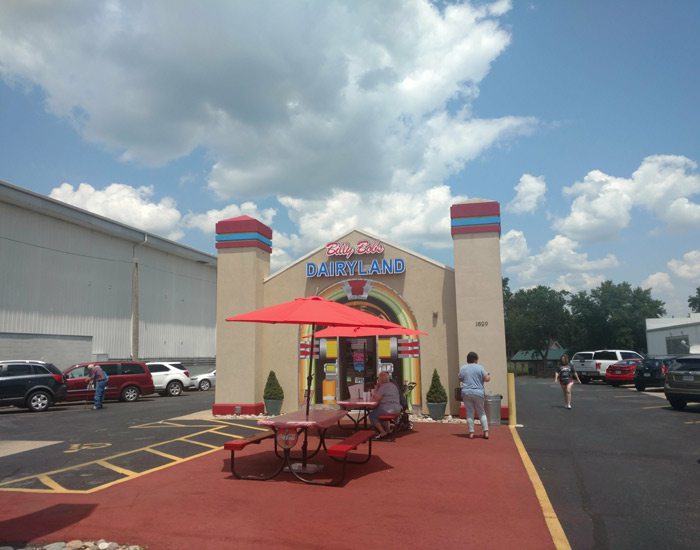 Photos by Jamie Thomas The face-fracturing double cheeseburger and Billy Bob's Dairyland from outside.
Other Attractions (That Aren't Thrill Rides)
If you checked out that Skyscraper blog linked earlier, you know I'm less of a thrill ride connoisseur and more of a thrill ride survivor. Reading this blog, you'd be forgiven for thinking that Branson is nothing but rides. What are those of us less adrenally-inclined supposed to do? Luckily, there's plenty in Branson that doesn't involve heart palpitations or your feet having to leave the ground.

You could always catch one of the many Branson shows at a venue like Dick Clark's American Bandstand Theater or Dolly Parton's Stampede. Or you could take a tour of the bizarre at Ripley's Believe Or Not, or mingle with the stars at the Hollywood Wax Museum, check out famous rides of another kind at the Celebrity Car Museum.

Make It a Vacation
The strip in Branson, MO has far more to offer than we've covered here, and that's not to mention what you'll find beyond it. You could definitely get through this itinerary in a day but, to get the most out of Branson, book one of the many hotels or Branson vacation packages and spend a few days taking it all in.
What favorite thrill rides did we not mention? Any local eateries you want to recommend? Got a particular show that should be shouted out? Email me and let me know. Need help planning a trip? Visit explorebranson.com and use their trip planner to organize and print your itinerary.