Recipes
3 Not-Basic Stuffing Recipes
Shake things up this Thanksgiving and give a new stuffing recipe a whirl. Choose from oyster and bacon stuffing, orange and pomegranate stuffing, and a gluten-free option featuring herbs and cornbread.
By Ettie Berneking
Oct 28 2020 at 3:14 p.m.
This year has been anything but ordinary, and chances are, Thanksgiving will be equally as unusual. If your traditional plans have been changed or the guest list seriously reduced, use it as an opportunity to experiment with new recipes. Less people around the table means less potential critics, right? 
PRESENTED BY
To make this year's menu a bit more inventive, we turned to the culinary pros at Hy-Vee to get three new stuffing recipes featuring citrus, oysters and gluten-free cornbread. Hy-Vee already goes out of the way to make Thanksgiving easy with ready-to-go side dishes and entire turkey dinners, but if you're still eager to do all the cooking yourself, you can at least toss out one time consuming step: toasting bread in the oven to make your stuffing. Hy-Vee is on it! They've gathered up all that extra bread from the bakery, toasted and diced it for you, so it's bagged and ready to go.
After all, when it comes to Thanksgiving comfort food, stuffing is the main attraction. "Stuffing is generally one of those recipes that's passed down through the family," says Michelle Caenepeel, Hy-Vee's marketing, catering and special events director.  "So our chefs build new recipes around some of those family favorites." But at the end of the day, Caenepeel says any new recipe is developed with the audience in mind. So whether you're looking for something fresh and tart or on the healthier side, throw on that apron and get cooking.
Orange and Pomegranate Stuffing 
Ingredients: 
1⅔ cup water
4 tbsp. salted butter
1 6-oz. package of turkey stuffing mix
⅓ cup pomegranate seeds
1 tsp. orange zest
2 navel oranges, peeled and sectioned
Fresh parsley for garnish
Directions:
Add water and butter to a medium saucepan and bring to a boil. Remove water from heat and add stuffing mix, pomegranate seeds and orange zest. Cover and let stand for 5 minutes. Fluff with a fork. Stir in orange segments. Garnish with chopped parsley, if desired.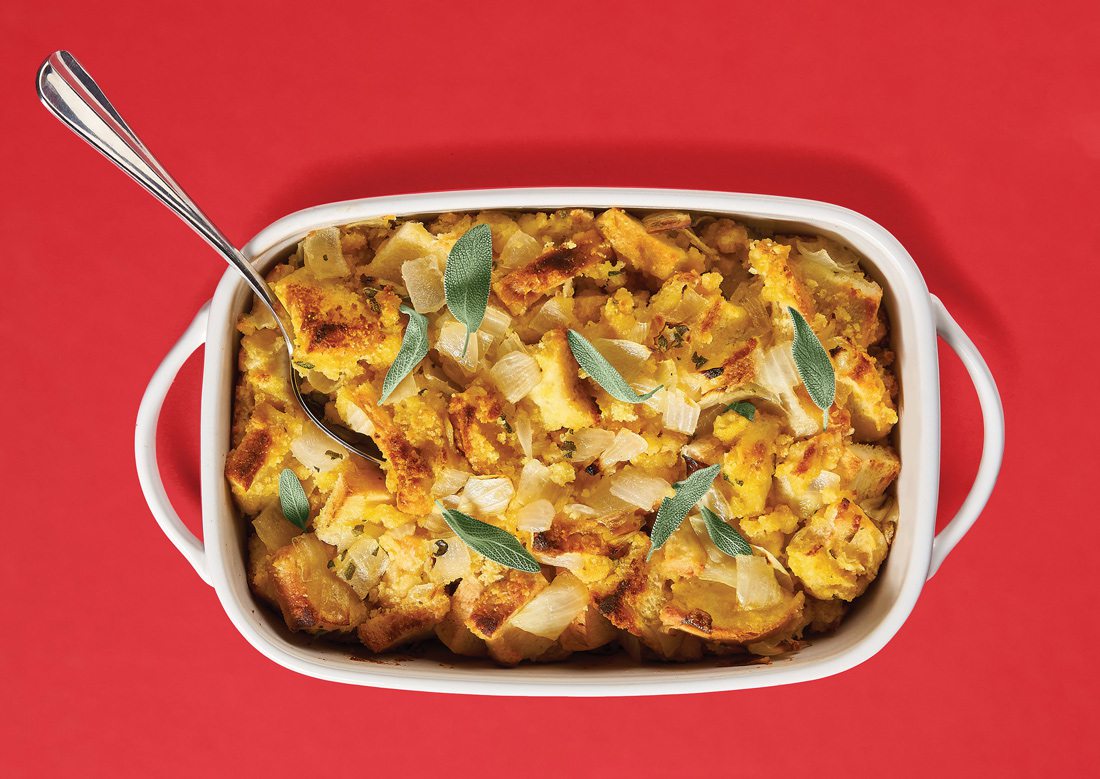 Gluten-Free Herb & Cornbread Stuffing
Ingredients: 
16 oz. gluten-free cornbread cubes from the Hy-Vee bakery
¼ lb. butter
1 cup celery, chopped
1 cup onion, chopped
1 tsp. dried thyme
1 tsp. dried sage
1 cup parsley, chopped
1 egg, lightly beaten
1 cup gluten-free chicken stock
Salt and pepper to taste 
Directions:
Place cornbread cubes on a baking sheet. Bake at 350 degrees for 30 minutes, or until toasted, stirring every 10 minutes. Remove cornbread cubes from the oven and let cool to room temperature. 
Melt butter in a pan. Saute celery and onion until soft. Stir in thyme, sage and parsley. Let cool slightly. Stir toasted cornbread cubes and sautéed onion/celery mixture together. Add beaten egg and mix well. Add chicken stock and mix together lightly but thoroughly. Add salt and pepper to taste. 
Use mixture to stuff the cavity of a turkey, or bake the stuffing in a casserole dish at 350 degrees for 30 minutes.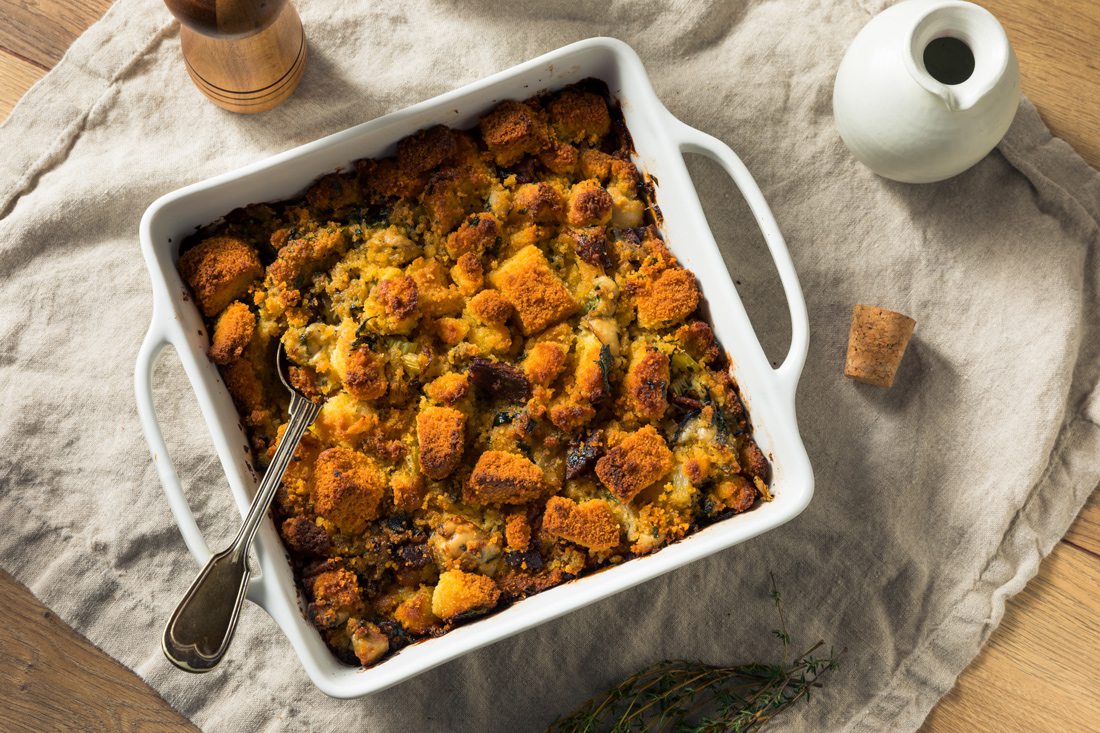 Oyster & Bacon Stuffing
Ingredients:
1 lb. bacon, cut into ½-inch pieces
2 medium onions, chopped
1½ cups celery, chopped
1 tbsp. finely chopped fresh sage (or 2 tsp. Dried sage, crumbled)
½ tsp. salt
¼ tsp. Pepper
2, 12-ounce bags of Hy-Vee fresh bakery stuffing bread
½ cup unsalted butter, melted
16 oz. Chicken of the Sea oysters, drained
3 large eggs, lightly beaten
1½ cups chicken broth
Directions:
Preheat the oven to 325 degrees. Butter a 3- to 3-1/2-quart shallow baking dish. In a large skillet, cook bacon pieces over medium heat, stirring occasionally, until crisp, about 10 minutes. Transfer bacon to paper towels to drain, reserving drippings in the skillet. 
Add onions, celery, sage, salt and pepper to drippings in the skillet over medium heat, stirring occasionally, until vegetables soften, 8 to 10 minutes. Transfer vegetables to a large bowl. Stir in stuffing, cooked bacon pieces, butter, oysters and eggs. Add chicken broth to the stuffing mixture. Add additional broth, as necessary, if stuffing seems dry. 
Transfer to prepared dish. Bake stuffing, covered, 30 minutes. Uncover and continue to bake until browned, about 30 minutes more.