We Are #417Strong
Tone and Tighten at Home with Face Yoga
Learn how to tighten your facial muscles with these five simple exercises you can do at home.
By Haley Phillips
Apr 2020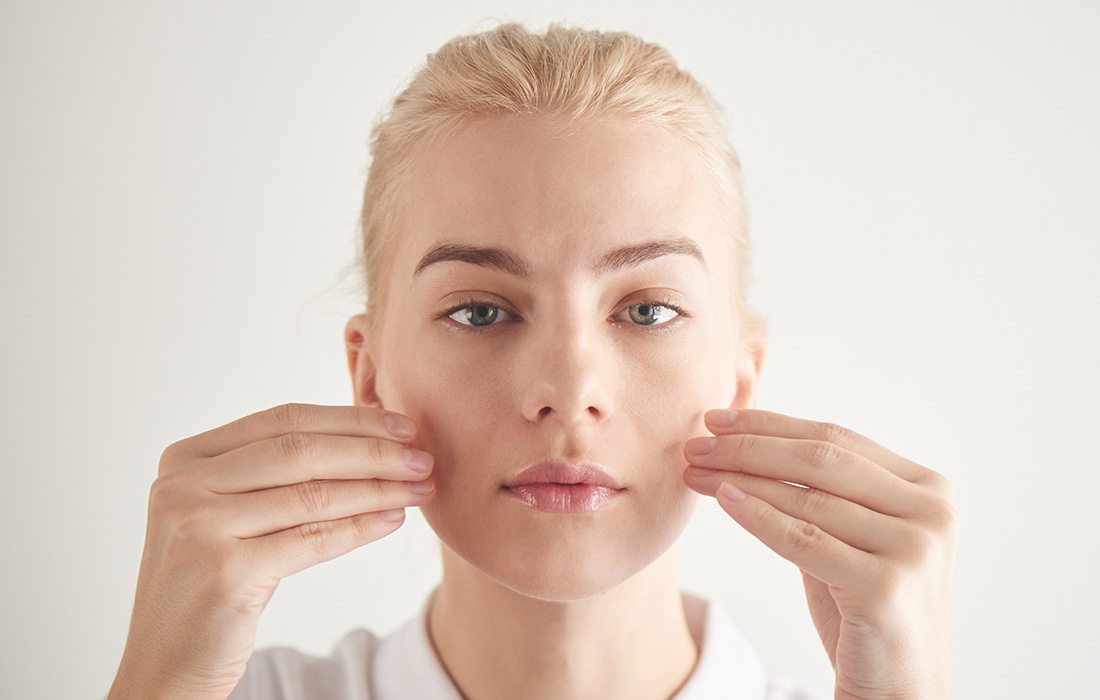 Frowning, smiling and other expressions are a part of daily life but sadly, these involuntary movements can cause wrinkles to form, notably between our brows and on our foreheads. To combat these laugh lines and creases, many turn to serums, botox or other painful procedures. Since our favorite med spas and clinics are currently closed, we're seeking out alternatives to keep that youthful glow while still following stay-at-home orders. Enter: face yoga. Thanks to the emerging trend, we're able to work on our beauty routines from the comfort of our own homes and see real results.
To tell the truth, face yoga has been around for years but recently the unique exercises have seen a resurgence. By practicing the exercises daily, facial muscles are said to strengthen, causing the face to become firmer and more toned and resulting in a more youthful look. The recommended regimen includes practicing face yoga twice a day, once in the morning and once before bed. Some users noticed results right away but most people will see a change within two weeks according to Face Yoga Method's website. The key to practicing face yoga is to make sure you're not creating wrinkles while doing the exercises. If you see wrinkles forming on your face while doing any of these exercises, it's a sure bet that you're doing it wrong. Ensure that you're doing these exercises correctly by slowing down and controlling your movements.
It comes with no surprise that local yoga studios have been on the trend for years, with studios like Essential Yoga hosting a face yoga workshop in the past and others incorporating the exercises into their everyday classes. More recently, Kom Hot Yoga is offering an online how-to video on their Facebook page this Thursday—follow along to make sure you don't miss it!
Ready to Try Face Yoga?
To get you started, we've rounded up five easy exercises recommended by Danielle Collins, the world leading face yoga expert, to try at home.
The V
Form a "V" with your index and middle finger and place it over your eye—middle fingers resting between your eyebrows while the index fingers sit on the outer corners of your eye. Apply pressure and then, without tilting your head, look up to the ceiling. Raise your lower eyelids to form a squint—you should feel a little shake but don't worry, that's your muscles working! Relax, then repeat six more times.
Smile Smoother
Using your lips, hide your teeth by making an "O" shape with the mouth. Smile widely while keeping the teeth hidden and repeat six times. Next, hold the smile shape while placing one index finger on the chin. Then slowly start to move the jaw up and down—in a chewing motion—as the head tilts gently back. Continue the motion as you tilt your head down again to face forward. Relax and repeat twice more.

Smooth the Brow
Place both hands on the forehead facing inwards and spread all of the fingers out between the eyebrows and hairline. Gently sweep the fingers outwards across the forehead, applying light pressure to tighten the skin. Relax and repeat 10 times.
Flirty Eyes
Place an index finger under each eye, pointing towards the nose. Hide your teeth by pulling your top lip and bottom lip away from each other to form an "O" like before. Look up towards the ceiling and flutter the upper eyelids as much as you can for 30 seconds.
The Giraffe
Looking straight ahead, place your fingertips on your neck and lightly stroke the skin downwards with the head tilted back. Bring the head back down to the chest and repeat twice more. Now, let your fingertips rest on your collarbone; with your chin pointed upwards, jut out your lower lip as far as possible and feel the stretch. Hold for four deep breaths.