Recipes
Carrot Cake with Cream Cheese Frosting
This light and fluffy cake with its cardamom-spiced cream cheese frosting is the perfect dessert for your Easter weekend.
By Ettie Berneking
Apr 01 2015 at 1:05 a.m.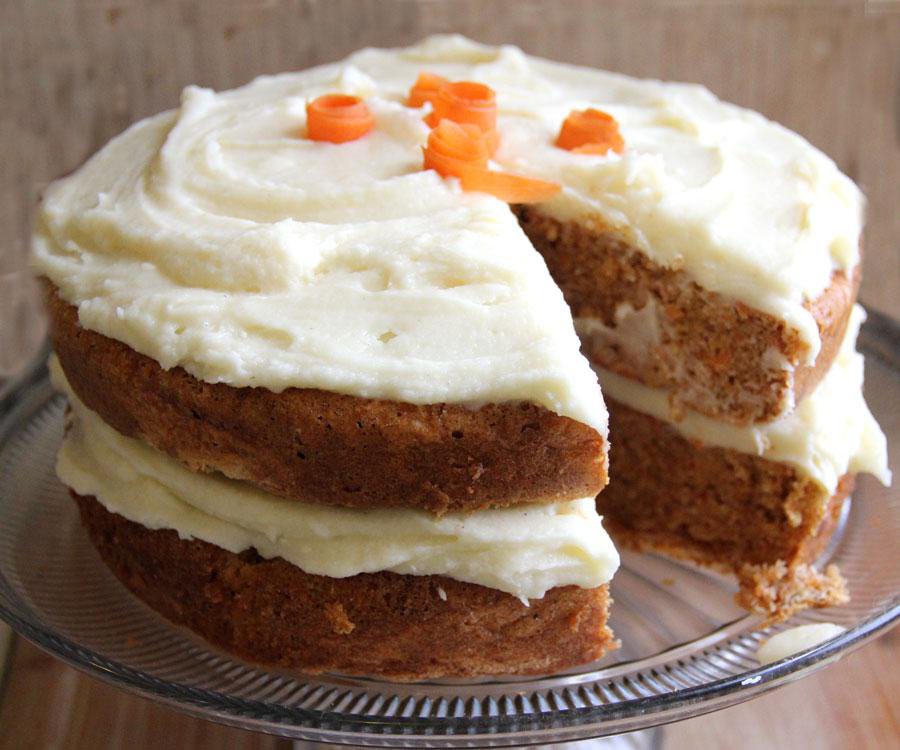 Happy almost Easter! I love this holiday. As a kid, Easter was as exciting as Christmas. Each year, my brother and I were gifted little wicker baskets that overflowed with candy. There were Cadbury Crème Eggs, Peeps galore, chocolate bunnies and all sorts of brightly colored jelly beans. During the day, the family would gather around the kitchen table and dye Easter eggs before feasting on an amazing ham dinner that my mom would work on all day. And for dessert, she usually made us a giant Jell-O bunny with jelly beans settled into the jiggly Jell-O. She even dyed coconut green so that it looked like the bunny was sitting on a pile of soft grass. It was so pretty but kind of disgusting. We eventually convinced our mom to stop making the Jell-O bunny.
Now, many years later, that wobbly bunny has been replaced with carrot cake—a much-appreciated upgrade. But just like when we were kids, those hours of egg dying are still a must. This year, my mom and I met up for a girl's weekend and whipped up this double-layered carrot cake she had found in Better Homes and Gardens.
It was a blast. There are a few steps that make this cake a bit tricky to make, but the extra work is well worth it. My favorite part was watching as my mom whipped egg whites into stiff peaks and folded the airy mess into the sweet cake batter. Watching my mom bake is magical. She never gets flustered. She never skips a step or misses an ingredient. Unlike me, who has to read and then reread a recipe before diving in, and I'm still likely to miss an entire step.
But under my mom's watchful eye, our carrot cake turned out beautifully. And once the cakes cooled to room temperature, we iced them with the decadent cream cheese–Mascarpone frosting. It was an afternoon of great food and even better company.
Carrot Cake with Cream Cheese Frosting
Shopping List:
Carrots
Eggs
Nutmeg
Cardamom
Unsalted butter
Buttermilk
(All available at MaMa Jean's Natural Market)
Cake Ingredients:
4 large carrots, peeled
2½ cups all-purpose flour
2 teaspoons cinnamon
1 teaspoon baking soda
½ teaspoon salt
½ teaspoon ground cardamom
¼ teaspoon nutmeg
1 cup unsalted butter, warmed to room temperature
2 cups sugar
1 teaspoon vanilla
5 eggs, separated, at room temperature
¾ cup buttermilk
Frosting Ingredients:
1½ cups unsalted butter, softened
8 ounces cream cheese, softened
8 ounces Mascarpone cheese, softened
¼ teaspoon kosher salt
¼ teaspoon ground cardamom
1 teaspoon vanilla
1 pound powdered sugar
Directions:
1. Heat the oven to 350°F. Grease and flour two 9-inch round baking pans, and set aside.
2. Finely shred 3 of the carrots in a food processor, and coarsely shred 1 carrot.
3. In a medium bowl whisk together the flour, cinnamon, baking soda, salt, cardamom and nutmeg, and set aside.
4. Using an electric mixer, beat the butter on medium-speed for 30 seconds. Gradually add in the sugar until it's combined. Beat in the carrots and vanilla until combined. Beat in the egg yolks, one at a time, beating just until combined after each addition. Next, alternately add in the flour mixture and the buttermilk. If you don't have a second mixing bowl, transfer the cake batter to another bowl, and wash the original mixing bowl.
5. Thoroughly wash beaters, and using the clean bowl, beat the egg whites with the electric mixer just until stiff peaks form. Fold the egg whites into the cake batter.
6. Divide the batter between the prepared pans. Bake for 30 minutes or until the cakes pull away from the sides of pans and a toothpick inserted in the centers comes out clean.
7. Cool the cake in the pans on wire racks for 10 minutes. Remove the cake from the pans, and cool completely.
8. While the cakes are cooling, whip up the icing by combining the butter, cream cheese and mascarpone cheese in an electric mixer. Add the salt, cardamom and vanilla. Gradually add the powdered sugar, and beat until smooth. Once the cakes are ready, frost and serve.