Recipes
Summer Pasta Salad
Enjoy the best flavors of summer with this adaptable pasta salad.
By Ettie Berneking
Jul 16 2015 at 5:54 a.m.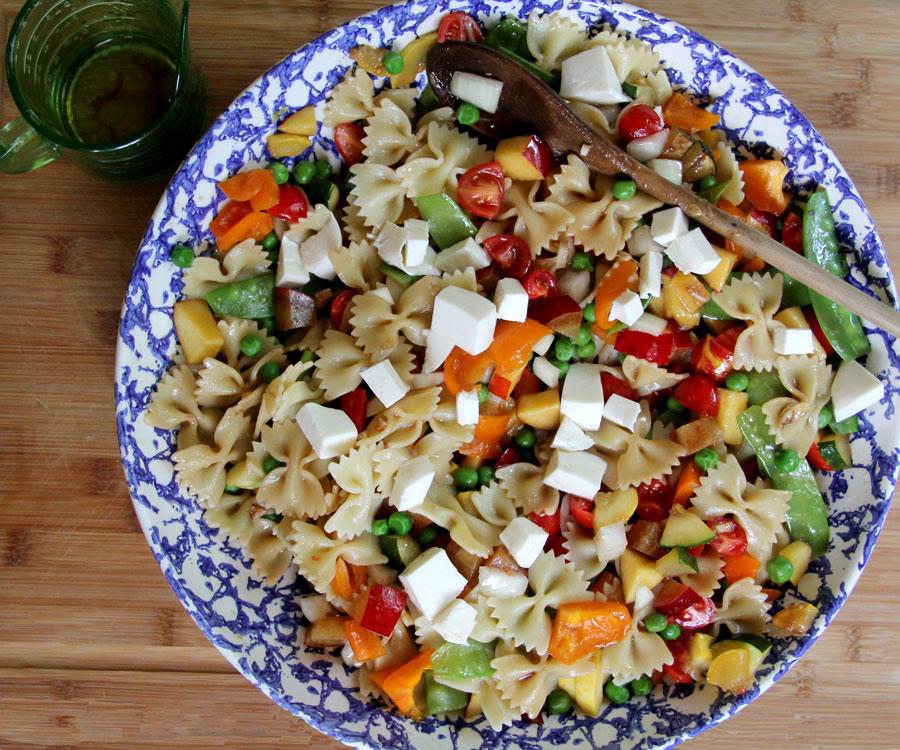 I have come to love pasta salad. I think this might be one of the only dishes that's impossible to screw up past the point of no return. This new love developed a few weekends ago when we had a family gathering at Clear Lake, Iowa. In preparation for the long weekend, my mom and I had hauled in a random assortment of pantry items. (This was really a chance for us to clean out her fridge and pantry and throw away all those rotten lemons that were piling up.)
With so many hungry family members to feed and a lineup of activities that would likely disrupt regular meal times, we weren't able to do much of any meal planning. We simply tossed an assortment of pasta, fruit, onions, crunchy veggies and several rounds of hard cheese into a cooler and hit the road. It worked out perfectly and set me on a pasta salad-binge for about a week after we got home. The trick to a well-rounded pasta salad is variety, so mix up the textures and flavors. You need some crunch whether it's with sugar snap peas, bell peppers or even chopped cashews. I made one variation that had way too many mushy items, and it really dampened the effect.
I also recommend experimenting with the dressing. I tried one that had Dijon mustard mixed in, and it was great! But it's almost lunch time, and that means my pasta salad is calling my name!
Till next week, happy cooking!
Summer Pasta Salad
Makes 8 servings

Shopping List:
Stone fruit (peaches, nectarines, plums)
1 sweet onion
Sugar snap peas
Fresh mozzarella 
Cherry tomatoes
(All available at MaMa Jean's Natural Market)
Ingredients:
1 box of bow tie pasta
1 sweet onion, diced (you can sauté the onions if you'd like)
1 nectarine, sliced and cut into bite-size pieces 
2 plums, sliced and cut into bite-size pieces
2 handfuls of sugar snap peas, trimmed
2 cups cherry tomatoes, quartered
2 cups frozen peas
1 ball of mozzarella, torn into bite-size pieces
3/4 cup olive oil
1/4 cup balsamic vinegar
1/2 teaspoon salt
1/4 teaspoon ground black pepper
Squeeze of fresh lemon 
Directions:
1. Bring water to a boil, and cook the pasta till al dente. 
2. Right before the pasta is finished, add in the peas and continue to cook until they are bright green Strain and toss into a large bowl.
3. Toss in the rest of the fruit, sugar snap peas, cherry tomatoes, mozzarella and any other ingredients you want.
4. Drizzle with the dressing and lemon juice, and season as needed.