Recipes
Dairy-Free Cranberry Scones
These flaky scones use a simple alternative to heavy whipping cream that will leave you in awe.
By Ettie Berneking
Apr 08 2015 at 5:41 a.m.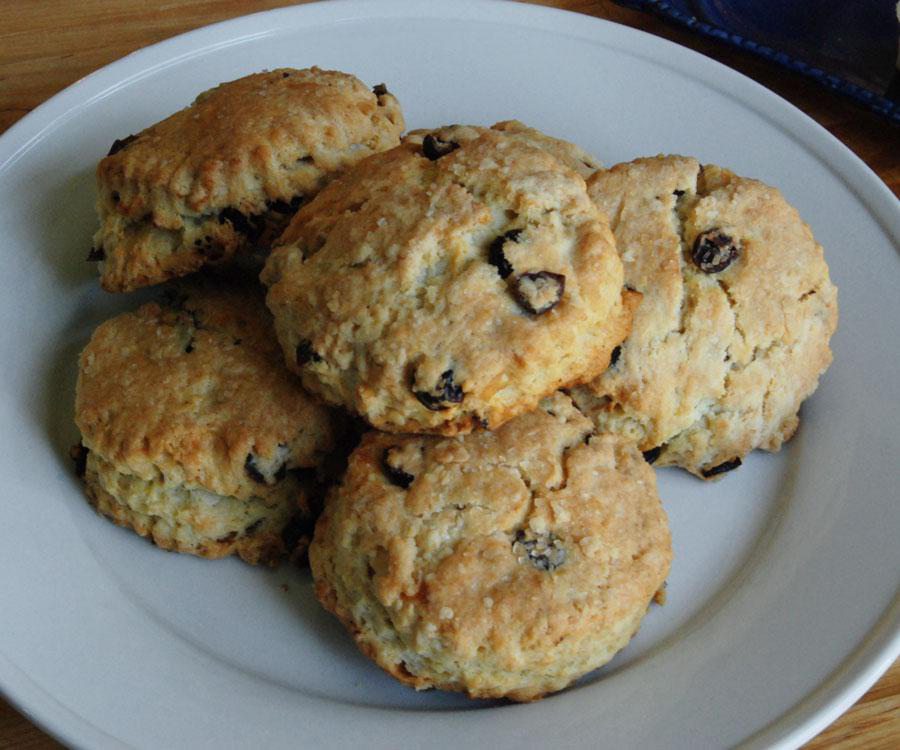 For those of you who follow this blog each week, you know that not all of my cooking experiments work out so well. Some are total flops. But every now and then, some of my ingredient substitutions and recipe trials work wonderfully. This is one of those success stories!
It all started over Easter weekend while I was home visiting my parents. My mom and I had a long list of items we planned on making, including these scones. I love scones. Back in high school when I worked at the small bookstore in my hometown, I started each morning at the shop by making a fresh batch of scones. The whole place would smell absolutely amazing when I finally unlocked the front door. But as much as I love scones, I'm in the middle of trying to cut dairy out of my diet, and the original recipe for these calls for heavy whipping cream. And this is where my successful ingredient swap comes in.
A few days before, I had been reading over recipes for vegan chocolate puddings and dairy-free whipped cream. Turns out canned coconut milk can be whipped into a cream-like consistency and used as a sub for heavy whipping cream in baked goods. All you have to do is mix the coconut milk with some vanilla and powdered sugar.
Totally unsure if this would work and with my mom interjecting her doubts as we worked, I got started on the dairy-free coconut milk whipping cream. Even with the powdered sugar and the vanilla, the cream still tasted like coconut, but somehow that distinct flavor didn't end up in the finished scones.
It worked wonderfully! The scones were just as fluffy and buttery as I had hoped, and even my dad couldn't tell we had ditched the rich heavy whipping cream.
So mark this substitution as a major win.
Till next week, happy cooking!
Dairy-Free Cranberry Scones
Adapted from Ina Garten's Strawberry Scones
Shopping List:
Dried cranberries
Canned coconut milk
Sugar in the Raw
(All available at MaMa Jean's Natural Market)
Ingredients:
2 cups flour
1 tablespoon sugar, plus additional for sprinkling
1 tablespoon baking powder
1 teaspoon salt
1/3 pound cold unsalted vegan butter, diced (Earth Balance butter works great.)
2 extra-large eggs, lightly beaten
1/2 cup cold canned coconut milk
1 teaspoon vanilla extract
¼ cup powdered sugar
1/3 cup dried cranberries
Sugar in the Raw
Directions:
1. Heat the oven to 400° F.
2. Using an electric mixer, combine 2 cups of flour, 1 tablespoon sugar, baking powder and salt.
3. Blend in the cold butter at the lowest speed, and mix until the butter is in pea-sized pieces.
4. To make the coconut cream, use an electric hand mixer to combine the canned coconut milk, vanilla extract and powdered sugar. Add more sugar if needed to reach the consistency of heavy whipping cream.
5. Combine the eggs and the coconut cream mixture, and add them to the flour and butter mixture. Combine until just blended. Toss in the dried cranberries, and mix just to combine.
6. On a well-floured surface, roll the dough out to ¾-inch thick. Cut into your desired shape, and place on a baking sheet lined with parchment paper.
7. Sprinkle with Sugar in the Raw, and bake for 20 to 25 minutes, until the edges start to turn golden brown.