Life
Halloween-ify Your Face Mask
This Halloween, use your face mask as an extra accessory with some creative crafting and customizing.
Halloween-ify Your Face Mask
Oct 26 2020 at 3 p.m.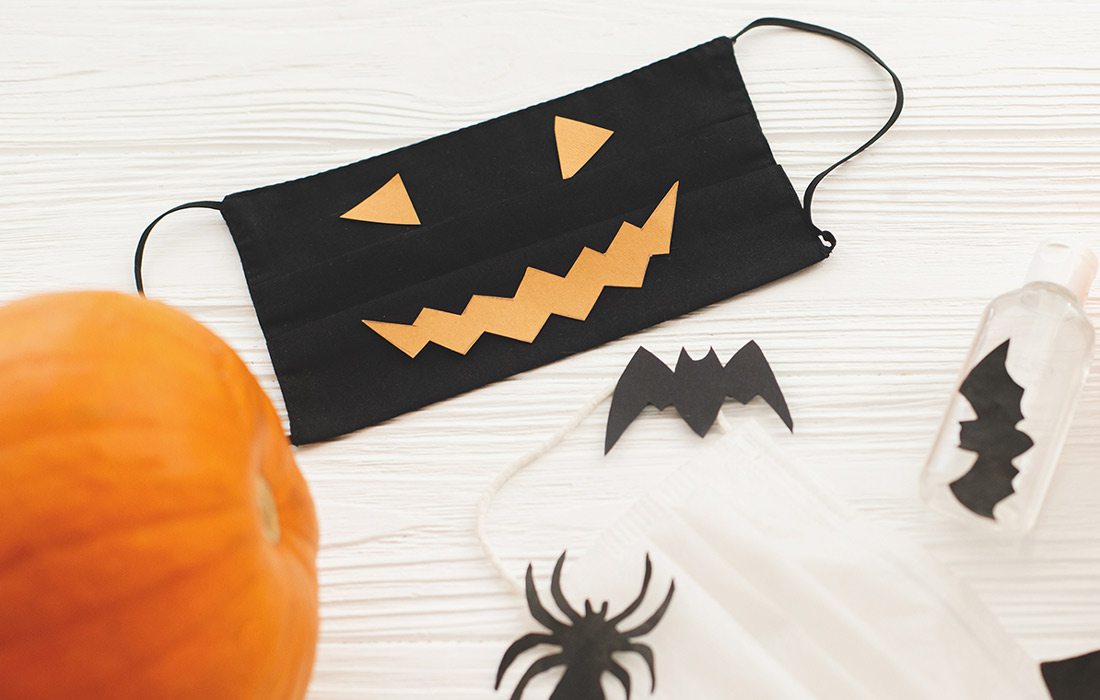 Halloween is only a few days away. If you're attending a (hopefully small) event or taking the kids to one of the trick-or-treating events we previously covered, you've probably already got your costume ready. But what about the face mask? The ghoulish get-up that makes Halloween so special also presents a unique stumbling block: how do you Halloween-ify your face mask?

Outfit Options
"There are so many types of masks out there," says Summer Trottier of Culture Flock. "There are tons of ways you can get creative with your mask. Blank ones would be a blank slate for drawing on them with fabric marker, or adding glitter, as long as it doesn't get in your nose or eyeballs."
Fabric markers are a simple way to get creative with a plain mask in a way that jibes with the rest of your costume, whether you're drawing on a devious demonic grin or a Jack-O-Lantern leer. You could also complement a pirate outfit with a drawn-on beard, or top off a purple suit with the smeared red smile of a certain comic-book villain. Not that those last two are played out, or anything.
You can also (carefully) add some accessories. "Bedazzling. Is that still something people do?" Trottier says. It is! In fact, bedazzled face masks have become something of a mini-trend themselves, and you can find a ton of detailed guides and videos online just on this topic. This is a great way to add some texture to your mask without sewing, stitching or otherwise piercing the material. You'll need some breathable fabric that you don't mind cutting up to serve as a base, glue and rhinestones or whatever other lightweight accessories you plan to use that glue will hold (if you're using studs, make sure not to use hot glue). Just don't overdo it—which brings us to safety.

Keep It Simple and Safe
Avoid over-complicated ideas when it comes to mask modifications. Drawing on designs with a fabric marker is easy enough, but with adding accessories, there is the potential to either make the mask less effective or limit your ability to breathe properly. The more intricate or over-the-top your design, the more likely it is you're going to impact how effective the mask is. "Be careful that the weight of anything you attach wouldn't pull too heavily so that your nose or mouth would be exposed," Trottier says. "Or that would be too thick to breathe through. I just coined a new phrase for this—common sense and comfort."

Keep accessories around your nose and mouth to a minimum, and use an adhesive instead of sewing or stitching. When you're using glue to attach any extra details, make sure it's completely dry before you wear it, and be especially careful if you're using a glue gun. Remember that keeping it simple is the best way to make sure your mask does what it's designed to do. Besides, you have the rest of your costume to go totally over-the-top with.

The Springfield–Greene County Health Department also provides some safety guidelines for masks this Halloween season:
• Don't substitute a more typical Halloween mask for a cloth mask. Costume masks aren't designed for the specific purpose of keeping particles away from your nose and mouth.
• Don't wear a costume mask over your cloth mask. You run the risk of not being able to breathe properly.

Check the official website for more guidance on staying COVID-safe this Halloween.

Buy a Themed Mask
If you're not in the least bit craft-proficient, which I am not, you could also buy an appropriately Halloween-themed mask and avoid the hard work altogether. Culture Flock offers some Halloween designs, but grab them soon because they're selling out fast. You can also pick up Halloween face masks from Face Masks by Rebekah, or get a design printed at Ink Print & Sign. Check out our previous blog about where to buy face masks for about picking up locally-made masks.