Life
How to Talk with Your Kids About Racism, Diversity and Inclusion
Tough conversations about racism are taking place across the world. If you're looking for guidance on how to start the conversation with kids in your own home, experts from Springfield Public Schools share advice for all age groups.
By Krysten Muench, Jamie Thomas and Katie Pollock Estes
Jun 11 2020 at 10 a.m.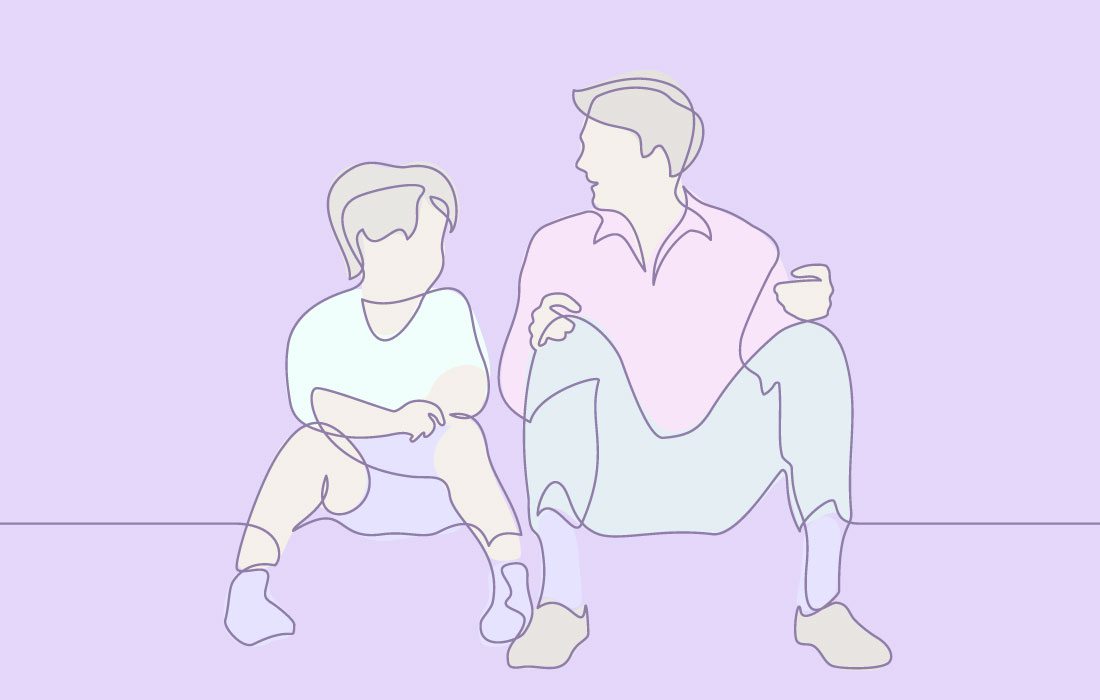 As protests continue following the police killing of George Floyd in Minneapolis—including last Saturday's peaceful protest that drew a couple thousand demonstrators to downtown Springfield to march—the children in your home may need some help processing what is happening in the news. And as parents, you might be looking for guidance for how to effectively talk about racism, diversity and inclusion with your children. Leading by example is key, but having intentional conversations is a must. We spoke with experts from Springfield Public Schools to put together some tips for talking with your kids, no matter their ages.
Talking to Older Kids
For parents with kids in middle school or high school, talking with them about racism is not a conversation that can be put off any longer. With so much technology at their fingertips, kids are watching what's happening in America, and they're forming a narrative whether you realize it or not. There's a lot of information to unpack, but it's time for that unpacking to take place.
Listen, Talk and Learn Together
If you're not sure how to start the conversation, Denzel Billy, a counselor at Kickapoo High School, suggests beginning by asking your child what they've seen, where they've seen it and what they're feeling in order to establish a baseline of how they perceive the world around them. "If they say, 'well I've had a few experiences,' or 'I've talked to a few friends and they shared their experiences with me,' then you can have a deeper level of conversation with them," Billy says.
There may come a point when your child asks you a question, and you don't have the answer. Having the humility to admit that you're not sure is something Billy says is very important when talking to kids this age, but be sure to follow up and work to find the resources to educate yourself. Dr. Yvania Garcia-Pusateri, Chief Equity and Diversity Officer for Springfield Public Schools, suggests using those moments as an opportunity to learn together as a family. "There are some really great resources—books, TED Talks, YouTube videos—to really make this a family commitment to understand what is happening in the world and to make sense of it so that everyone is growing together," she says.
Actions Speak Volumes
While having a direct conversation with your kids is essential, changing your own actions and behaviors also goes a long way in communicating with them. The old saying, "do as I say, not as I do," won't cut it. Putting in the work to educate yourself and acknowledging your own implicit bias are important steps to model for your family. Garcia-Pusateri stresses that stereotypes have been inherently instilled by societal factors, and while it may feel uncomfortable, we have to own those biases and have critical conversations about them in order to change the mind's framework. Billy adds that your family upbringing also plays into the implicit bias you carry today. Maybe it was unconsciously taught to you by a parent or grandparent, but until you can come to terms with that idea, you in turn may be passing the same ideas down to your kids. 
Education Doesn't End at School
It may be tempting to assume that the topic of racism will be addressed and discussed by educators at school, and that those conversations will be enough. "I don't have a personal relationship with all 2,000 kids [at Kickapoo High School], nor do I have the time to sit down consistently and talk to them," Billy says. School is a great place for kids to gather resources and experiences, but he says parents then need to bridge the gap and ask their kids questions and help them make sense of what they're learning and encounters with their peers.
Garcia-Pusateri suggests thinking of school as an introduction to society and societal matters. "There has to be this partnership where whatever happens in school, students are then able to have more of a conversation because it's only going to benefit the student more, especially as the landscape of our country racially has changed," she says. Parents play an important role in preparing their children to function in a more globalized world where employers, co-workers and consumers won't necessarily look like them. "They're going to have to be able to engage with people that are different from them and be able to do it in a positive manner," she says.
Moving Forward and Making Permanent Changes
While acknowledgement and education are the first crucial steps in addressing racism, deliberate actions toward becoming an ally and an anti-racist must follow. One way is to encourage kids to examine what they're learning, or not learning, in school. Garcia-Pusateri points to the film Hidden Figures as a personal example of history she did not learn in school. "As much as I hate math and science, seeing women of color at the forefront of NASA putting white men into space, that's something I should have learned, but I didn't and that was history that was taken from me," she says. "And it took a movie for me to see that."
Another example is "The Milly Project", a theatrical true account of Milly Sawyers, an enslaved woman from Springfield, Missouri who won her freedom in court in the 1830s, but was beaten to death shortly after. The Springfield NAACP has been partnering with a group to tell her story on stage, because it's a piece of local history that unfortunately is not always taught in school. Billy says building an understanding of history is hard work and that it's an emotional labor that you have to go through. He says kids will need to understand that it's going to require doing the work, reading books and inserting themselves in uncomfortable spaces to help them grow as allies. Speaking up and interrupting negative talk or implicit biases could result in strained or lost friendships. "It's going to take a lot of interrupting," he says.
Recognizing people as individuals and understanding that not all experiences are shared experiences is important to stress to kids as well. "It will help you see people for who they are and it'll help you dive more into their experience to help you understand where they come from," Billy says. "But all-in-all, it's important work. The resources are out there, you just have to be committed to doing the work and trying to figure out what you don't know so you can better portray that to others."

Talking to Younger Kids
How do you talk to younger kids about such a weighty subject? Robyn Fondren, counselor at Delaware Elementary, recommends parents research and educate themselves in order to feel comfortable approaching the topic, even with much younger kids. Fondren's approach for teaching younger students about difference focuses first on looking at themselves and what makes them different. "Students, when they're much younger, will look at themselves," Fondren says. "Ask them their favorite thing about them that makes them unique. Students get so excited when they can talk about how they're the fastest kid in their class—just things about them that they celebrate. We look within first and then we do a comparison, 'You love to run, but this kid over here is very artistic and loves to draw and color, and that's what makes him unique, or that's what makes her unique.' Just reminding kids that it's okay to look different and act different and like different things [...] the root of everything, for kids and adults, is just respecting those differences."
Younger kids will often not have the vocabulary to express anxiety or fear that they might be feeling (for example, if they have heard about George Floyd's killing on the news and are processing the event), and Fondren points out behaviors to look for. "Kids could sometimes just ask questions in a fearful way, their hands could be fidgety. It might be something like [not] eating, they're saying, 'I don't feel good. My stomach hurts.' A lot of times when kids are scared or they have anxiety, it will show up in physical forms and they might feel like they're ill. Maybe every time they go to bed, they've got a headache, or a stomach ache or they're not sleeping, they're crying but they're not sure why. Older elementary kids, most of the time, can put words to their feelings, but the younger students might not know why they're upset." She also recommends reducing the time the news is on—for both parents and kids.
Fondren recommends the following resources for parents and teachers in talking about race and diversity.

• tolerance.org
• embracerace.org
• teachingforchange.org
Emily Levitt, VP of education at Sylvan Learning, which has a franchise location in Springfield, has experience in talking to educators about culturally responsive teaching. "I would say that it's okay to talk about it." Levitt says. "It's a very sensitive topic and [parents] don't want to say the wrong thing. Just be aware of how much detail your kids are ready to handle. Little ones might not be ready for those details, but it is appropriate to talk about how there is inequality. Asking your kid to put themselves in other people's shoes can be really effective too." Levitt also recommends that parents research related topics, whether it's books about how to approach the subject with kids, or just about broader topics of race and discrimination.

Read and Watch Together
Children's books can be wonderful conversation starters, and topics range from celebrating diversity and the accomplishments of people of color to delving into history or tackling racism head-on. And although books that feature teachable content are so important, it's also vital to simply read picture books and children's tales that feature main characters of all skin colors and that represent communities and traditions outside your own—so the heroes your kids look up to don't only look like them.
Luckily, the world of children's literature is vast, and there is so much good stuff out there.
Jennifer Murvin, owner of Springfield's Pagination Bookshop, has put together anti-racist reading lists for both adults and kids of various ages. Charnaie Gordon's Here Wee Read Instagram is not local, but it's a truly great follow if you want excellent recommendations for diversity and inclusion in children's literature. Here are some books suggested by Murvin and featured on Gordon's Instagram.

• Civil Rights Then & Now: A Timeline of the Fight for Equality in America by Kristina Brooke Daniele
• This Book is Anti-Racist by Tiffany Jewell
• You Matter by Christian Robinson
• A Kids Book About Racism by Jelani Memory
• Additionally, CNN and Sesame Street partnered to create a town hall on racism, which aimed to help young kids learn how to stand up to racism. It aired last weekend but is available to view online currently.
For parents who aren't sure where to start, or who feel like they aren't starting soon enough, the conversation starters in these books and videos and the tips from local experts can be your invitation to begin.