Life
Mystic River Falls in Silver Dollar City
Silver Dollar City announces the opening of the new Mystic River Falls in 2020.
by Jamie Thomas
Aug 20 2019 at 4:46 p.m.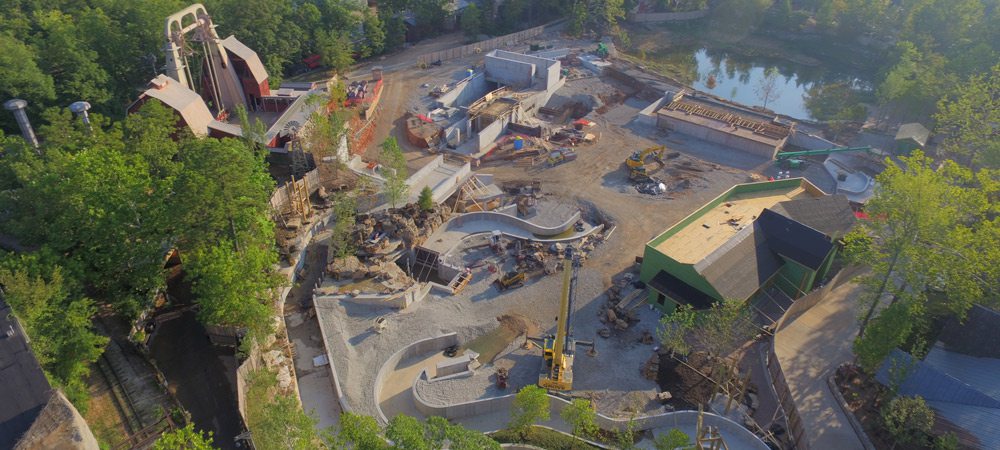 A few weeks ago, I received a mysterious invitation telling me that the "greatest adventure lies ahead" for me in Silver Dollar City. Despite arriving in an email rather than an actual envelope, the theme of the email was on point, looking like an old, worn, brown scrap of a map pulled from Indiana Jones's leather satchel. The cryptic invitation was sparse on details beyond when and where I needed to go but, soon enough, I was sitting in Silver Dollar City's Red Gold Heritage Hall with hundreds of others who had received the same enigmatic invitation. What was this adventure all about?
Pumpkin Nights and An Old Time Christmas 2019
With the lights dimmed and the crowd hushed, the announcements began with what's still to come for Silver Dollar City in 2019. First up was the Harvest Festival. Fall this year will see Silver Dollar City festooned with more than 8000 pumpkins, both live and specially-carved, for Pumpkin Nights. Extended opening hours will mean visitors can celebrate the fall season into the night with specially designed lighting, skilled craft demonstrations and Silver Dollar City's signature thrill rides. Despite the spooky theme, Silver Dollar City President Brad Thomas assured the audience that it's designed to be 100% family friendly, safe for kids of 2 years old all the way up to kids of 92.
Following the Fall, Silver Dollar City will be celebrating An Old Time Christmas. If you're a Silver Dollar City regular, you probably already know about their massive holiday celebrations, but this year offers a new addition. The park replacing their enormous Christmas tree at Joy On Town Square with...an even more enormous Christmas tree. In fact, this one measures an unbelievable 8 stories, and will be draped with custom lights that offer an incredible array of lighting effects. An Old Time Christmas may have won USA Today's "10 Best Readers' Choice" for holiday-themed events three times already, but they're certainly not resting on their laurels.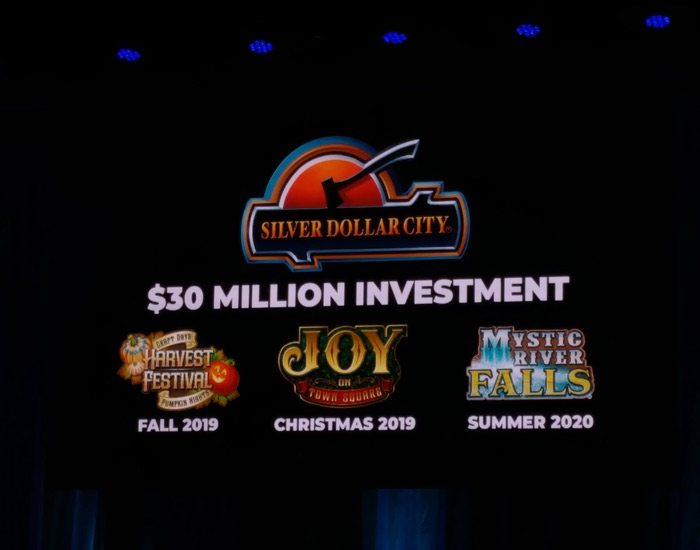 Photo by Jamie Thomas
Three major announcements from Silver Dollar City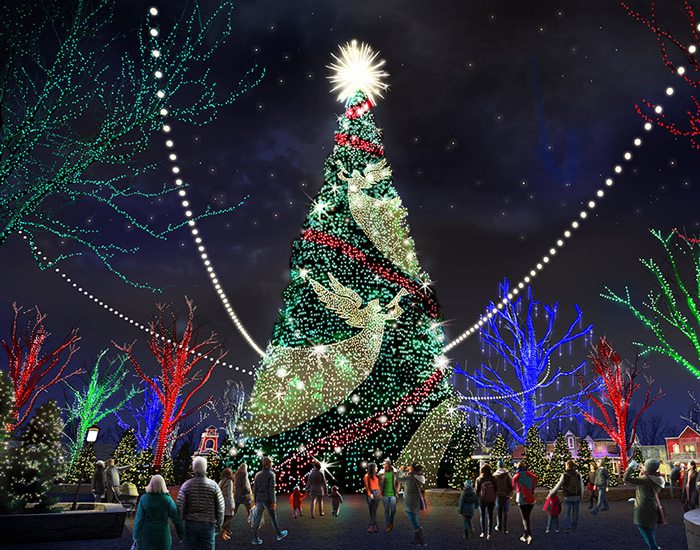 Image courtesy Silver Dollar City
The new Christmas tree for 2019 will be an incredible 8 stories high.
Mystic River Falls Summer 2020
As fun as all this sounds, it doesn't really say "adventure" does it? That's what the mysterious invitation promised. Where are the old, worn maps of mysterious rivers and caves? What did it all mean? That's where Mystic River Falls comes in. For those who mourned the loss of Silver Dollar City's Lost River, this is the news you've been waiting for. Mystic River Falls was conceived to capture the history and lore behind Silver Dollar City, as well as provide the biggest splash in the western hemisphere.
What is Mystic River Falls? It's an 82-foot rotating lift tower that connects to a 6-story high river channel, leading riders to the grand finale: a 4.5 story drop to the biggest splashdown in the park's history. This will be the tallest raft ride in the western hemisphere, custom designed and engineered for Silver Dollar City. Combining the real historical account of the discovery of Marvel Cave with a love for the mythology and pioneer spirit of the Ozarks, Mystic River Falls will transport riders back to the 1880s with a narrative-driven experience that begins in the midst of Silver Dollar City's 60th Anniversary Diamond Jubilee.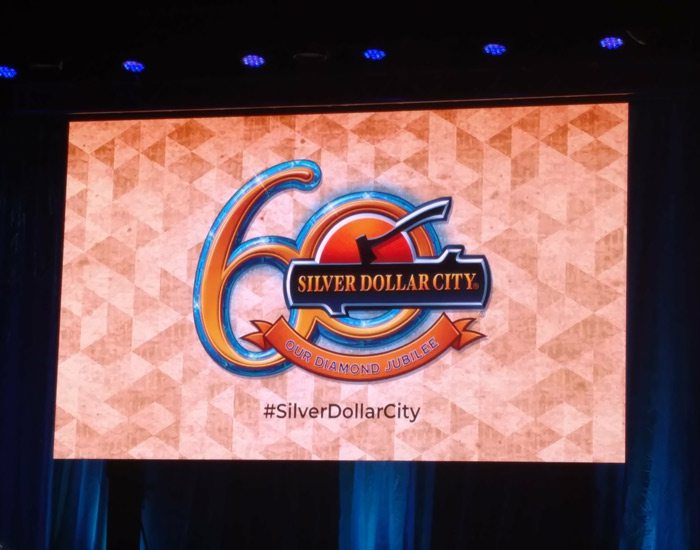 Photo by Jamie Thomas
2020 is Silver Dollar City's 60 Year Diamond Jubilee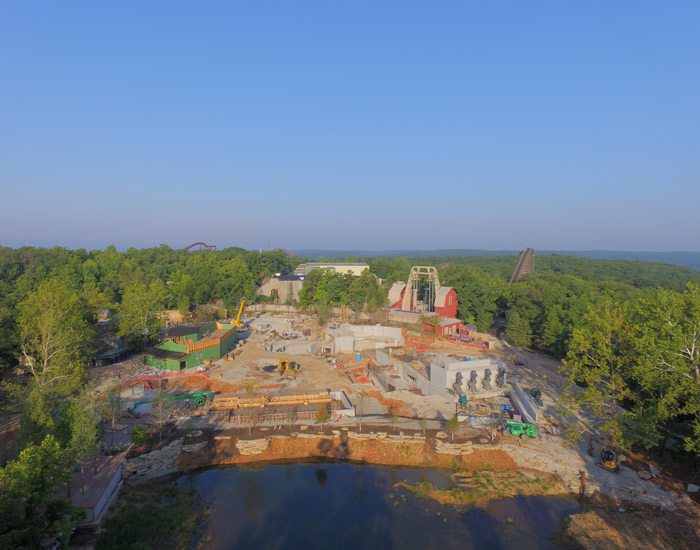 Photo courtesy Silver Dollar City
Mystic River Falls will be ready for summer 2020.
Not only did we get a preview of what's coming, along with a tour of the impressive and busy construction site that will become Mystic River Falls, but we also got to sample some of the upcoming food. The new Rivertown Smokehouse will overlook the Mystic River, giving diners front-row seats of the riders rushing down into the water below. The menu included brisket, pulled pork, chipotle-smoked turkey, cookie-butter infused ice cream and a collection of different and delicious sides. Oh, and cookie butter isn't just being added to the ice-cream. Also announced was a new park treat, cookie-butter sammys; a dense, solid square of cookie-butter coated with a thick layer of milk chocolate.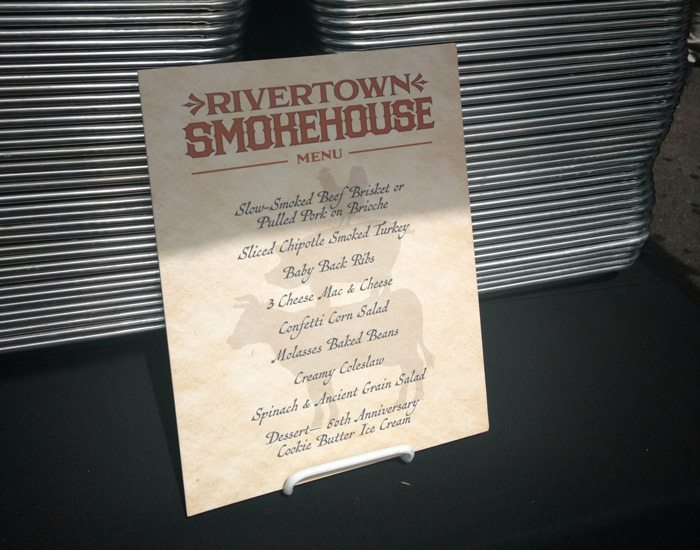 Photo by Jamie Thomas
A taster of what's to come at Rivertown Smokehouse.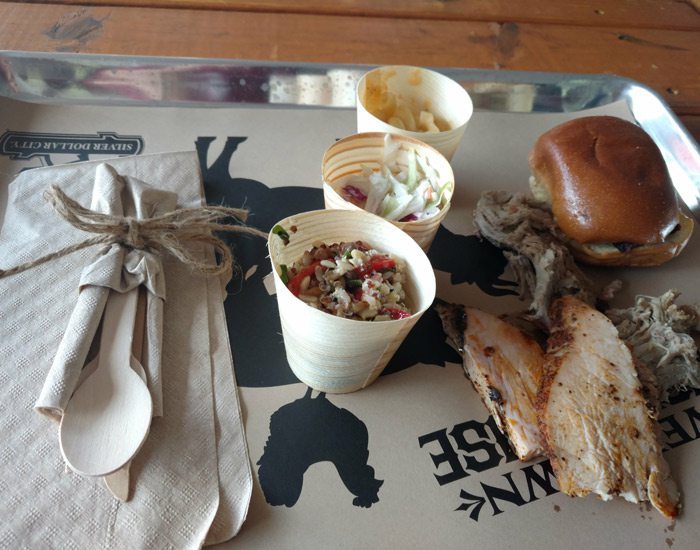 Photo by Jamie Thomas
You have to try one of everything, right?
A $30 Million Investment
All told, the introduction of these new attractions represents a $30 million investment into Silver Dollar City, making sure that it remains one of the top family parks in the country and that it honors its own 60 year legacy. We'll be keeping you updated on what's going at Silver Dollar City in the run-up to Mystic River Fall and the park's 2020 Diamond Jubilee.

What If I Can't Wait Until Next Year?
There's still plenty to do in Silver Dollar City. Favorites like Thunderation and the Time Traveler run year-round (weather permitting), and that's not to mention all the other things to do in Branson, MO. Plenty to hold you over until the greatest adventure begins.