Drinks
Reverie Rooftop Bar Opens in Farmers Park
A rooftop bar from the folks behind Progress just opened in what was once Barley, Wheat, and Rye Social House. Look forward to daily happy hours, a small but mighty menu and bold libations like orange wine.
Evan Greenberg
Dec 10 2018 at 3:09 p.m.
For 417-landers, the absence of an upscale rooftop bar has been palpable. Listening to Michael Schmitz talk about the new bar concept filling that hole, it's hard not to get excited. Schmitz, alongside Cassidy Rollins and Daniel Ernce, plan to open Reverie on December 12. The trio has been busy to say the least. Their restaurant, Progress, on the first floor of the same Farmers Park building, just opened in October. 

As for Reverie, the group intends for it to be the type of place you can escape daily life and create lasting friendships. "We don't want you to feel alienated by the fact that we've created something new and clean," Schmitz says. "We want it to still be warming."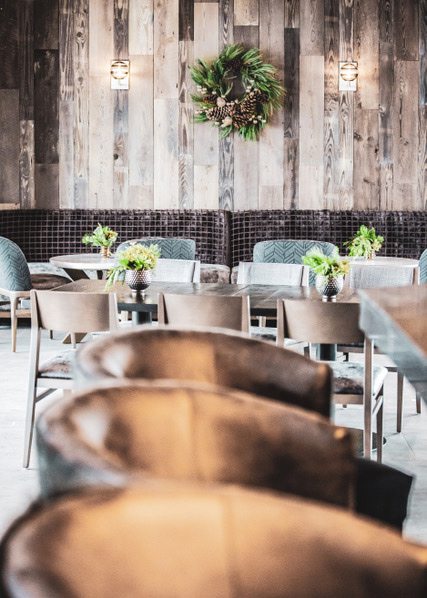 Photo by Brandi Keltner
Reverie hopes to be the type of place where you can meet old friends and make new ones.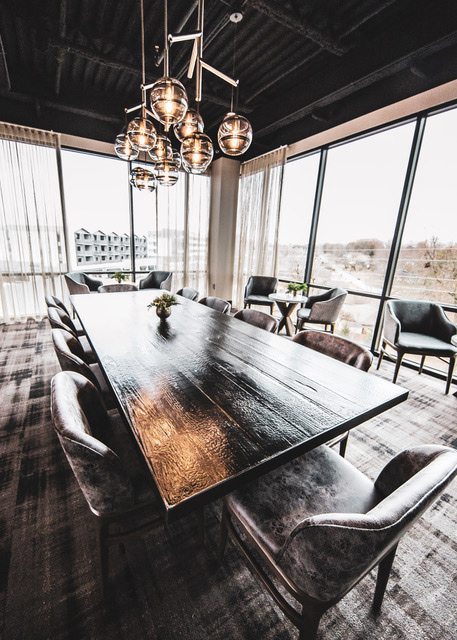 Reverie's tables were made by a local craftsman. Each one is marked with a three legged crow, which finds its roots in Japanese lore and is representative to Reverie's commitment to beverage, food and service.
Photo by Brandi Keltner Reverie hopes to be the type of place where you can meet old friends and make new ones.
As for the bar program, Schmitz says that Reverie is a soda/water bar as much as a specialty cocktail bar. This means paying as much attention to wine and beer as it does cocktails. Those cocktails have an emphasis on the old and new, from a Paper Plane—Buffalo Trace Bourbon, Aperol, Amaro Nonino,  and lemon juice, to a spin on a standar with the Park Sour—Stiggins Fancy Pineapple Rum, Sotol, Angostura, lime and lemon juice. There's a daily happy hour from 4 to 6 p.m., so you'll have ample opportunity to branch out and try something new. 
The trio also believes that any good bar has food accompanying it, and that's the case with Reverie. There's eight items on the menu, but there are a few Schmitz is particularly excited about including a seasonal chili that currently includes Mother's Winter Grind.

Reverie also recognizes the need for more traditional bar food. Oftentimes, this is where you might find a cheeseburger, but the limitations of Reverie's kitchen forced them to get creative. Reverie offers a Newman Farms braised bacon sandwich with pickled shallot, arugula and smoked mayo on a toasted brioche bun. It's the oily, greasy option you might crave after a few drinks.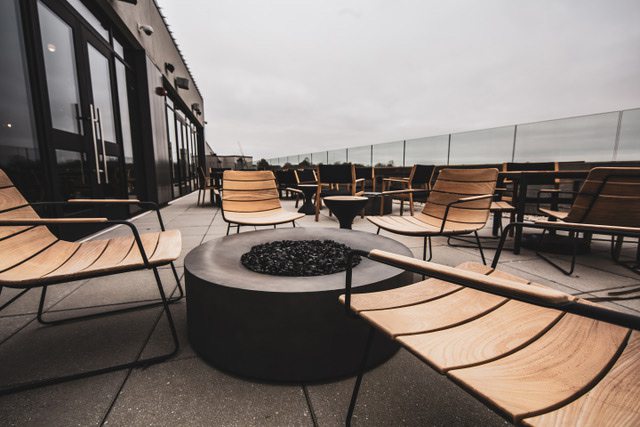 And while Progress and Reverie are adjoined and have the same ownership, each spot has its own personality, and that is very much on purpose. Ernce is the head chef for both, but he'll have sous chefs assisting him, and the food you order at Reverie has a different slant than at Progress. As for the decor, Reverie has what Schmitz describes as warm grey tones, and photos released by the bar show a rustic, comforting feel.  Reverie wants to be a place you come back to again and again—Schmitz says that even more than the food and drinks, hospitality is its "number one product."  

"We just feel like our greatest honor is to try to add something to Springfield in a humble, beautiful way," Schmitz says. 
Reverie opens to the public December 12, and the trio plans to stick to their pop-up roots, promising a surprise to all those who stop by its grand opening.