Life
Springfield, MO's Best Street Art
When it comes to Springfield's street art scene, there's a little bit of everything: animals, community symbols, social issues and more. We rounded up some of our favorites for your next Instagram shot.
By Corin Cesaric
Jan 2019
Springfield isn't a huge street art community, but we do have our fair share of masterpieces covering the walls of beloved businesses around the city. We've rounded up some of the must-see murals in the Queen City so you snap photos of underwater scenes, greeting signs, butterfly wings and so much more.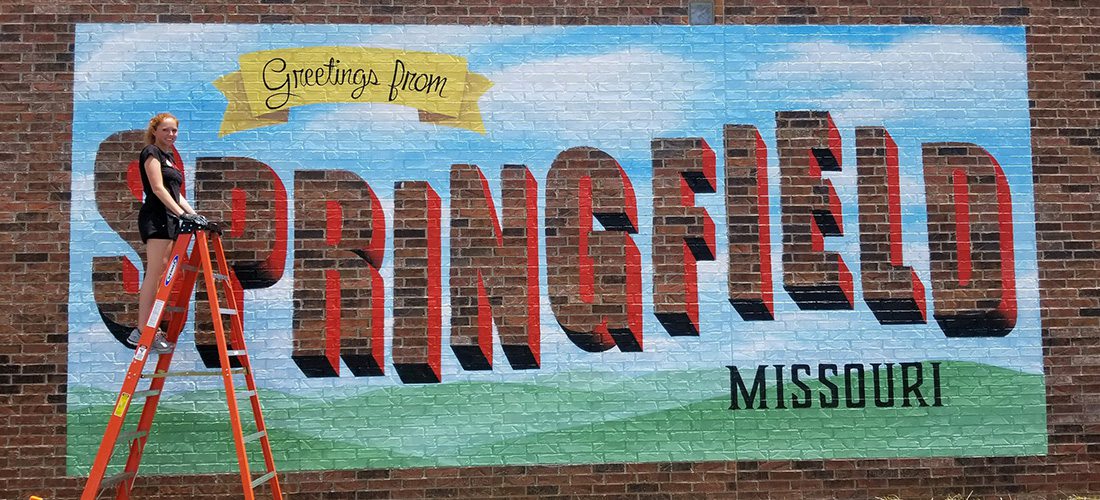 Greetings from Springfield, Missouri
Andrea Ehrhardt is quickly becoming one of the most well-known street artists in Springfield by creating picturesque murals all around the city. She tags her murals with #417streetart to connect her work, and she painted the popular monarch wings downtown for free in August 2017 to gain momentum for the project. Her newest addition is a "Greetings from Springfield, Missouri" mural that lives on the exterior of the Discovery Center of Springfield.

When she approached Discovery Center Executive Director Rob Blevins with her plan to create the mural, he was excited about adding more art to the museum and the city. "It's our commitment to the community as a museum that we saw we should embrace something like this," Blevins says.

Currently, the mural's letters are blank, but they will soon be filled with everything that makes the Queen City so special. Discovery Center and 417 Magazine teamed up to crowdsource ideas for what Ehrhardt will paint inside the block letters. "I'd like to get feedback from people in the community," Ehrhardt says. "I'm curious to see what's representative of Springfield to them."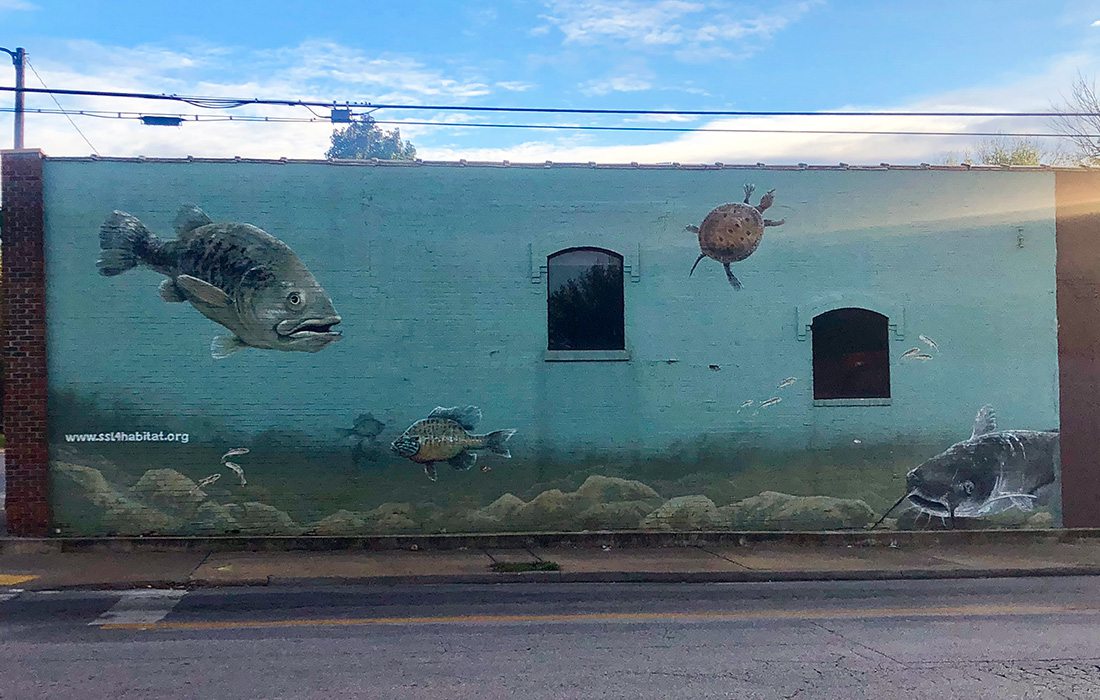 Underwater Scene
This is one of two underwater scenes that lives in Springfield's art scene. Susan Sommer-Luarca painted both. The link that appears on the mural no longer works, but this was a part of her wildlife series. You can find this one at the intersection of Mt. Vernon and Grant.
Springfield in 1975
The original painting that depicts Springfield in 1975 was created by Robert E. Smith who was an artist, writer, singer and actor. He was born in St. Louis, but made Springfield his home in 1975. He was a self taught artist who gained national recognition for his work. His paintings have been shown at New York's Museum of American Folk Art, Vanderbilt University and the Springfield Art Museum. The replica that appears off of Campbell Ave. on the wall of Fresh Gallery was created by Ben Bunch and Ryan Thayer in 2000 to honor Smith.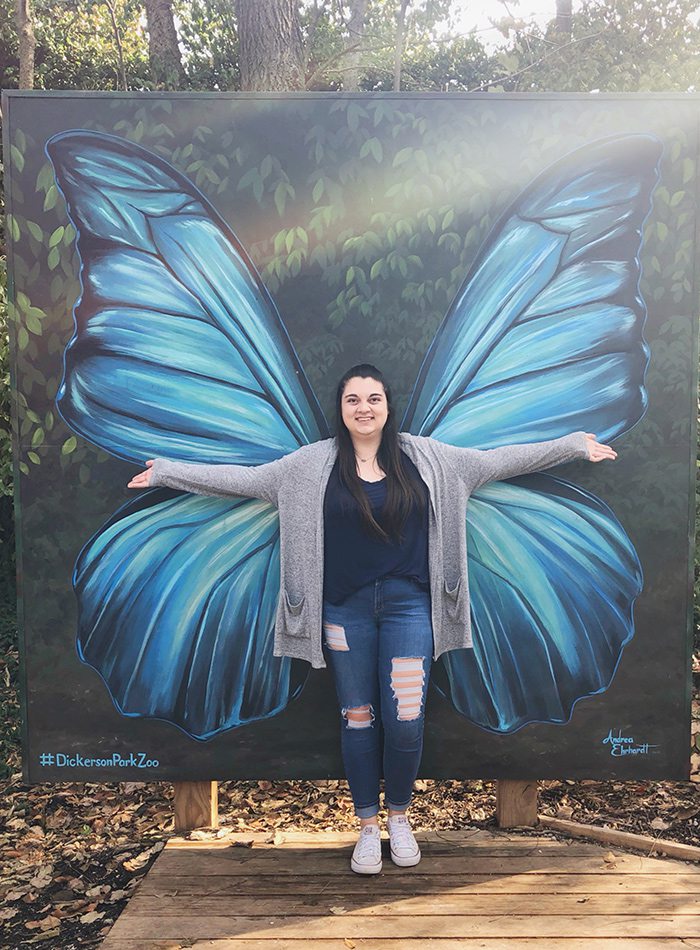 Photo courtesy Caiti Sloman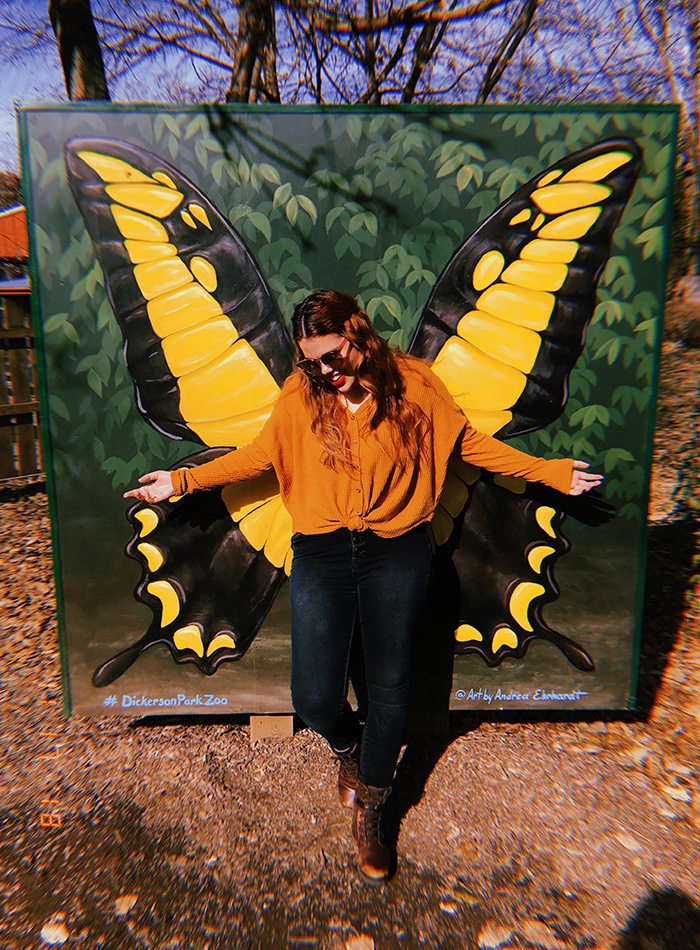 Photo courtesy Claire Luna
Butterfly Wings
Another one of Ehrhardt's masterpieces lives across the street from Black Sheep Burgers & Shakes, right next to Riad in downtown Springfield. The human-sized butterfly wings are becoming one of the most Instagrammed pieces of art in the city. There are also at least two more sets of wings in Springfield: blue and yellow wings can be found inside Dickerson Park Zoo.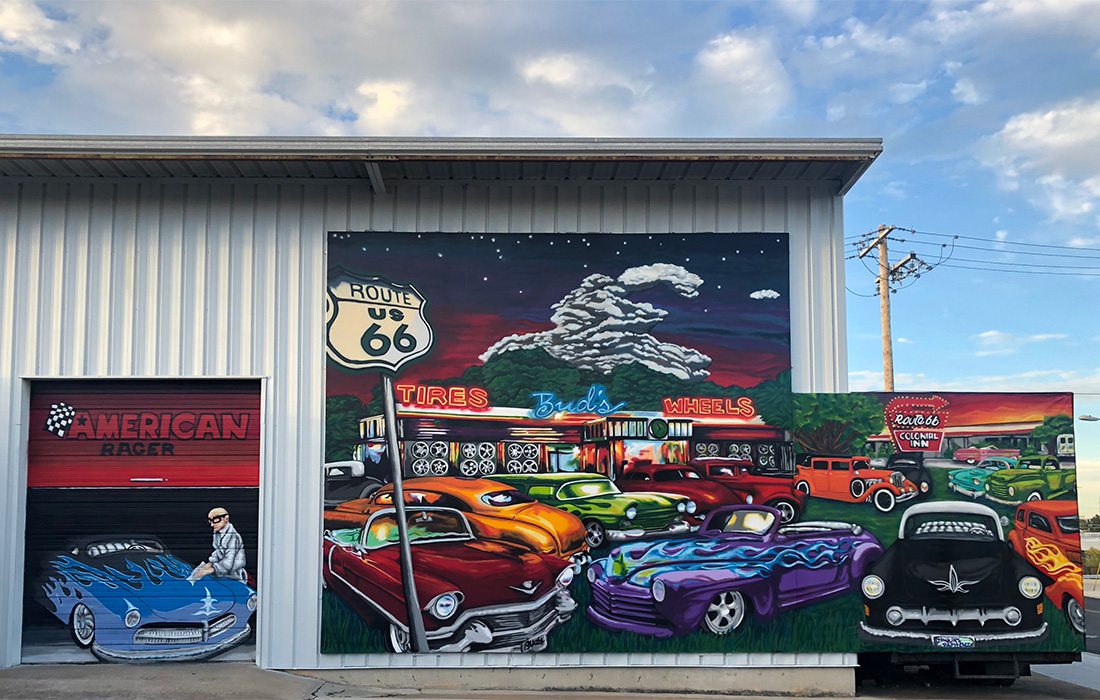 Bud's Tire & Wheel
Bud's Tire & Wheel was built along Route 66 in 1958, so it's only fitting that the building is covered with two murals depicting the historic highway. The route was approved in 1926, and songs and television shows about the highway have been dedicated to the route. After the initial boom of the highway in the '50s, it was replaced by I-44. Route 66 was officially decommissioned in 1985, leading to many businesses along the highway closing shop, but Bud's Tire & Wheel still stands. Today Springfield is working to preserve the legacy of Route 66 through The Missouri Route 66 Association. The Route 66 Festival happens each year in downtown Springfield and it draws thousand of people who want to learn more about The Mother Road.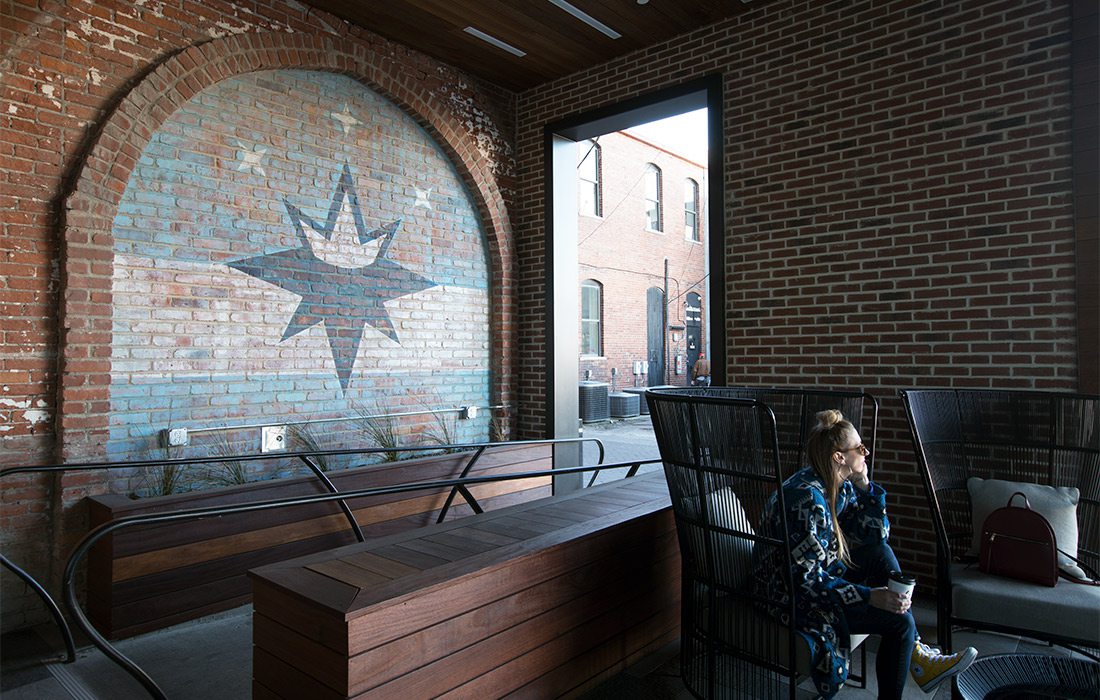 Springfield's Unofficial Flag
You can find a mural of Springfield's unofficial flag on the patio of Hotel Vandivort. A group called the Springfield Identity Project is working hard to promote and legitimize this new symbol of downtown pride and unique identity. There is merchandise for sale that showcases the new flag at Five Pound Apparel and Town & County, and there's a petition you can sign to help the cause. You can also just sit at Hotel V and snap a picture under the mural to spread the word. 
Cycling Murals
These cycling murals live on the building that used to be Queen City Cycles. They were painted by Jim Veronee who is known for painting these and the eye-catching mural at Traders Printing & Design. The building is now rented by the owners of Sharks Surf X Supply, but the art still remains.  
Octopus
Across from Rogue Barber is a large octopus mural that was painted by Ehrhardt. She pitched the idea to the owner of the building after telling him about the #417streetart project and he loved it. "I had seen an octopus painted on a building before (in a Google search) but wanted to put my own spin on the idea," Ehrhardt says.

Harbell's Mural
On the side of Harbell's Grill & Sports Bar downtown is a mural that takes up the entire side of the building. It was painted by David Guinn in 2001 over the course of seven weeks. "It was meant to capture the feeling of that space at that time," Guinn says. "I understand there's been a lot of construction, so it might not relate to it as well anymore." Guinn is based out of Philadelphia, but lived in Springfield for one year in the '90s. During that year, he painted his first mural in a bar called the Juke Joint that once lived on the downtown square. "It was my first mural as an artist," he says.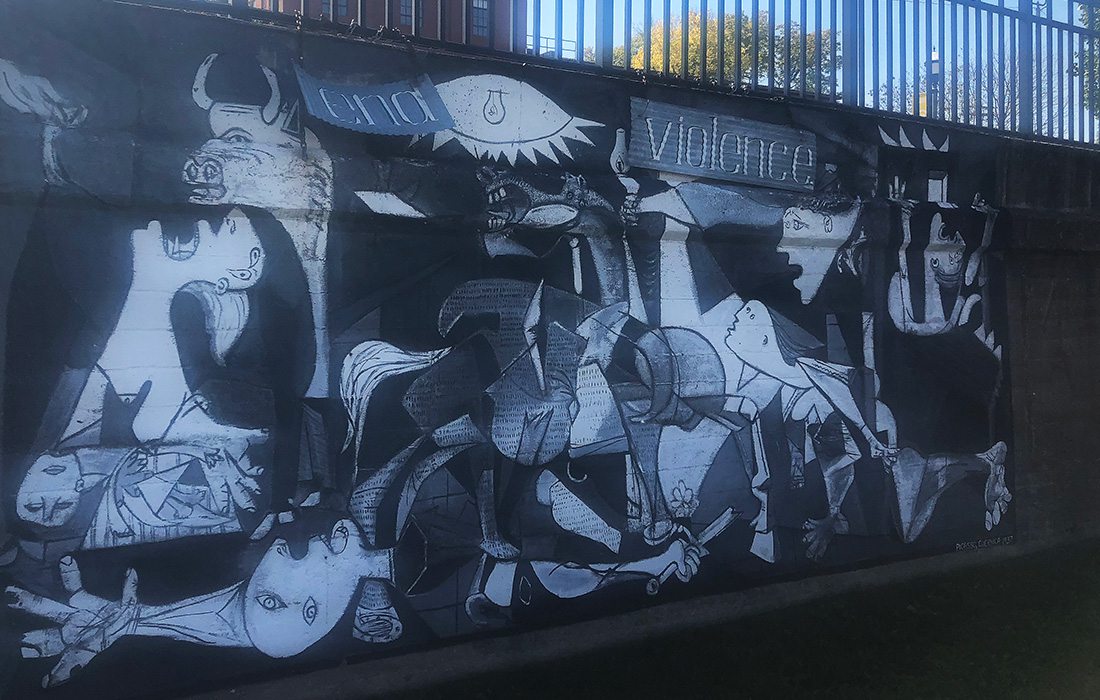 Student Murals at Brick City 
There is an abundance of student-painted murals on wall across from Brick City Gallery. This mural is a replica of the Guernica by Pablo Picasso, which gives the message to end violence. According to a blog on The Standard, this is one of two paintings that were completed in 2016 by six students who were given the assignment to replicate famous murals as social justice pieces.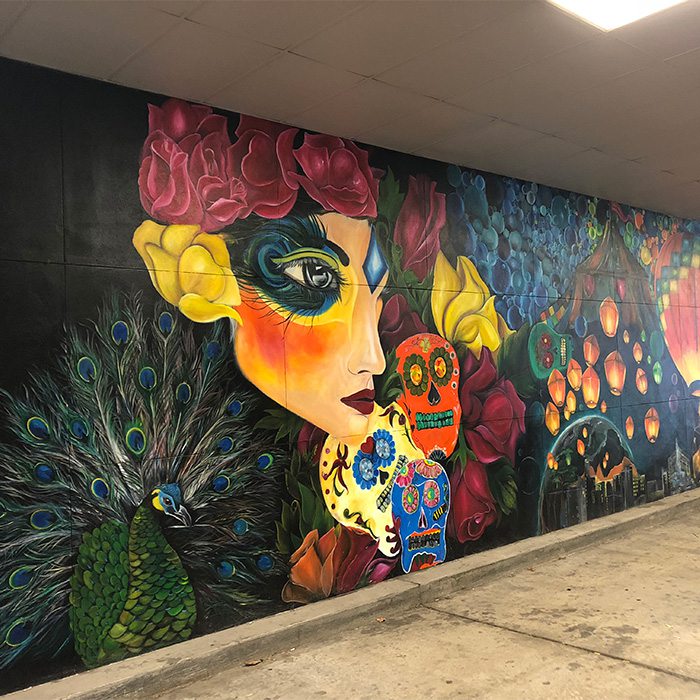 Photo by Corin Cesaric
A mural that stretches almost the same length as the bank tunnel adds a ton of color inside.
Purchase Photo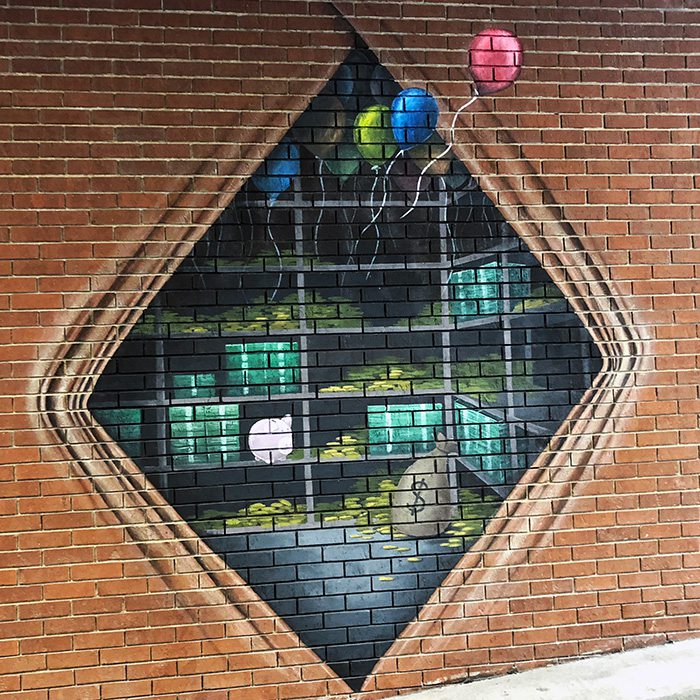 Photo by Corin Cesaric
This mural lets you know what it would be like if you could stretch the brick walls and take a look inside of the bank vault.
Purchase Photo
Bank Tunnel Murals
The Systematic Savings Bank tunnel downtown contains various murals. Two of them were painted by Ehrhardt. After the bank contacted her about coming up with ideas for the tunnel, they went with the $1,000 bill and the bank vault that both make for great photo ops.
Umbrellas
Another great photo op is at Seminole Decor Center Inc. This mural was painted by Ehrhardt who gets some of her painting tools from the local store. 


Do Good
The Do Good mural on historic Commercial Street is one of Springfield's newer murals and a great spot to snap a selfie.
Branson Landing
There are murals on each floor of the Branson Landing parking garage, painted by twin artists, Christa and Sara.
Email digital@417mag.com with any other street art sightings that you think should be included!