Table Talk
Table Talk: December 13–19
This week: Hurts Donuts' new location (with a 24 hour drive through!) opens today, grab some specialty baked goods for the holidays and more.
by Katie Pollock Estes
Dec 13 2022 at 8 a.m.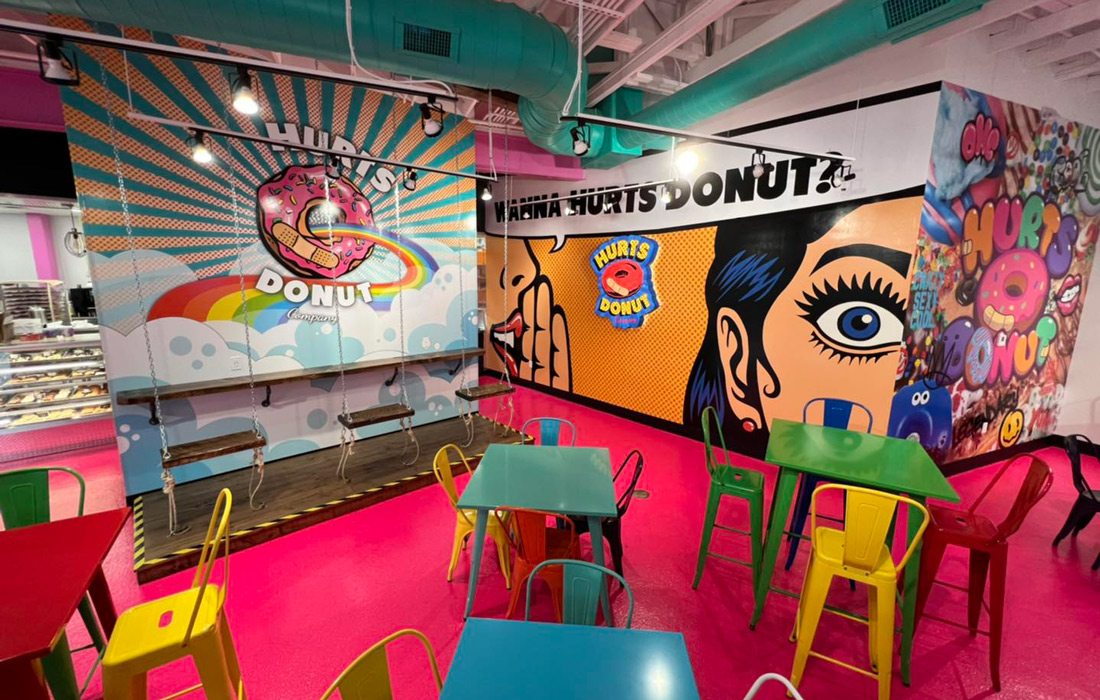 Donuts All the Livelong Day
The new Hurts Donut location at 1231 E. Sunshine Street (at the intersection with National Avenue) is having its grand opening today. Super-bonus for every fried-dough loving sweet tooth in Springfield: This one has a 24-hour drive-through! But honestly, we recommend popping inside every so often too. The spot features multi-colored tables and chairs, a bright pink floor, boldly enormous wall murals from floor to ceiling, and even a bar with swing seating. It's like whimsy meets graffiti meets pop art, and we are obsessed with the vibe. And although the donuts and over-the-top donut-topped shakes are perennial faves, we're also super-excited to taste their savory kolaches. They are filled with tasty flavors like barbecue pulled pork, buffalo chicken and… wait for it… crab rangoon. Yes, please.
It's Now or Never
Deadlines are quickly approaching to order specialty baked goods for your holiday parties and celebrations at home. There's some really creative stuff out there, so don't miss out.
At European Cafe, they are offering so much cute stuff! There are happy little snowman macarons, festive cookies, mini tarts, challah, babka, cardamom buns and more. You can even snag their modern and beautiful take on a yule log in three flavor options: cherry-chocolate, vanilla-raspberry-pistachio, and chocolate-hazelnut. Orders require three days lead time, and the last day to order online is December 21.
At Pickwick & Cherry, the treats have a classic, old-fashioned Christmas vibe with interesting touches. The yule logs are made with Askinosie Chocolate. There are festive cakes and cookies, classic fruitcakes, several pies (from maple-bourbon pecan to apple-honey-thyme) stollen, Italian panettone and more. Orders require four days lead time for store pickup, and the last day to pick up is the morning of December 24.
Dani's Flour Pot Bakery has some great savory options alongside their sweet stuff, like hashbrown quiches with roasted garlic, sausage and gruyere cheese. There are also take-and-bake cinnamon rolls, Christmas Morning Boxes full of assorted sweet treats, cakes in specialty flavors (like cardamom-pear, brown butter-banana, and Earl grey-grapefruit) and more. Orders need to be placed by December 19 for pickup the morning of December 24.
If kringles are your holiday sweet of choice, you can get them in a bundle this season at Supreme Bakery. You can get a bundle with a kringle, a tea cake and a dozen rolls, or for a little more get the same options plus a fruit pie. The last day to order a bundle is noon on December 22.
Mark Your Calendar
The holiday-themed foodie events just keep coming! First up: On Friday, December 16, Friday Night Lights is a fun event put on by Finley Farms, Christian County, Ozark's Historic River District, the City of Ozark and the Ozark Chamber of Commerce. It starts with live music, shopping, food trucks, a Santa visit and more on the square in Ozark. Then the party moves to the Historic Riverside Bridge for festive caroling before heading to The Workshop for holiday drinks and s'mores.
Then on Sunday, December 18, bring the kiddos to the Holiday Cookie Decorating event at The Workshop at Finley Farms. They can enjoy a tasty holiday tradition while their grownups can order a beer or coffee drink to sip.