Table Talk
Table Talk: July 11–17
This week: A new spot for plant-based goodies for vegans and non-vegans alike, fine wine awards for two 417-land restaurants and more.
by Tessa Cooper
Jul 11 2023 at 8 a.m.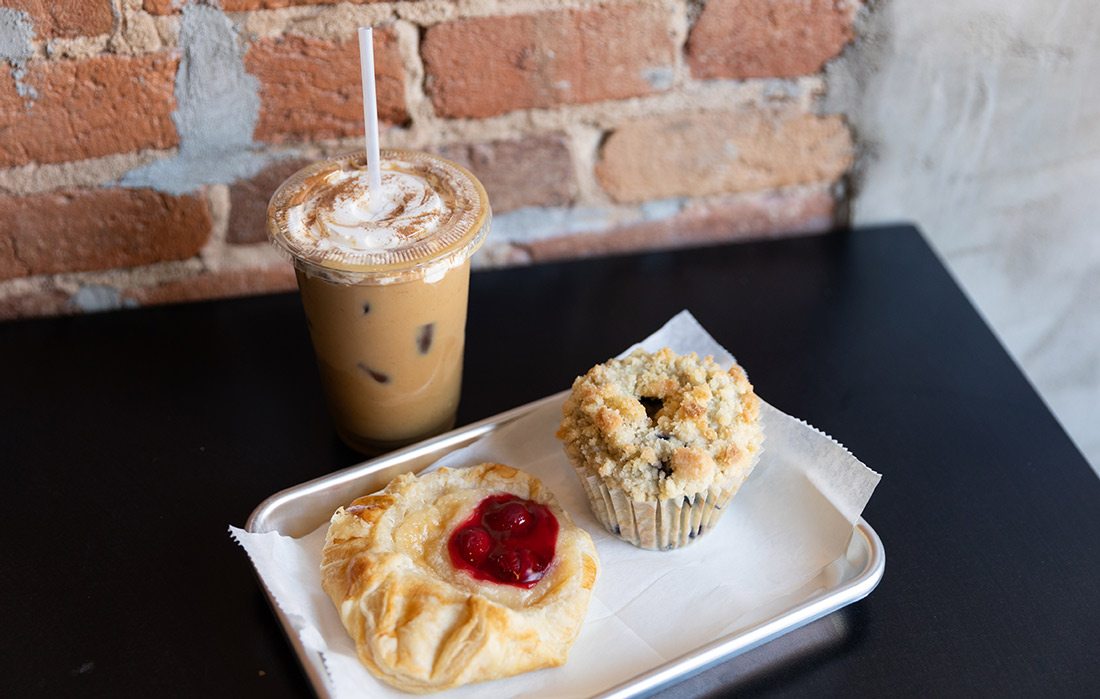 A Fantastic Food Duo
This past week, Downtown Springfield gained another delicious destination: A 2-in-1 vegan concept at 211 E. Walnut. Brunch Box (previously named Whipped Delight) shares the space with Sweet EMOtion SGF (formerly located by the Outland Ballroom) and together, they serve all sorts of plant-based goodies to vegans and non-vegans alike. While the two businesses do have some cross-over hours on Sundays, Brunch Box takes the early shift and dishes out coffee drinks named after your favorite Saturday morning cartoons, pastries such as fruit danishes, and even filling meals like breakfast tacos. Come 2 p.m., Sweet EMOtion takes over and starts slinging out oat milk soft serve doused in sweet sauces and nostalgic toppings like Teddy Grahams. Brunch followed by dessert? Don't mind if we do!
Bastille Day the French Way
While we just celebrated our own nation's Independence Day, Bastille Day offers a fun excuse to keep the revolution celebration going. Each year on July 14, the French commemorate the storming of the Bastille in 1789, and the festivities often include a picnic. If you want to host a Bastille Day picnic of your own, here's where to get the fixings locally: 
• For wine, cheese and baguettes: Look no further than Brown Derby International Wine Center (2023 S. Glenstone Ave). The knowledgeable cheesemongers and wine experts on staff are always at-the-ready to point out offerings from specific regions in France that pair well together. Recently, they also started stocking French-made candy in beautiful keepsake tins by Maison Boissier, which was founded in Paris in 1827. 
• For freshly sliced charcuterie: Jay Parrino's Queen City Deli (1647 E. Sunshine St.) is right by Brown Derby International Wine Center, so it's a convenient pit stop if you're already there. Here, you can buy cold cuts like prosciutto, capicola and salami by the pound. 
• For macarons and croissants: You honestly can't go wrong with any dessert from European Café (207 Park Central E.) and several offerings even feature preserves from France as a key ingredient. If you plan on picking up more than just a couple of pastries, definitely place an order online ahead of time, or arrive early in the day if you want to snag a dozen macarons in the best flavors. 🥐
A Fine Wine Accomplishment
Each year, Wine Spectator publishes a list of where to eat and drink well. They just released their 2023 roundup, and for the fifth year in a row, Metropolitan Grill (2931 E. Battlefield Rd.) and Ocean Zen (4117 S. National Ave.) have both won the Award of Excellence. The magazine only grants 2,001 of these awards each year. To qualify, a restaurant must have a wine list with at least 90 selections that highlight quality producers and matches the food menu in both theme and price. Cheers to these charming locales for getting Springfield on the map! 🍷
Aloha to a New Franchise
Hawaiian Bros Island Grill just announced plans for an expansion into Springfield and Joplin, and we couldn't be more excited! The fast-casual chain eatery draws inspiration from the traditional Hawaiian plate lunch, which features rice, meats and vegetables. Personally, we are most excited to try the Molokai chicken, which the menu describes as both a little spicy and a little sweet, and a side of macaroni salad that features a proprietary blend of spices. The 417-Land locations have a slated opening date of two years from now. But if you want to get a taste of what to expect before that, you can visit one of the currently open locations scattered about the Kansas City metro area.