Table Talk
Table Talk: May 3–9
Mother's Day brunch, a new Hotel Vandivort chef and menu, Cinco de Mayo, Architect Coffee's spring menu and so much more.
by Jorge Cespedes
May 03 2022 at 8 a.m.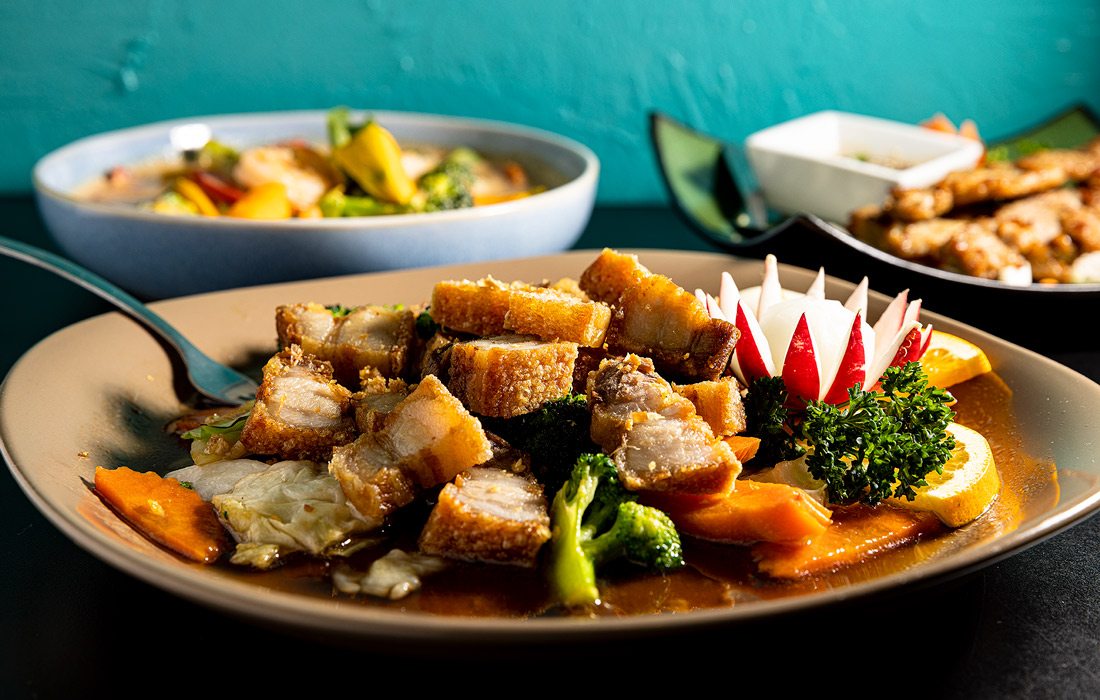 Take Mom to Brunch
This May 8, we celebrate that super-important person in our lives that we admire to the moon and back. With lots of options for a Mother's Day brunch, there are two that really stand out. Big Cedar Lodge has the foodie mom covered with an amazing menu at the new Worman House Bistro. There's oysters Rockefeller, crème brule French toast, duck poutine, lobster eggs Benedict and so much more. Check out Top of the Rock and Devil's Pool Restaurant for two other brunch options on Big Cedar properties. We're also excited about Mother's Day brunch at The Ozark Mill Restaurant, with its wonderful Lavender Gin Fizz or a Pimento Margarita cocktails that would be each a great start to a fire-baked sourdough pizza brunch. One of the pies on the menu is the Mushroom Yard with roasted mushrooms, truffle cream and thyme.
Meet Hotel Vandivort's New Chef
How excited are we all about The Order having a new executive chef? Chef Calvin Davis took over the kitchen just a couple of months ago and is already making positive changes to get the momentum going once again at the beautiful restaurant within the Hotel Vandivort's lobby. Chef Calvin is focused on all local farmers, bakers and producers of all kind to help him and his team achieve a great new menu that debuts this week. It will have house-made pastas and bread, a weekly market fish, and an exhilarating new sweets menu run by newly-hired pastry chef, Shaina Riley.
Celebrate Cinco de Mayo at Catrina's
This particular day in May has become one of the biggest Mexican-flavored celebrations we have with record sales in avocados, tequila, tortillas and so much more. Our very own Catrina's Modern Mexican Restaurant is hosting what sounds like one big fun party. They will have cocktails sponsored by Cincoro Tequila, balloons by Lifestyledbysimone, churros from the Xurrosco truck, and live music. There are no reservations so just walk in, have some delicious food and a couple of cocktails, and enjoy the celebrations.
Peep the Spring Menu at Architect Coffee
I love to keep reporting on delicious coffee menus all over town because all of these drinks are so worth trying. Architect Coffee has a new spring beverage menu with a honey-lavender latte that uses lavender syrup, honey, espresso, and milk of choice. They're also hopping on the espresso tonic trend, and their version is a cardamom tonic with house-made rose syrup, cardamom bitters, espresso and tonic water. The strawberry and rose matcha latte tastes incredible too, and so does the banana-almond latte made with banana syrup, house-made almond syrup, espresso and milk of choice. I mean, don't they just sound fantastic?