Table Talk
Table Talk: November 10–17
SPLIT Social Kitchen releases a new menu, The Cellar opens for business, and boba tea tours the town.
by Katie Pollock Estes
Nov 10 2020 at 8 a.m.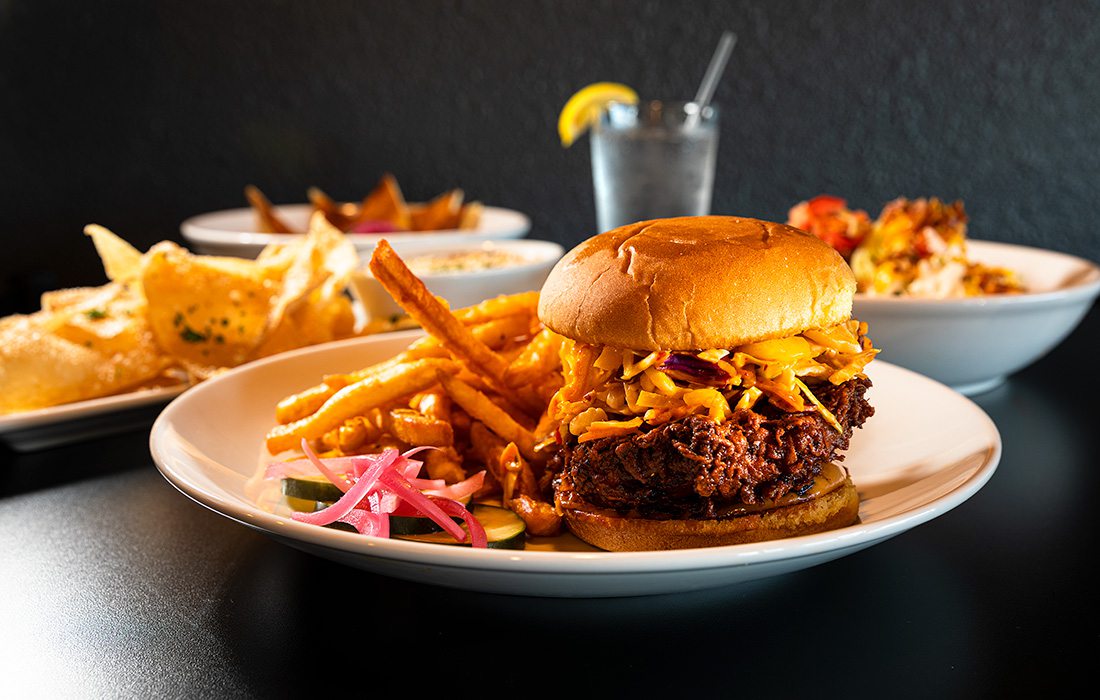 SPLIT's Menu Update
Oh boy, you know we love a new menu around here. So we're pretty excited to see that SPLIT Social Kitchen has released a new menu with some freshened up dishes. We haven't been in to try it yet, but we spy a few dishes that have us pretty excited. For example, the Mel. It's a cioppino risotto with mussels, scallops and shrimp and the fun twist of a poblano vinaigrette slaw on top. The Princess Presley salad features crispy roasted artichoke hearts. And finally, as a shameless mushroom-addict who thinks beef stroganoff is the ultimate comfort food, I am most excited to try the Rogue-anoff. It's rigatoni, mushrooms and beef tips with a mushroom and thyme cream sauce. Oh my goodness! The new menu is a mix of old and new, so some favorites are still there, such as the spicy Chiliville Chicken Sandwich and the lusciously gooey Baby Daddy crab dip.
SBC's The Cellar is Coming Soon
If you've been following all the updates and changes Springfield Brewing Co. has been rolling out this year (read our blog about it if you need to catch up), you might be excited to hear that the sign is now up for The Cellar. That's the concert and event space SBC has created in the building that formerly housed Missouri Spirits. They had their first little public event there last Friday, and you should keep your eyes open for more in the future. The Cellar's space has a full bar, and they've outfitted the building with a new kitchen and some other upgrades (including a new employees-only walkway connecting Brew Co. to The Cellar).
Farmstands in the Fall
We talk a lot about locally grown ingredients during the spring and summer months, but I wanted to remind the home cooks out there that your local farmers markets and some farmstands are still up and running, selling veggies fresh from the Ozarks grown by local producers. Urban Roots Farm's farmstand is currently carrying a pretty wide variety of fall veggies, like carrots, shishito and lunchbox peppers, fennel, oyster mushrooms and tons of greens (spinach, chard, lettuce and more). The farmstand at Sunshine Valley Farm is winding to a close this week, but you can still sneak in there until November 14 to shop for lettuce, apples and peppers. Plus, Springfield's farmers markets are all still open on the weekends, so you can stop by Farmers Market of the Ozarks, Greater Springfield Farmers Market and C-Street Market to find produce, meat, canned products and a bunch more to keep your table fresh as you cook this season.
Boba is on the Go
Are you on team bubble tea? I am, big time, and so are my kids. Those funky, fun drinks are one of their most-requested treats when we're hunting for something fun and tasty to enjoy together. They feature a beverage (usually tea, often milky) that is topped with things like chewy tapioca pearls or sweet and springy jellies. There are two designated boba tea spots in Springfield: La Boba Cafe on West Sunshine Street near Kansas Expressway, and SocieTea on East Sunshine Street just west of Glenstone Avenue. They're each a little different, so my family goes back and forth between the two: La Boba Cafe for a sweeter drink with way more topping and flavor options, and SocieTea for something fresher with a more homemade feel and a couple of toppings we can't find at the other spot. (Plus at SocieTea you can customize your sweetness level, which is great for me because I don't love super-sweet stuff.) SocieTea has been focusing entirely on curbside pickup ever since the pandemic hit Springfield, but now they're starting to do some small pop-ups at other locations around town to introduce bubble tea to Springfield and garner a little attention for these unusual beverages. This week you can find them at Seoul Market on Thursday from noon to 3 p.m., then on Saturday at C-Street market from 9 a.m. to 2 p.m. If you haven't tried bubble tea, go say hi and give it a try.