Table Talk
Table Talk: September 15–22
New downtown brunch, foodie events on the horizon, fall flavors everywhere and more in this week's Table Talk.
by Katie Pollock Estes
Sep 15 2020 at 8 a.m.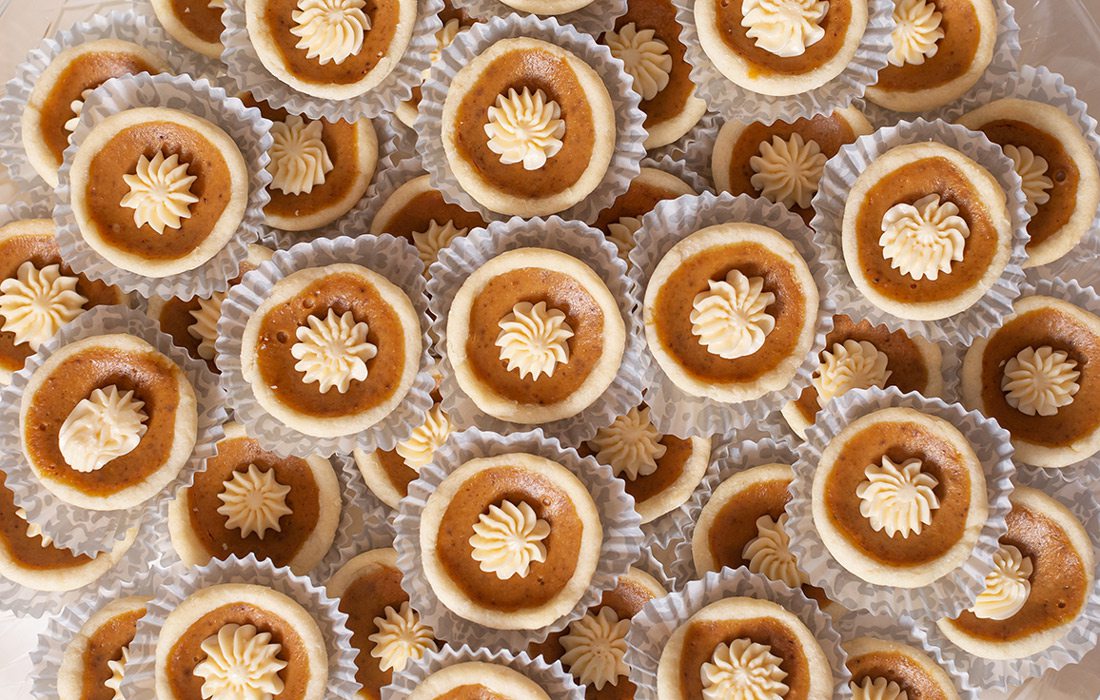 Pumpkin Spice Season Has Begun
Well, the calendar flipped to September, and it began: fall flavors are back on local menus, celebrating all things pumpkin-y, apple-y and fall-y. We're seeing it everwhere, but here are a few of our favorites that have sprung up recently:
Ozark Sno Ballz has added both soft serve and sno cone flavors with an autumnal feel, like the caramel apple and pumpkin cheesecake ice cream cones and the pumpkin pie sno cone topped with fluffy whipped cream.
The maple pecan latte at The Press may not feature pumpkin or apples, but it's packed with nostalgic fall flavors and all the warm kinds of sweetness. It's made with maple syrup and pecans that are caramelized in-house. There are some more classic fall drink specials too, like a pumpkin white mocha, a brown-sugar cardamom latte and more.
We are obsessed (that's not an exaggeration) all year with the banana cake from St. Michael's, so you can imagine how desperately we want to try the seasonal pumpkin cake, with its two moist layers and fluffy cream cheese frosting.
European Cafe always comes in clutch with the most beautifully created treats, and fall is of course no exception. They've announced the addition of a lineup of sweeties: warm cardamom buns, a fresh apple gallette, kolaches made with pear and cream cheese, and pretty little pumpkin tartlets. Drinks are updated too, with a cardamom-rose latte and everyone's go-to spiced pumpkin latte.
Andy's Frozen Custard is still slinging more summery seasonals right now, like key lime pie concretes and peach sundaes. And I don't blame them… it's pretty warm out there, you guys. But later this month two of our very favorite fall treats will hit the menu: the pumpkin pie concrete and the Words Can't Describe It apple pie concrete. Both are made with frozen custard that's blended with an entire slice of pie. We like the Words Can't Describe It apple pie sundae even better, though, thanks to its generous swirl of warm caramel topping and perfect apples-to-custard ratio.
SBC Gets Sour
A few weeks ago we told you all about the big changes happening over at Springfield Brewing Co., including its acquisition of Missouri Spirits and upcoming adjustments to its classic beer lineup. Well, some of their new small-batch brews are available, including the one we're most excited to try: Triple Play Sour IPA, a tart kettle sour with the hoppiness of an IPA. There's also a West Coast–style IPA and a New England–style IPA in the mix. You can pick up the three-beer lineup in cans at SBC, as a single-variety six-pack or a mix-and-match pack to try all three.
Downtown's Newest Brunch
Secret Sandwich Shop, the purveyor of epic sammies that's housed inside Sweet Boy's Neighborhood Bar, is now serving brunch on Saturdays starting this weekend. The menu will have a brunchy take on sandwiches from the Secret Sandwich kitchen and mimosas from the Sweet Boy's crew. The final menu wasn't out at press time, but follow them on Instagram to take a peek when they release it. We can't wait to see what will be served!
A Weekend of Foodie Events
The food world is busy this week! In addition to the new Secret Sandwich Shop brunch we mentioned above, there are some other goodies you'll want to mark your calendar for.
Tomorrow is Whip It Wednesday at Tie & Timber Beer Co., where you can add a fruity scoop of Pineapple Whip to your Tie & Timber brew for a curiously delicious float. If you attended the previous Tie & Timber and Pineapple Whip collaboration, you know these things are worth the trip.
On Saturday, the sixth annual MO Food Truck Fest is happening at Ozark Empire Fairgrounds. Admission is free, and food is available to purchase from more than 25 food truck vendors selling everything from barbecue to ice cream and everything in between—so you can sample food from the best portable kitchens and listen to live music while you're at it.
Forest Garden Yurts in Reeds Spring is hosting a Wild-Infused Four-Course Dinner with Rachael West on Sunday. The event starts with a walk through the wooded property to learn about Missouri's edible plants (and collect some too!). Then Rachael West prepares a multi-course meal using some of the same items so you can taste them right on the plate. It's educational, social and delicious.