Life
Turning Hunger into Hope with Ozarks Food Harvest
417 Magazine's top takeaways from our time volunteering at Ozarks Food Harvest.
By Jo Jolliff
Nov 15 2023 at 8 a.m.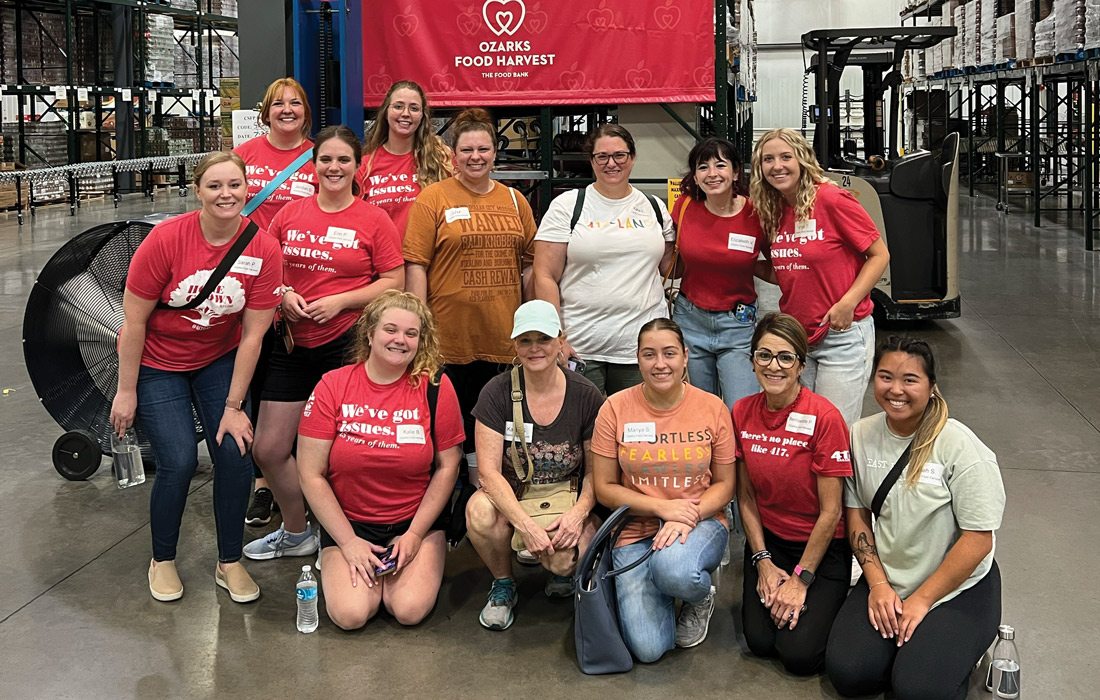 This year our team set a goal of achieving 2,500 hours of what we call "shine time," meaning anything that shines a light on our community. One way we've been working to achieve this is by volunteering together as a team each quarter at a local nonprofit. For our third quarter, we chose Ozarks Food Harvest.
Ozarks Food Harvest's O'Reilly Center for Hunger Relief (2819 N. Cedarbrook Ave., Springfield; 417-865-3411) serves more than 30,000 individuals experiencing food insecurity. Their food bank distributes over 1.4 million meals per month to children, families and seniors in need by providing food distribution and services to 270 Ozarks nonprofits through programs like their Mobile Food Pantry, Weekend Backpack Program and more. Knowing this, our entire team was excited to help support their mission in whatever way we could.
Ozarks Food Harvest runs on volunteers, and from the moment we stepped through the doors it was clear that they have created and fine-tuned the perfect process for making the most of their volunteers' time. Everyone on our team who participated simply filled out an application ahead of time online and then was able to quickly check in upon arrival before washing their hands and being taken to begin our three-hour sort and pack session.
From there they had the perfect process in place to quickly train and assign roles. We formed an assembly line with half of the team checking the label's expiration date, the other half putting the approved food into boxes and the remaining few sorting various donated non-food items. We quickly moved through container after container full of food and were surprised with how pampered we felt as volunteers, being taken to enjoy a quick snack break halfway through before diving back in.
Beyond their process for volunteers, we were even more impressed with all of the ways they strive to eliminate waste. Rather than simply throwing away expired or damaged food, they sorted it into a separate pile to be donated to their local farm partners, who use the food to feed their pigs.
After our three-hour session was complete they took our team on a tour of the facility, where we carefully followed the marked lines to stay out of the way of those working in the warehouse. Their state-of-the-art facility houses a dedicated produce cooler to distribute fresh produce and freezers to provide frozen food. Truly a well-oiled machine, the facility focuses on saving energy in every way possible, from redirecting air from the freezers to using solar panels, all so that money saved can be redirected back to eliminating hunger.