Style
Twin Sisters Illustrate 44 Southwest Missouri Landmarks in Coloring Book
Sara Schmitz Olson and Christa Schmitz Tiggemann brought 417-land nostalgia to life through whimsical depictions of Bass Pro Shops, Andy's Frozen Custard, Mother's Brewing Company, Historic C-Street, Pineapple Whip and more.
Written and Photographed by Dayle Duggins
Dec 06 2017 at 10:35 a.m.


The 417 Coloring Book is available on Amazon Prime and at local retailers including 5 Pound Apparel, Big Cedar Lodge, Dickerson Park Zoo, Elle's Patisserie, Harem & Company, Mother's Brewing Company, Springfield CVB, Springfield Little Theatre and Top of the Rock.
---
Remember when choosing between Robin's Egg Blue, Tickle Me Pink, Macaroni and Cheese, and Periwinkle was stressful? Simpler times, indeed. 

Before you go wishing away your age, think about how fuzzy and nostalgic those Crayola colors make you feel. Maybe you remember the scent of your crayons, colored pencils or markers. You'd get lost in the lines, shake out your cramping fingers mercilessly and, finally, marvel at your masterpiece. Sometimes it'd stay right where you found it, other times it made its way to the fridge.
Nostalgia is a powerful thing. That's why 417 Magazine felt it fitting to harness that emotion in honor of its 20th anniversary. The 417 Coloring Book is filled with 44 landmarks near and dear to every southwest Missourian's heart. 
Twin sisters Sara Schmitz Olson and Christa Schmitz Tiggemann of Chrisara Designs brought the magic of 417-land to life through illustrations that they tag-teamed the whole way through.
417: Talk a little about the process of illustrating The 417 Coloring Book.
CD: We tried to focus on what made that spot iconic, and looked up tons of reference pictures. We worked on five [illustrations] at a time. First, we'd do thumbnail sketches, then we'd go into executing them. The initial drawings always looked fairly messy, so we'd use our light table to retrace our drawing, then add pen and more details. 
417: How would you describe your style as artists?
CD: Our style overall is hard to nail down because we do so many different projects. Usually we do more realism, so we pared that down for The 417 Coloring Book. 
417: Tell us how you two work together and explain what's going on in the video you sent us.
CD: We were together the whole time because we have a studio with three big, long light tables that move around. We would sit side-by-side working on separate pieces, then we would go back and forth asking each other questions about each illustration. 
417: How long did each illustration take you?
CD: It took about a month to work on all of them, so we probably got two done a day. We be in our studio all day and work 'til late. It was a very time consuming process. A few times we definitely had blowups with each other. We had to step back and realize how exhausted we were then move on. It was really cool to see them all start to stack up instead of seeing them individually. 
417: What was your favorite landmark to illustrate?
CD: I think we both have our favorites. We ended up loving Alley Mill. Pineapple Whip was a very obvious one to make fun and cute.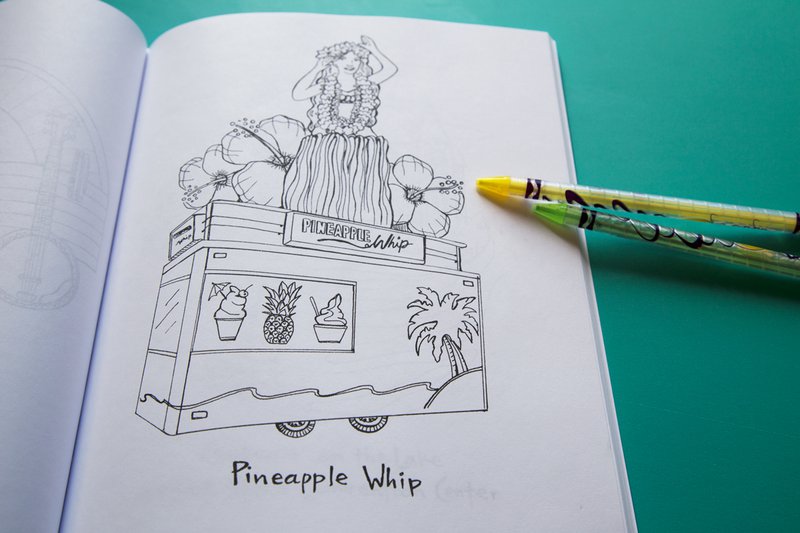 417: What other artwork have you done throughout the community?
CD: Right now we're working on family and pet illustrations for the holidays, and we recently worked with Starboard and Port to design a set for Snack Crate. 
417: Why did you partner with 417 Magazine to produce the coloring book?
CD: We both thought it was super cool to be asked. We saw it as a fun challenge, because we always push ourselves to the max. We closed ourselves into the studio and put friends on hold. It was fun because we got to see the end result of our work very quickly. Being that there were challenging times, it felt extra rewarding in the end to see it all come together.