Dishes
If You Haven't Tried Best of Luck's Fried Chicken Sandwich, What Are You Waiting For?
These seven dishes or drinks from southwest Missouri have passed our taste buds this month and made us rave. They are ranked by level of yumminess.
By The Editors
Dec 2019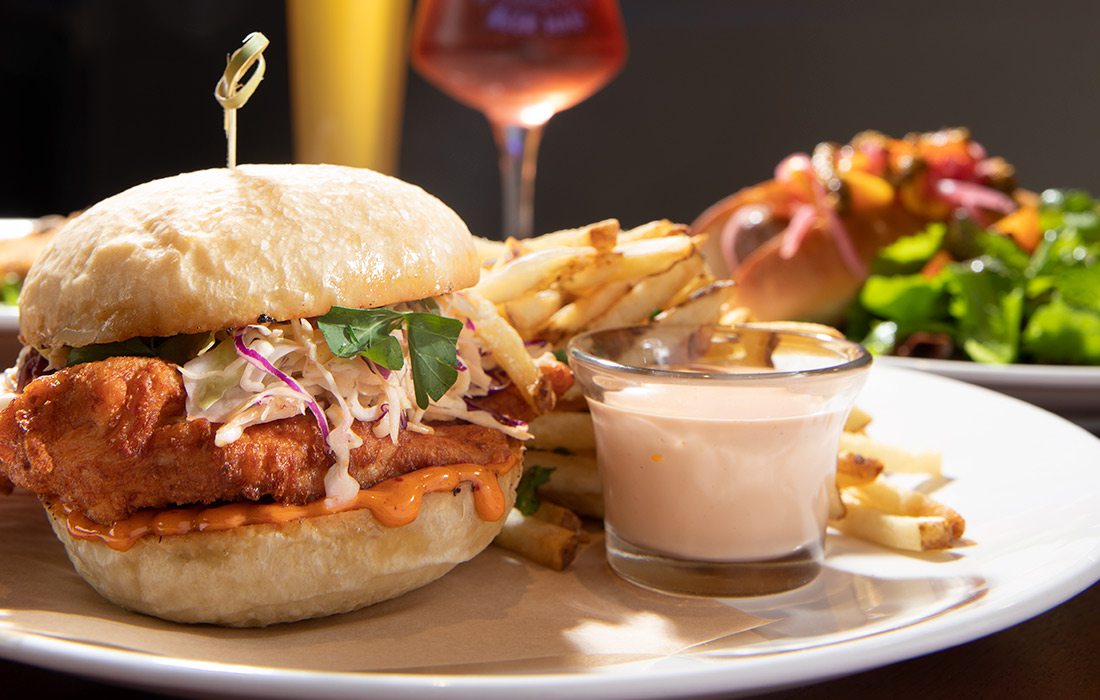 1. Just when we thought pie couldn't get better, Prairie Pie created the oatmeal black bottom pie, served at Cherry Picker Package + Fare (601 S. Pickwick Ave., Springfield, 417-986-5800). Pecan pie filling sits atop a rich ganache chocolate, and the whole situation is topped with rolled oats.
2. We've written about it before, but we couldn't resist revisiting the fried chicken sandwich at Best of Luck Beer Hall (313–B S. Jefferson Ave., Springfield, 417-522-9009), and we'd be remiss if we didn't remind you of how great this sandwich is. Juicy fried chicken is topped with crunchy kimchi and chili mayo—way better than anything you'd get at Popeye's.
3. Few things signal the arrival of winter more than a bitter coffee stout, and the Midnight Summit at Great Escape Beer Works (4022 S. Lone Pine Ave., Springfield, 417-824-4043) brings the added heavy comfort of a nitro brew to the table for a hearty beer that will leave you ready to face Jack Frost.
4. For the meat-eater, the Bistecca Rosemarino at Avanzare Italian Dining (1908 S. Glenstone Ave., Springfield, 417-567-3463) delivers tender rib-eye (we prefer it rare) topped with a white wine and Gorgonzola cheese sauce, served with roasted vegetables and mashed potatoes.
5. We're on a kimchi kick, and the gogi quesadilla now at The Press Coffee & Juice Bar (2710 S. Glenstone Ave., Springfield, 417-771-5950) packs a ton of flavor with kimchi, green mix, plenty of cheese for that 'grammable cheese pull, plus the protein of your choice (try the chicken).
6. We know. It's very millennial of us, but we love The Avocado toast at The Workshop at Finley Farms (601 N. Fourth St., Ozark, 417-210-6690). Mashed avocado, heirloom cherry tomatoes, olive oil, salt and pepper top crusty ciabatta for a version of breakfast toast that takes silverware to tackle.
7. The pasta in the mushroom pasta at Bellacino's Pizza and Grinders (multiple 417-land locations) is the real main attraction, but we won't complain about the generous side of garlic bread, either. The pasta features mushroom-filled ravioli in a creamy white wine sauce with sun-dried tomatoes.