Dishes
French Onion Soup and Six More Good Things
These seven dishes or drinks have passed our taste buds this month and made us rave. They are ranked by level of yumminess.
By the Editors
Oct 2021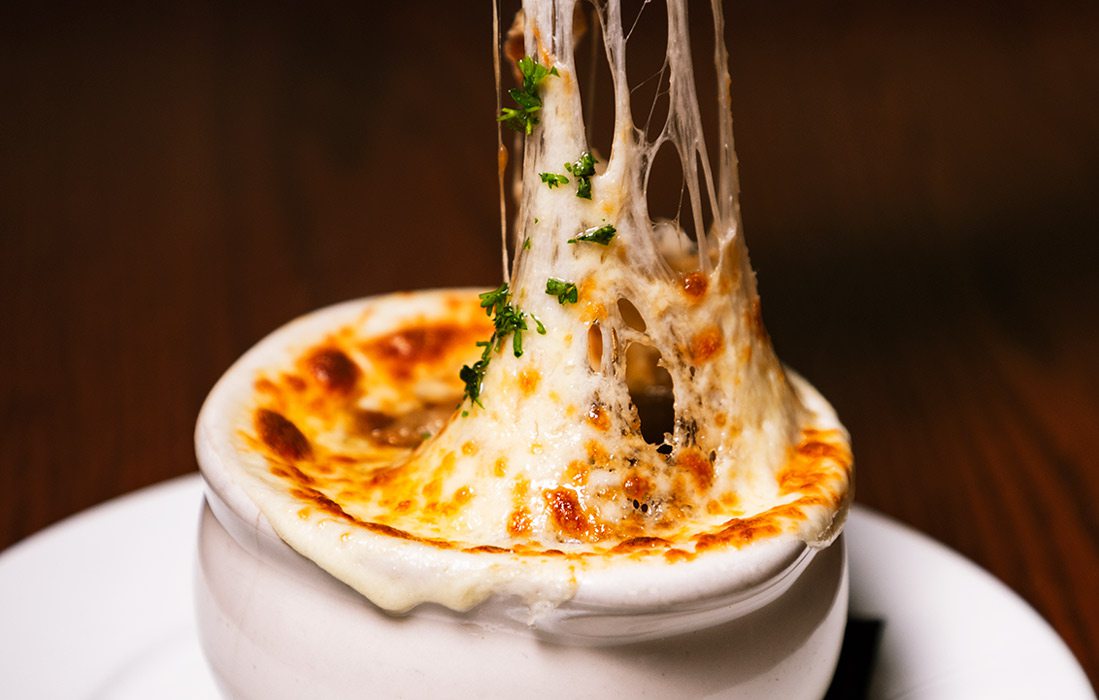 1.It's soup season, and one of our favorite comforting bowls to dig into is the classic French onion soup from Jimm's Steakhouse & Pub (1935 S. Glenstone Ave., Springfield). It's topped with just the right amount of melty cheese for those perfect stretchy bites.
2. We are forever in love with the Pasta Nicola from Nicola's Ristorante (3631 E. Sunshine St., Springfield). The homemade ricotta pasta has a delightful bite and is complemented by a tomato cream sauce filled with savory sausage and mushrooms.
3. A great shareable during a night out with friends is the Korean BBQ Nachos from The Golden Girl Rum Club (137 Park Central Square, Springfield, thegoldengirl.com). We order it with pulled pork, and it also comes with mozzarella cheese, kimchi, pineapple, jalapenos and more for a great sweet-and-spicy crunch.
4. When you want to feel like a kid again, order the root beer float for dessert at Springfield Brewing Co. (305 S. Market Ave., Springfield, springfieldbrewingco.com). It's made with Brew Co's homemade root beer and a scoop of creamy vanilla bean ice cream. Everybody knows, it's the quality of the soda that makes a root beer float great, and Brew Co.'s root beer is second to none.
5. Retro Metro (2150 W. Republic Road, Springfield) serves nostalgic flavors from past Metropolitan Grill menus, and we are obsessed with the Clark Pasta. The pasta is full of shrimp, sun-dried tomato, roasted garlic, basil and candied walnuts, and we can't get enough.
6. For a sweet treat, we love the ice cream topped waffles at Maes Gelateria (334 E. Walnut St., Springfield). Order your waffle topped with cookie butter and a scoop of cookie butter ice cream for something sinfully good.
7. We love a good loaded fry, and the Moody Blue Smoked Fries from Flame Steakhouse (314 W. Walnut St., Springfield, flamesteakhouse.com) hits the spot. The smoked fries are topped with crispy bits of bacon and melted bleu cheese