Reviews
Breakfast at Dani's Flower Pot Bakery
You can fuel up for the day with unique takes on classic breakfast fare at Dani's Flour Pot Bakery, the sweet little eatery with an upcoming name change to Sleepy Opossum Cafe.
By Katie Pollock Estes
Jan 2023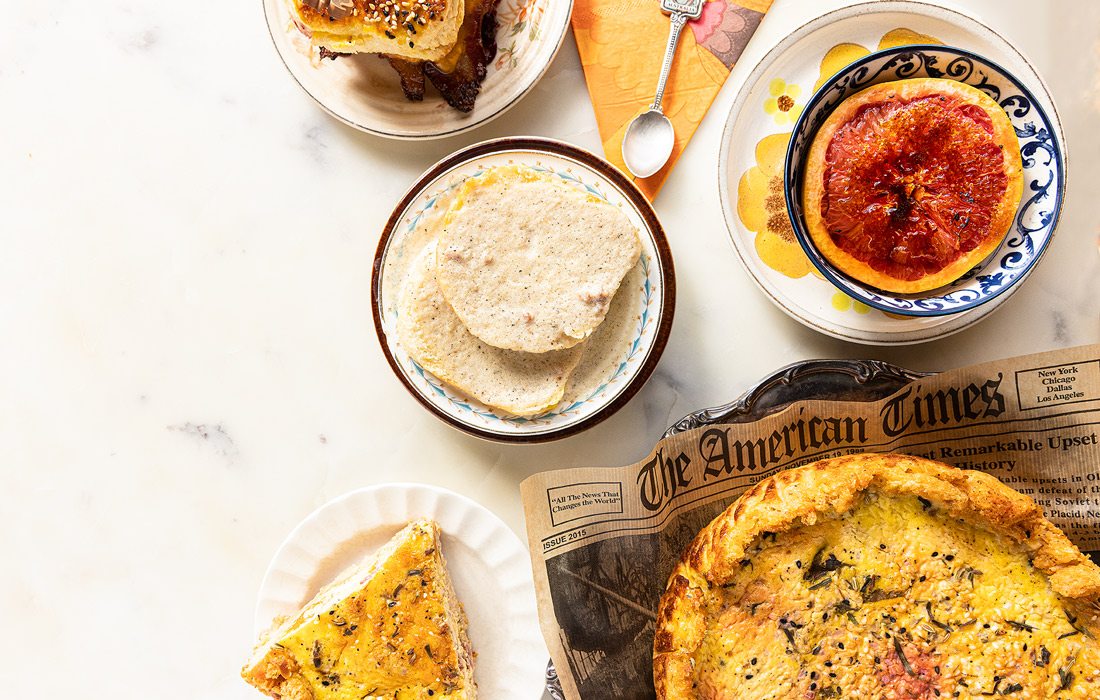 What makes a hole-in-the-wall restaurant feel like such a treat? Maybe it's the quaint charm, or the super-chill atmosphere, or the fact that it feels a little bit like a well-kept secret. Dani's Flour Pot Bakery has all those elements—and great breakfast fare to boot.
The sweet little shop, which will soon change its name to Sleepy Opossum Cafe, is located inside The Royal at Rountree's hopping Pickwick and Cherry intersection. In the morning, Dani's Flour Pot Bakery uses the space to serve breakfast and lunch, and in the evening The Royal slings cocktails and snacks.
On a recent and frigid winter morning, I popped in to give owner Dani Hunnell's breakfast fare a try, and it felt like such a relief from the chill to walk into the warm, sunny and charmingly decorated space that delivers strong Wes Anderson vibes.
The menu is a mix of breakfast fare that looks pretty traditional at first glance but actually holds some creative surprises. Instead of pie crust, the quiche is surrounded by a layer of hash browns. The breakfast tacos feature a spicy-sweet sriracha syrup. Even the hot cocoa is outside the expected; it's a Mexican hot chocolate.
I knew I had to try one of the quiches. They are filled with seasonal ingredients, often from local farms, so the options change. On my visit, they were offering one that was made with caramelized pumpkin and gorgonzola cheese.
I found a cozy table with sofa seating and a view out the window. When the quiche arrived (along with an excellent mug of coffee from the popular Bentonville coffee shop Onyx), I was immediately charmed. Everything was served on mismatched plates and cups, all with a sweet vintage vibe.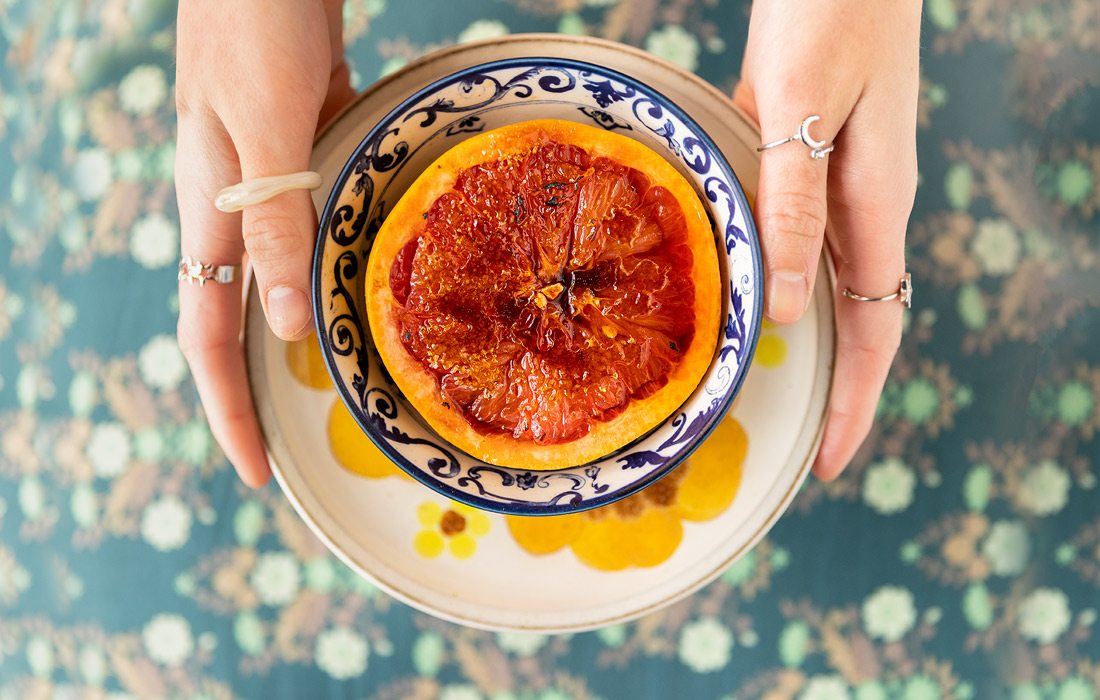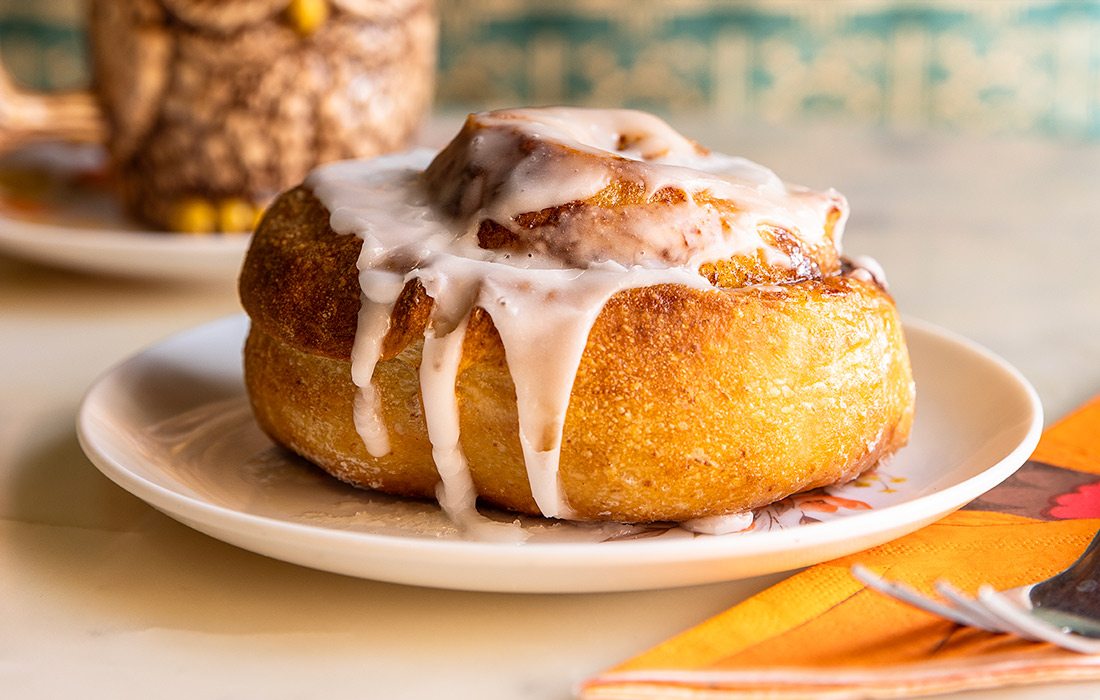 Not only did the quiche have a hashbrown crust, but it was packed with hashbrowns on the inside as well. The slice arrived piping hot and really big. It was so delicious—the definition of comfort food with all that potato and cheese and egg. But it was just as surprising as it was comforting. The pumpkin wasn't too sweet; instead it complemented the more savory flavors beautifully. Every nibble that had a bit of gorgonzola in it was my favorite—just such a tasty combo of ingredients.
It was too big to finish on my own, so I had to stop myself from filling up so I could save a little room for the brûléed grapefruit. It's a delightful breakfast side. A fresh grapefruit half is topped with sugar that's then brûléed into a caramelized, crisp, crackable treat on top. I love a grapefruit, even at its most bitter, but adding that caramelized sugar is just the icing on the cake.
I also ordered a bacon, egg and cheese breakfast sandwich to bring home to my husband, and of course I stole a couple bites. (For science!) The homemade biscuits are sprinkled with everything bagel seasoning and filled with thick-cut bacon and a scrambled egg. There's a little dollop of jam inside too. I loved every element except the jam; it was too sweet for me. But if you're in the jam-plus-breakfast-meats camp, you'll love it.
Although I have never tried them, I've spent a lot of time admiring the beautiful cakes from Dani's Flour Pot Bakery. They  are served in seasonal flavors and are topped with colorful accents like fluffy buttercream, colorful flowers and bright compotes. You can order these online, and at press time they were offering one of my all-time favorite dessert flavors: Earl grey. 
We did get to try one of the other sweet treats, though. I ordered a cinnamon roll to go and brought it home to share with my kids. Cinnamon rolls are always a hit with my family (I mean, who doesn't love a cinnamon roll?), and this one didn't disappoint. The outside was beautifully golden with sticky-sweet icing, but it was that very middle layer that we tussled over. So soft, sweet and perfectly spiced! It was the ideal complement to the extra cup of coffee that I took to-go.