Reviews
Sink Your Teeth Into Lucky Tiger Sandwich Co.
Classic American compositions and Asian influences spice up the sandwich selection at Cody Smith's Lucky Tiger Sandwich Co in south Springfield, MO.
By Claire Porter
Jan 2020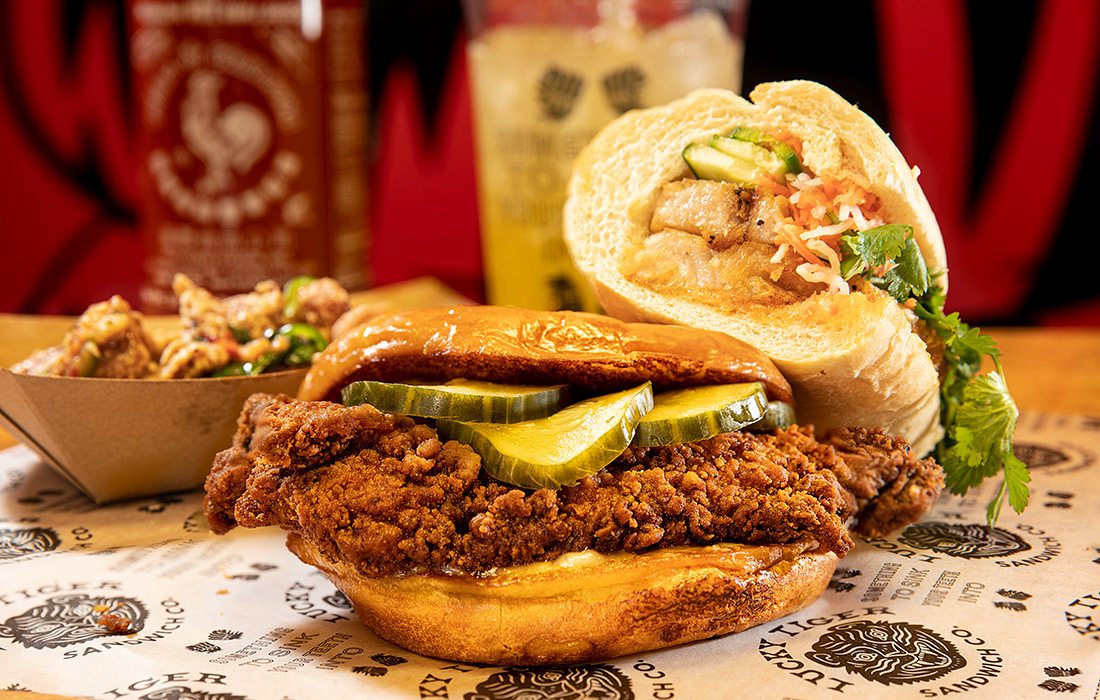 I've never been much of a lunch person. I sometimes skip it altogether, or I scrounge together pathetic snack items and call it a meal. For example, today I had one clementine and a handful of Chex Mix. Sad, I know. It's not that I don't like lunch, but I rarely have time to prepare food or leave the office—sound familiar?
Right when I started grappling with my mealtime conundrum, Lucky Tiger Sandwich Co. opened up. As a lover of sandwiches, I hoped this would solve my midday crisis, but I had no idea just how solved it would be. Lucky Tiger has turned me into a lunch convert, and it's now a meal worth savoring or, as the tagline professes, worth sinking your teeth into.
Lucky Tiger is the creation of Cody Smith, co-owner of City Butcher (located next door), and his meat mastery shines on the American-Asian-fusion menu. The menu has, essentially, three categories: American classics with an Asian twist, Vietnamese-inspired banh mi, and snacks and sides, and since the restaurant opened in September, I've tasted almost every item on that menu.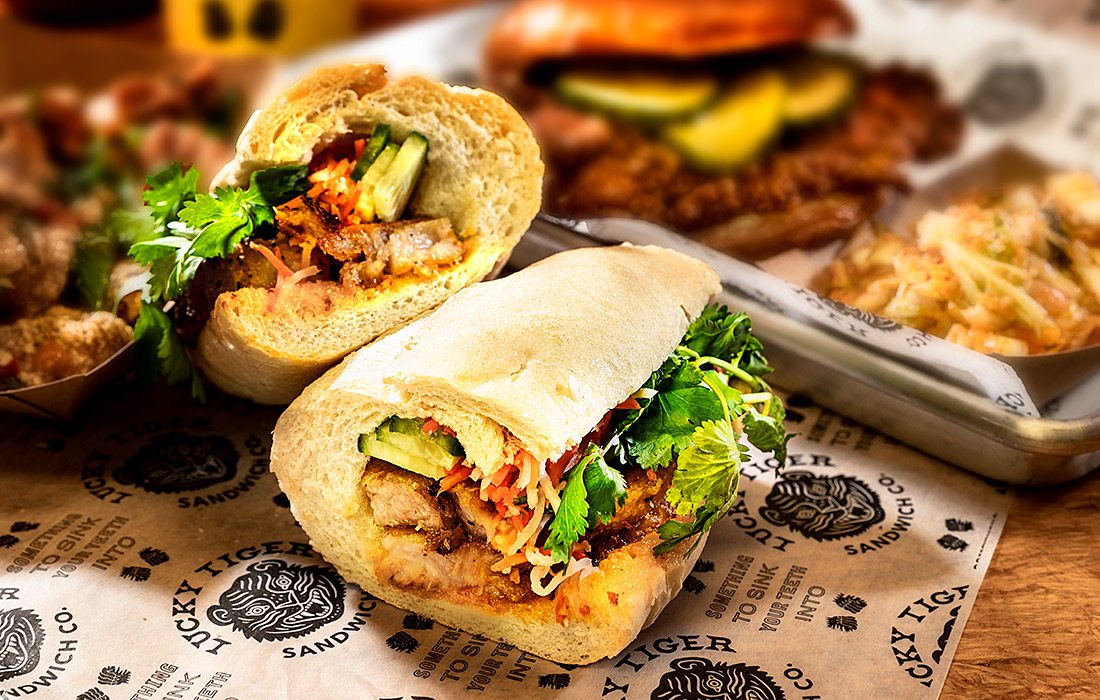 Banh mi are Vietnamese sandwiches served on a crispy, chewy baguette stuffed with pickled vegetables, cucumbers, jalapeños, cilantro and a protein. Smith says he first tried banh mi during his time in culinary school and has wanted to open a shop ever since. "I knew I didn't want to do a straight traditional banh mi shop, so I just drew from all the things I like to eat and put them in that format," Smith says. True to his word, Smith has combined global influences in each banh mi, like the juicy Korean beef bulgogi; the herb-studded, vegan (!!) Middle Eastern falafel; the blackened Cajun shrimp; or, my personal favorite, the crispy and tender pork belly. Your choice of aioli prevents the dreaded sandwich dryness and allows you to customize the heat (I'm partial to the slow burn of the fire-roasted jalapeño).
The sides should hardly be considered as such, as each one is enough for a full meal. Gooey cheese whiz coats the kimchi tots, in which each nug is slathered in spicy, funky kimchi. And the chicken karaage served Thai style is the most addicting dish on the menu. Super-crispy bites of fried chicken are tossed with pungent fresh mint and Thai basil, bracing fresh jalapeños and slippery sweet chili sauce for a mélange of flavors that you can tweak with each forkful. Even the American side of the menu gets a twist, including umami seasoning on the juicy Lucky Burger, the Thai and Korean chili powder in the fiery Far East Nashville Hot Chicken Sandwich, the bulgogi stuffed into the goopy cheesesteak or the garlic ginger marinade on the hangover-approved crispy chicken sandwich. The sandwiches are a solid choice for anyone not wanting to battle a baguette, and the crunchy, briny house-made pickles on each are a worthy reward for those not brave enough to leave their comfort zone.
If you, like me, have tried every dish on the menu and—unlike me—have yet to find a favorite, try an off-menu weekly special. Wednesdays are for ramen, which is brimming with sweet corn, chewy noodles and smoky rounds of chashu pork belly. On Tuesdays, tender beef bulgogi makes its way onto tacos, cozied up next to kimchi and salsa roja.
The bright, semi-industrial atmosphere is an enticing change of pace from a drab office interior, and the menu's great pricing and melodies of flavors are reason enough to get you to break up with your desk come noon and head out for a lunch break—as if we needed that much of a reason, though.
Luck Tiger Sandwich Co. Insider Tips

Off-Menu Options
Look for off-menu specials at Lucky Tiger. On Wednesdays, tuck into a big bowl of ramen with smoky chashu pork, and on Tuesdays, try bulgogi tacos with kimchi, salsa roja, cilantro and onions.
Try a Stubborn Soda
Lucky Tiger serves beer, wine and canned craft cocktails, but the sweet draw is the soda fountain, stocked with Stubborn brand sodas in flavors like black cherry tarragon and pineapple cream.
Vegetarian and Vegan Alternatives
Despite the sandwich shop menu, vegans, vegetarians and low-carb followers can find options to suit their needs, like vegan falafel, vegan coconut Dijon spread, or salad bowls with any banh mi filling, romaine, cabbage, peanuts and vinaigrette.