Reviews
We Tried Niji Sushi Bar & Grill
Niji Sushi Bar & Grill is serving stellar sushi rolls and slinging ramen in a brand new space in Galloway.
By Katie Pollock Estes
Sep 2020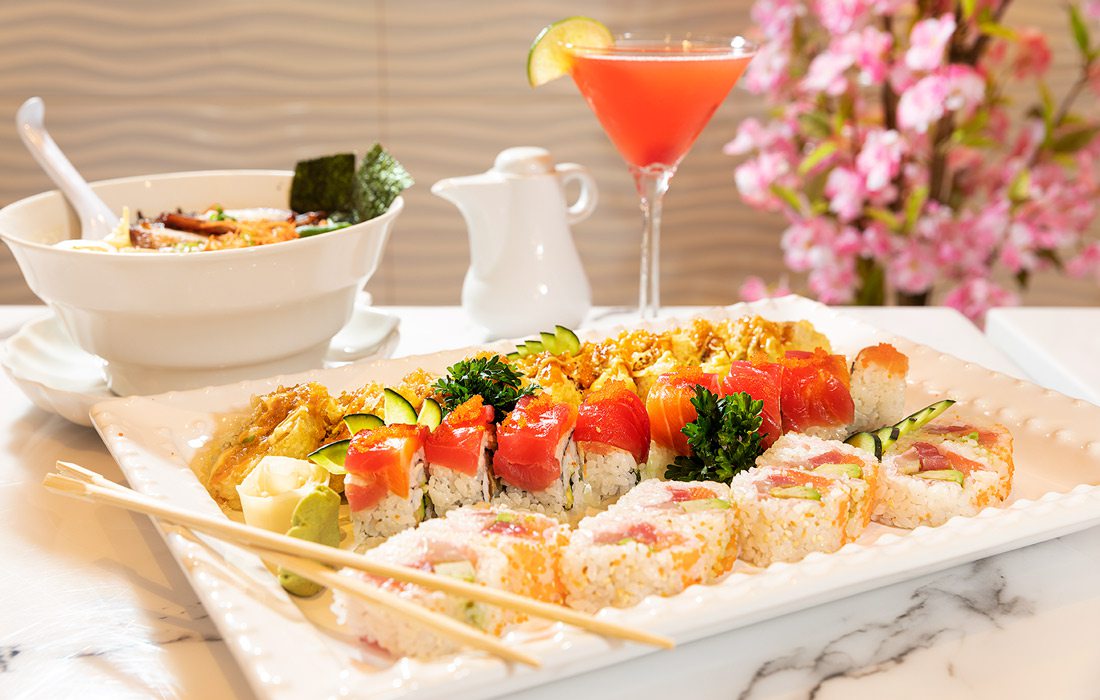 The sign for Springfield's newest sushi spot, Niji Sushi Bar & Grill (3938 S. Lone Pine Ave., Suite 100-B, Springfield, 417-851-1707) had been up on Lone Pine Avenue just south of Sequiota Park for months before the restaurant opened its doors. And because I drive by that part of Lone Pine regularly, I had been curious for way too long—anxiously waiting for it to open up so my husband, Eli, and I could indulge in a sushi date.
When it was finally time to try it, we only briefly breezed through the dining room on our way to the outdoor seating. What we saw were bright white walls, shiny silver details, sparkly light fixtures and cobalt blue pops of décor. On the patio, we enjoyed the cross breeze and the gurgling from the fountain, and we appreciated the umbrella shade and potted plants that helped us to forget we were dining on hot concrete in the heat of late summer. It was a pleasant patio vibe, and I think I'd choose it on future visits, too.
As we always do when we go out for sushi, Eli and I over-ordered. We can never narrow down our choices! We started with shrimp tempura, which was nicely fried for a crispy, airy coating that was so satisfying to crunch into. I ordered a cocktail before our sushi came, too. Curiosity got the best of me, and I opted for the unusual Niji Cherry Blossom Tini, which comes to the table bright pink and topped with a bubble of vapor formed from liquid nitrogen that you pop to create a cauldron-like effect. The drink was too sweet for my taste—but I'll tough it out for a clever gimmick any day.

Then it was time for sushi, the craving we came to satisfy. We shared the Niji fried roll (white tuna, yellowtail, spicy crab, cream cheese, avocado and cucumber with masago), the Asahi roll (shrimp, crab and avocado inside with salmon and tuna outside) and the Cherry Blossom roll (tuna, salmon, yellowtail, avocado inside a pink soy paper wrap with masago on top). We liked them all, each for a different reason. The Niji fried roll was indulgent and rich, the Asahi roll was classic and refreshing, and the Cherry Blossom was a dream for anyone who just wants loads of raw fish in an ultra-simple package. The Cherry Blossom was our favorite.
Although we didn't order any on our first visit, we were surprised to see seven varieties of ramen on the menu, including the type that always catches my eye: tonkotsu ramen. It features braised pork in a pork-and-chicken broth. We made a mental note to bring our kids one day for a ramen feast, since there are enough types on the menu to satisfy any taste bud. And we'll certainly be back. The sushi won me over, and I'm anxious to try a few new rolls from the more than three dozen options on the restaurant's menu.