Reviews
Our Review of 65 Tapas
We try the shareable plates and more at 65 Tapas, the Spanish-inspired spot located beside ReRico Brazilian Grill.
By Joy Robertson
Aug 2023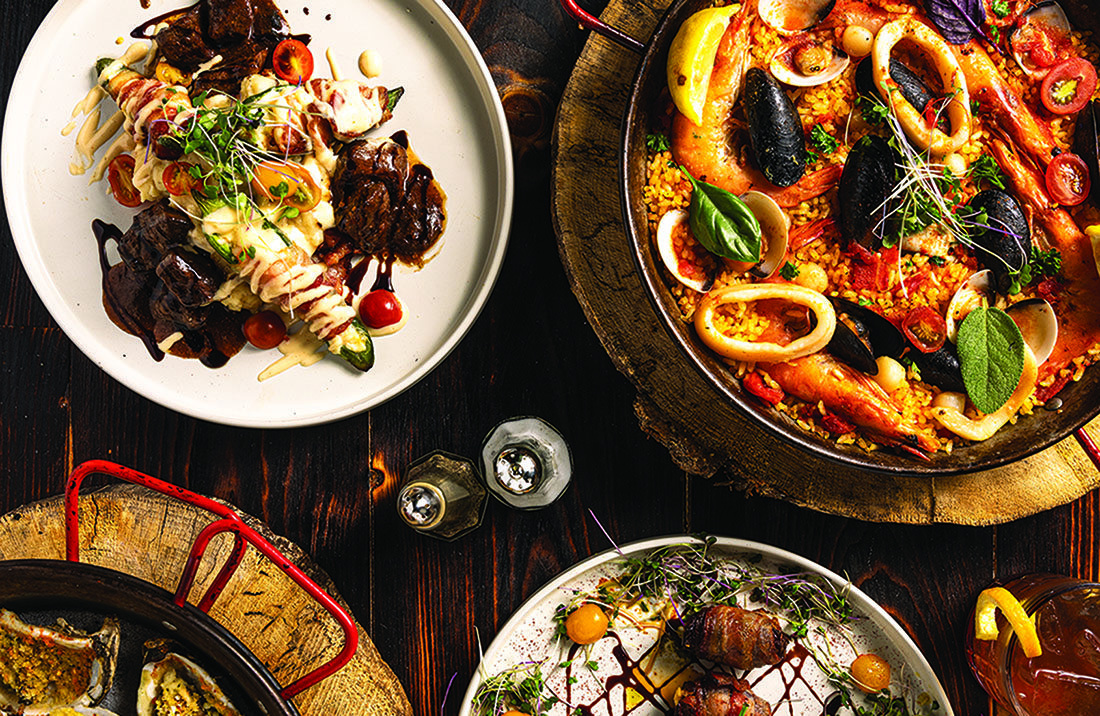 There's not much I enjoy more than exploring unique food with friends and family. Based on word-of-mouth and some delicious-looking social media photos, I'd been looking forward to checking out Chef Angel Kim's latest venture, 65 Tapas. It occupies the eastern portion of ReRico Brazilian Grill near Highway 65 and Battlefield Road and features smaller, Spanish-influenced plates designed for sharing. My husband, oldest daughter and I visited the restaurant late afternoon on a Saturday and quickly realized we'd need more than a few visits to work our way through the extensive menu.
I kicked off the evening with one of the restaurant's signature cocktails, a smoky old fashioned. Loads of smoke rolled from the glass when the waitress removed the lid, and it maintained its sweet smokiness right down to the muddled orange and Luxardo cherries.
I wasn't expecting a salad and was pleasantly surprised when the server emerged with one for each of us. She said it was meant to prep the palate for a great meal, and it was simple yet delicious. Cold, fresh greens were topped with fantastic dressing made with garlic, brown sugar and ground sesame seeds. I could have eaten a tableful of these.
Our meal started with Datiles Rellenos, bacon-wrapped dates stuffed with goat cheese and drizzled with a honey-lemon-chili sauce. They were rich, delicious and perfect for sharing. 
I'm not a raw oyster person, but I do love buttery, garlicky, New Orleans–style chargrilled oysters, so we couldn't resist trying the Ostras de Fuego. Six grilled oysters brushed with herb butter and a Manchego crust topping arrived on a flaming platter. They were tasty but much smaller and far less decadent than the ones my family has come to love in the Big Easy. We'd skip this next trip in favor of a couple of other menu items like Albondigas Manchego meatballs topped with puttanesca, and Aletas de Pollo chicken wings with roasted garlic sweet and spicy Buffalo sauce.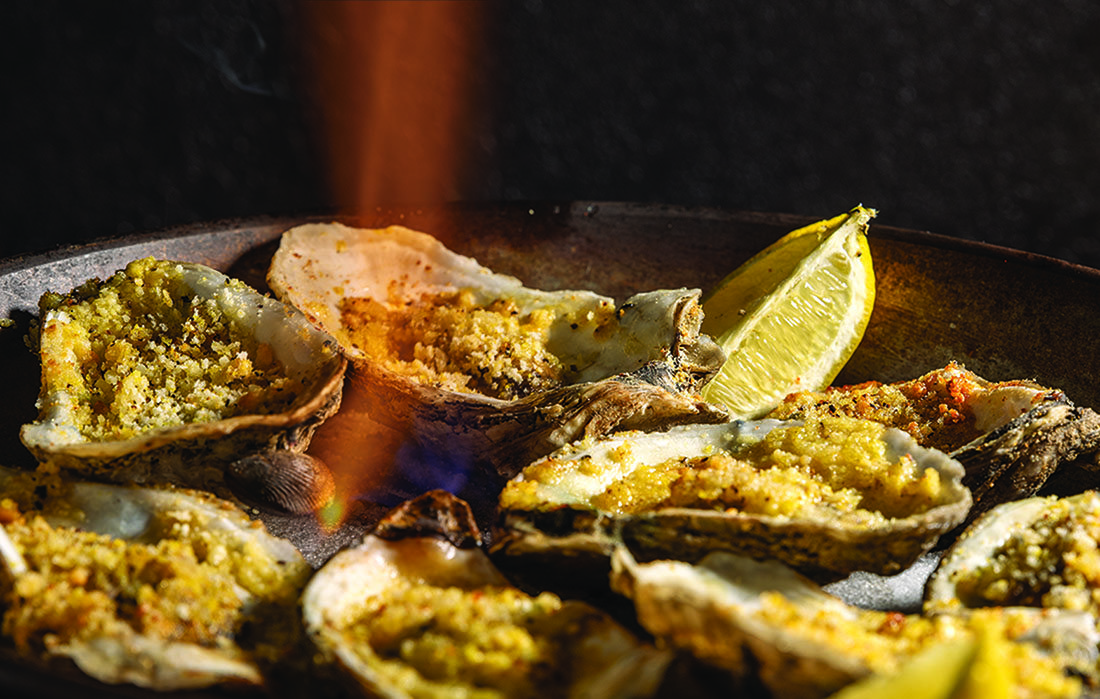 My husband is a meat and potatoes kind of guy, and that's exactly what he chose for a (somewhat) shared entrée. The Mar Y Tierra is grilled steak tips served atop either potatoes or risotto. The steak was tender, and the potatoes were draped with a sort of brown gravy that evoked feelings of comfort food. The dish was served with bacon-wrapped stuffed jalapeno shrimp, which I'm told were delicious. I wouldn't know since the hubs scarfed them down before I could steal a bite. He told me later that was his favorite part of the entrée.
Rather than choose an entrée for myself, I opted to go full-on traditional Spanish and ordered a Paella Valenciana for the table. The rice had a tomato-heavy sofrito that was super-light on the saffron. It featured four head-on shrimp, an array of clams, mussels, halved grape tomatoes, small scallops and lemon wedges served in a traditional paella pan. I was bummed to discover four mussels had arrived unopened. I've been taught they stay closed for a reason, so we missed out on half of the mussels in the dish. Outside of that, it was more than enough for the three of us.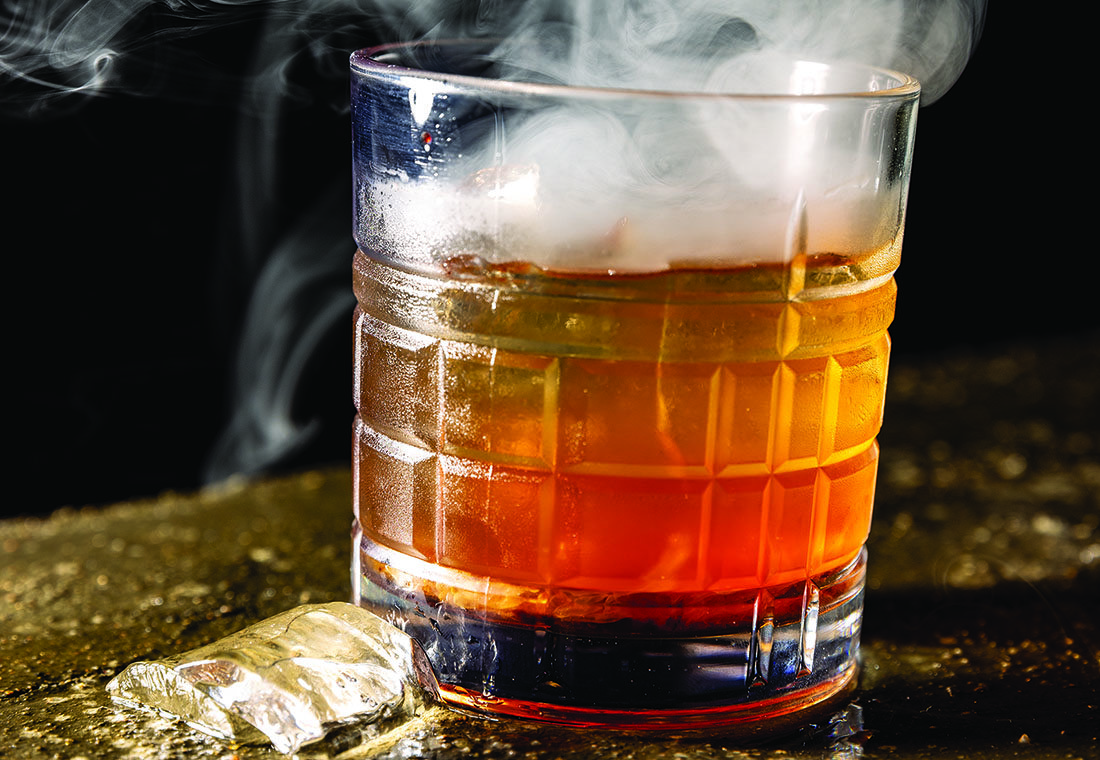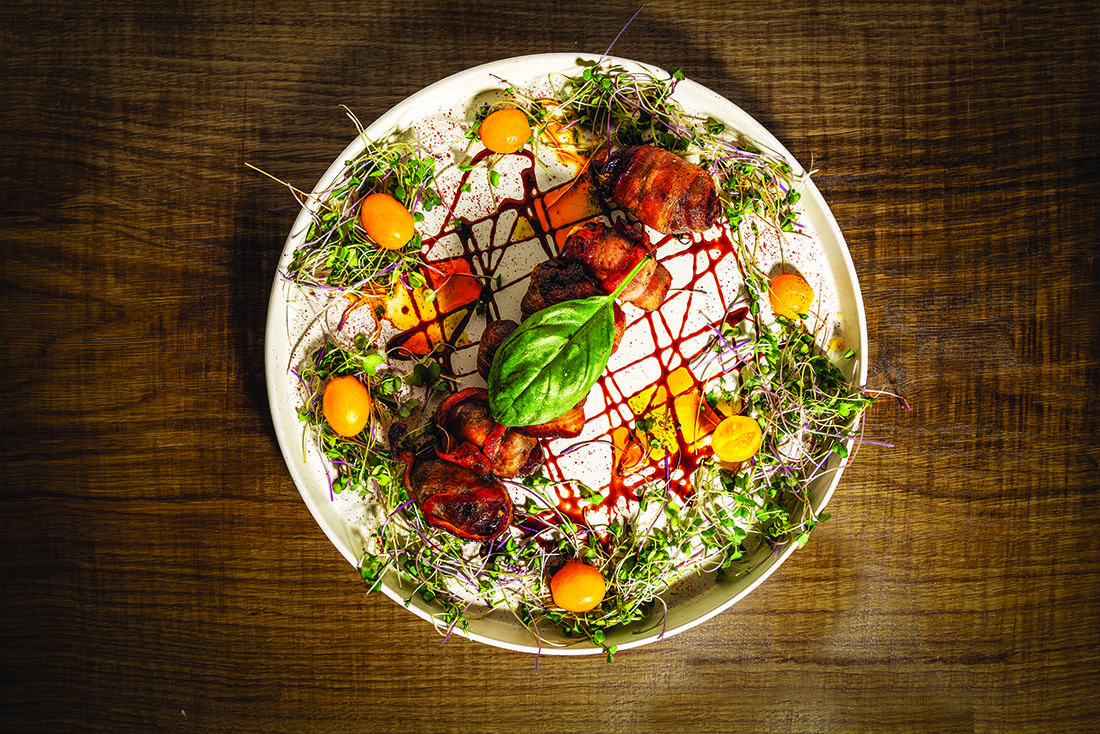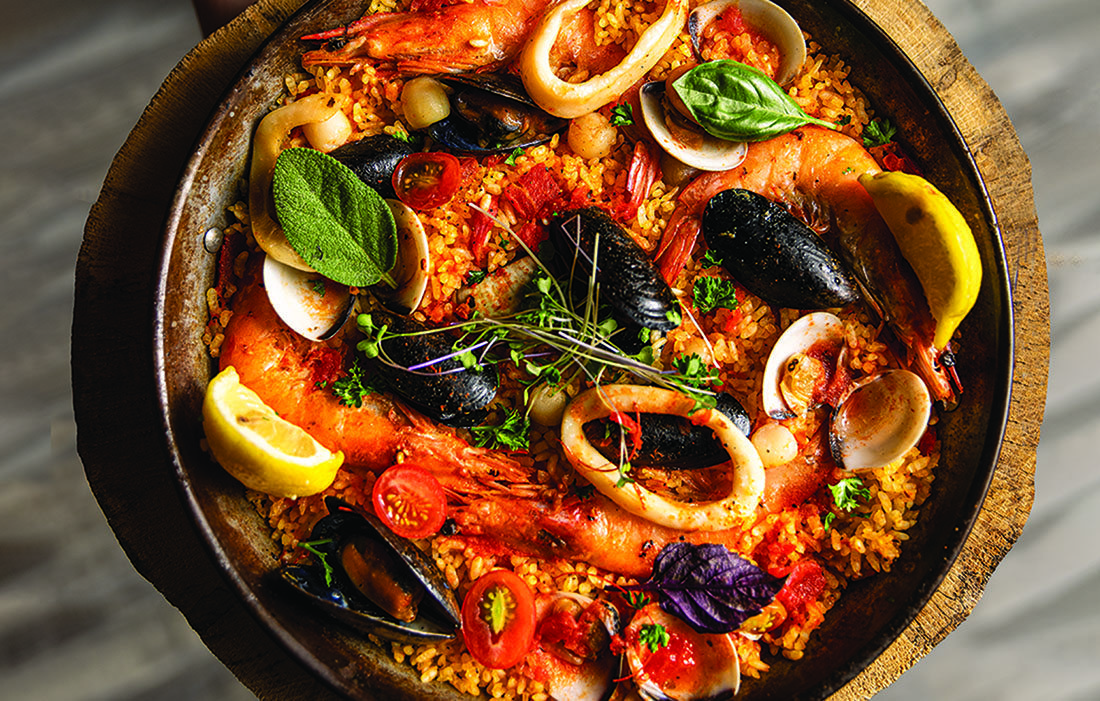 The menu at 65 Tapas is extensive, with Spanish-style offerings like empanadas, grilled octopus, poached shrimp and lamb lollipops. The sides alone are enough to intrigue, with dishes like Manchego Cauliflower with Kale Salsa Verde and Poblano Creamed Corn Casserole with Truffle Oil. Just the idea of trying these options gives me something to look forward to.
The space is adorned with colorful art and pendant lighting and despite sitting by a window, it was dark enough that I needed to utilize the "old people" trick of lighting the menu with my phone. And speaking of, the menu is a delicious read but the font on some of it is downright microscopic. Bring your readers.
Our window looked out on the wrap-around patio that would make for a fun dining experience when the weather is nice. Cushy outdoor sofas and chairs are tucked between brick pillars which helps separate parties and add to the air of intimacy. Next trip I'll aim for a patio spot and set my sights on other parts of Angel Kim's creative menu. There's plenty to look forward to.