Reviews
Our Review of Señor Julian Mexican Bar & Grill
A family with a rich restaurant history and has opened Señor Julian, a Mexican restaurant bursting with color and flavor.
By Katie Pollock Estes
Mar 2023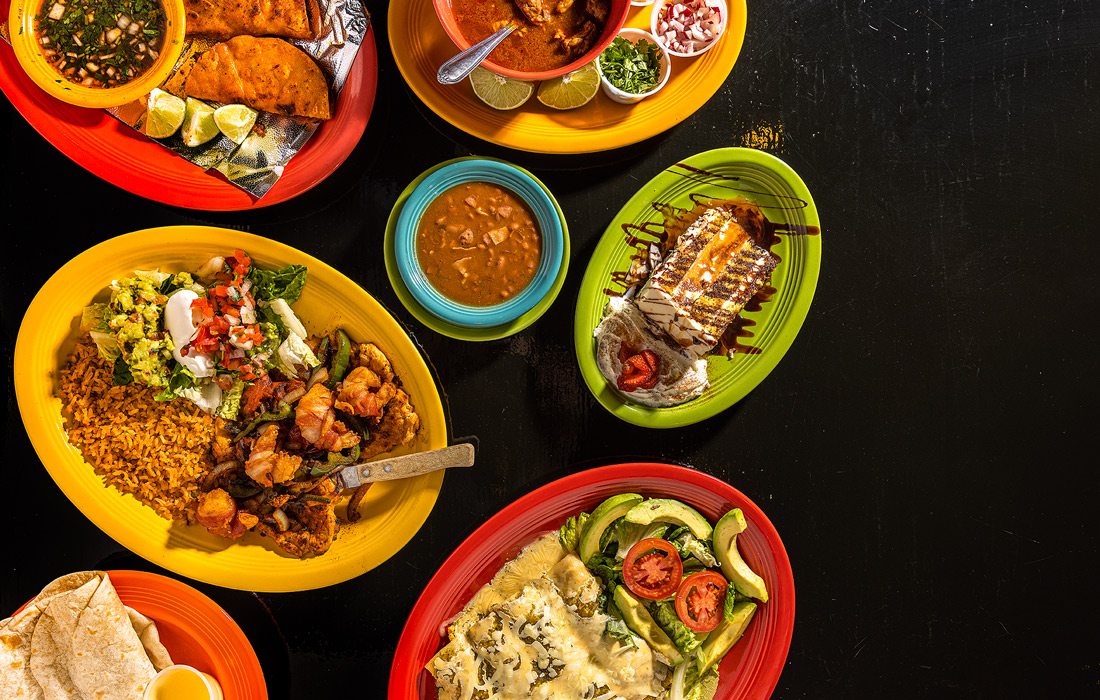 Springfield's newest Mexican restaurant, Señor Julian Mexican Bar & Grill, sits in a teensy little storefront in a short shopping strip at Battlefield and Highway 65. But once you step inside, especially if it's a Friday or Saturday night, you'll find that the spot is bustling and packed to the gills. Servers zip around with orders, diners chat at their tables, and the brightly colored walls are covered in bold paintings by Springfield artist Jorge Ortiz of alebrijes, or Mexican spirit animals.
Señor Julian is owned by three siblings—Nelson Villela, Brenda Villela and Edson Villela—along with their mom, Guille, and their dad, the restaurant's namesake Julian. I loved sitting down to chat with the siblings before the restaurant opened because their excitement was contagious. They told me about their family members' long careers in Mexican restaurants and the unique flavors of Northern Mexico that they were bringing to Señor Julian's menu.
As they told me about their menu, they mentioned traditional pozole and menudo soups and fun new items like the fajita baked potato. Then they mentioned their freshly pressed-by-hand homemade flour tortillas that are made to order, and my brain had a record-screech moment. I am telling you, I love-love-love a freshly pressed tortilla.
So on my first visit to Señor Julian, that was the first thing I ordered. The side of tortillas came out piping hot, pouring steam, dreamily soft and so very delicious. Our server gave us some butter to spread on the tortillas, and I dunked them in the house salsa too. Then I filled one with some bites of my entree, the pollo camaron that featured a grilled chicken breast, fajita veggies and bacon-wrapped shrimp. Stuffed with ingredients or munched on alone as a snack, these homemade tortillas are to-die-for.
On another visit to Señor Julian with my husband and kids, I ordered the quesabirria tacos to try something a little different. The tiny little corn tortillas were stuffed with birria and cheese before being dipped in chili oil and cooked on the grilltop until the cheese is ooey-gooey and the tortillas have a crisp bite. The tacos alone were so flavorful, and the meat inside was juicy and tender. But they are made even better thanks to the little bowl of warm birria juice that's served on the side for dipping. I ate each one with a squirt of lime and a dunk into the sauce, and it was delish.
My husband, Eli, ordered the enchiladas suizas, filled with grilled chicken and queso sauce and topped with salsa verde and cheese. Although I didn't get a chance to try a bite of these, Eli told me they were excellent. And he ate every last crumb, so I know he meant it.
Alongside our meals, Eli and I both had margaritas. I ordered the spicy margarita, while Eli opted for the sangria margarita. He found his to be a little too sweet, but mine was perfect. The margarita base was zhuzhed up with pepper liqueur, fresh jalapeño slices, a spicy Tajín rim and a drizzle of chamoy. The jalapeño slices were my favorite part, adding just the right amount of mild heat to each sip.
We visited on a Friday night, so I didn't get a chance to try a bowl of Señor Julian's pozole soup. Made with red chili broth, pork and hominy, this special soup is only served on the weekends. Same goes for the authentic menudo soup. But if soup's your thing, you can still get chicken tortilla and seven mares seafood soup any day of the week. As for me, I am just dreaming about the pozole. So I plan to return on a Saturday next time because that luscious pozole and the tres leches cake are both calling my name. And  you know I'll be ordering more fresh tortillas too.