Reviews
Dine on Nostalgia at Retro Metro
We sent a 417 newbie to try Retro Metro. Here's what she learned as she revisited fond Metropolitan Grill memories at the new nostalgia-driven restaurant.
By Megan Dollar
Feb 2021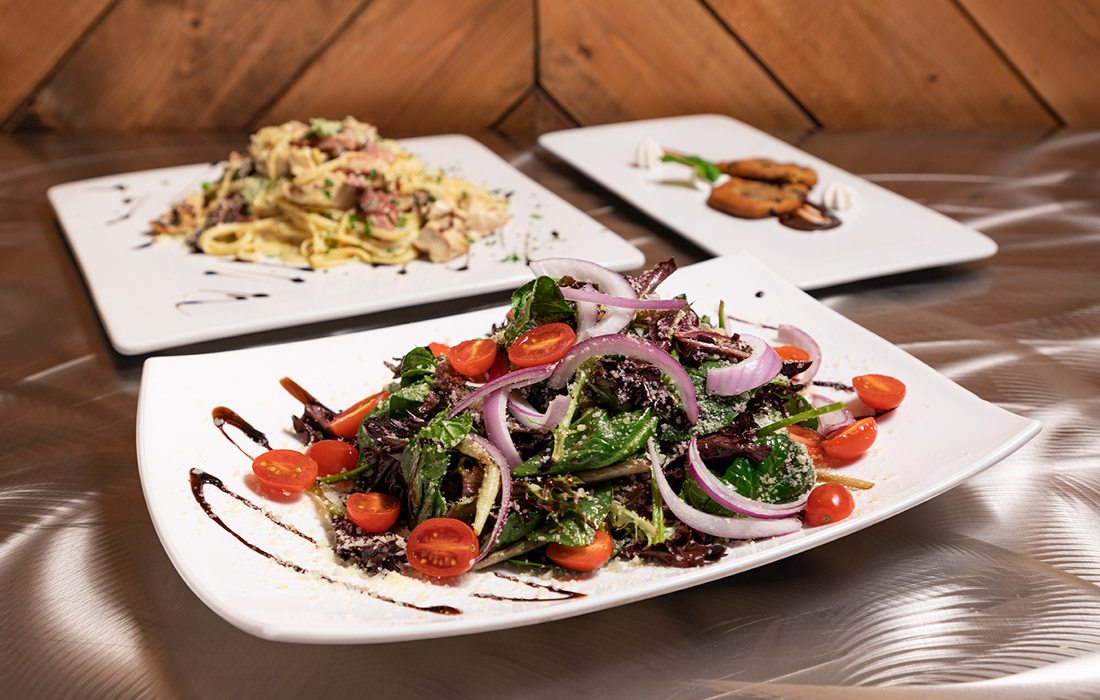 Metropolitan Grill is part of my childhood. Growing up, the restaurant was one of my family's go-to spots for special occasions. Many birthdays and Christmas Eves were spent munching on flash-fried spinach and savoring new cuts of meat. For this reason, Metropolitan Grill, to me, has always been a place of the most joyful nostalgia. Now on Springfield's southwest side, Metropolitan Grill owner Pat Duran has managed to package that feeling up in a little place he's dubbed "Retro Metro," (2150 W. Republic Road, Springfield, 417-720-1708) and I visited the spot to re-experience all of those fond feelings and delicious dishes, and to see what I can learn as I revisit as an adult.
It wouldn't be honest of me to say I took my mom with me to Retro Metro to keep that feeling of nostalgia alive. I take my mom with me to almost every place I try or review: I trust her opinion! We ventured out to the spot on West Republic Road one Saturday night and enjoyed a delightful evening together, recalling memories of holidays' past.
Before I ever saw the space, I spoke to Duran over the phone about the new restaurant, which he described as feeling like the old Metropolitan Grill. He was right: All of the décor I remember from the spot on West Battlefield surrounded me as soon as I walked through the door. It was like stepping back in time. That is the concept of Retro Metro: a throwback experience where you can enjoy all the greatest hits of Metropolitan Grill's past. On the menu, each item is marked by the date of its debut. It's like reading a wine label: "Coco Pasta. Nov. 1994." That linguine in garlic cream dish is what I ordered.
The pasta was good but, for me, the show-stopper was actually the dinner salad with which I began my meal. The Casa salad from April 2005 is fairly simple. It's a spring mix topped with Parmesan, red onion and tomato, all of which were extremely fresh. But the dressing, oh the dressing, is a red wine and basil vinaigrette, and it was the best thing I ate all night. It was acidic yet creamy and full of herbaceous flavors.
The salad comes served with the world's softest dinner roll, too, which tastes absolutely dreamy when dipped in the extra side of dressing. Yes, the dressing is so good they serve the salad tossed in it and with an extra side because they already know you will want it. Even after our salads were gone, my mom and I sat there for at least five minutes repeating phrases such as, "That was so good."
Just as we boxed up the remains of our main courses to take home and felt quite satisfied in doing so, our waiter came back and surprised us with a treat. At Retro Metro, they finish each meal with a warm chocolate chip cookie. Even if you don't order dessert, you get dessert. The cookies were gooey and melty and really the perfect finish to a wonderful night.