Reviews
Our Review of The Garrison in Ozark, Missouri
The Garrison, the newest restaurant at Finley Farms, pulls off a Prohibition-era speakeasy theme infused with homages to local history—and some tasty fine dining to boot.
By Katie Pollock Estes
Sep 2022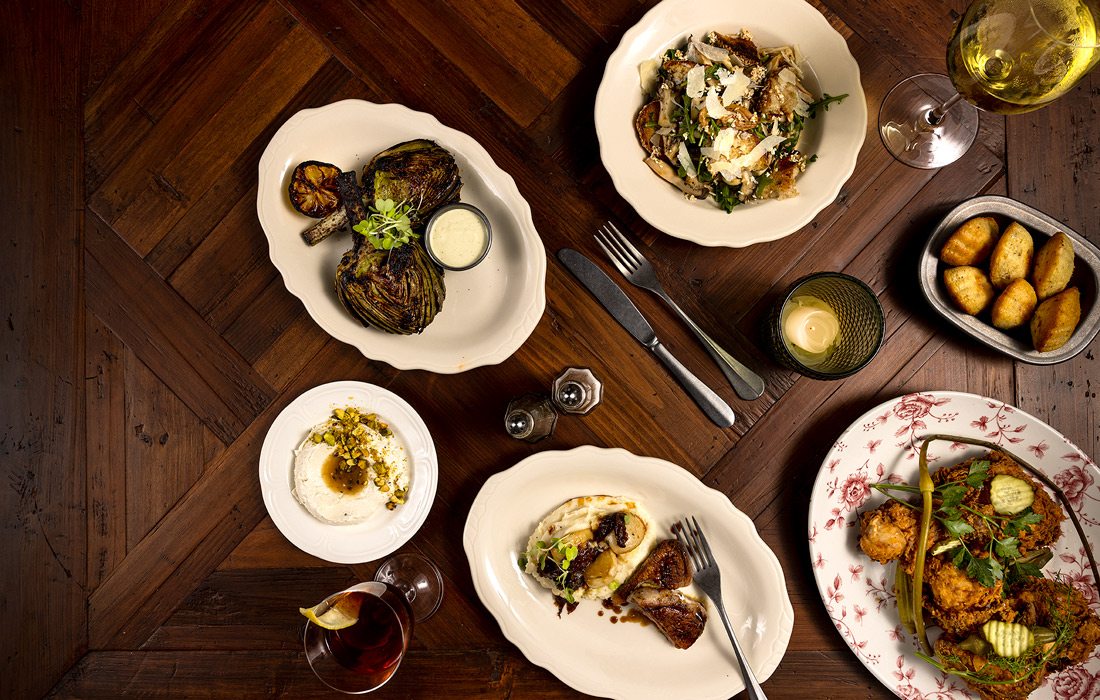 There are some restaurants you visit for the food, and others you visit for the experience. At The Garrison, the fine-dining restaurant located under The Ozark Mill at Finley Farms, guests are plunged into the experience from the moment they walk in. 
After the upstairs host whispered the evening's password to me and my husband, Eli, we walked down a side staircase, through a dark tunnel and then into a dim and moody dining room filled with comfortable leather seating and dark wood everywhere that's accented with a mix of taxidermy and original paintings by Howard Garrison. It's an absolute vibe, and The Garrison commits to it.
After settling in and peeking at the menu with a little pen flashlight, we switched our focus from atmosphere to food. We started with the Whipped Goat Cheese and Grilled Artichoke small plates. The artichoke was tasty, with its charred edges and green chili aioli for dipping, but it was the goat cheese that really won us over. It's topped with black pepper honey and served with fluffy pistachio madeleines that were such a fun alternative to the crostini and other bready vehicles you'd expect with a dish like this. They were sweet, savory and played well with the creamy cheese. And, bonus, they were so cute.
Next up was our favorite dish of the night: The Forest Panzanella. It contained so many of my favorite ingredients (a variety of mushrooms, fresh arugula, sesame), and they tasted beautiful together. The mushrooms were perfectly cooked, the sesame in the sourdough added little punches of nutty flavor, the arugula was fragrant and spicy, and the umami aioli tied it all together. When we'd finished the dish, I found myself pining for one more bite.
For our last small plate, we waffled between Duck Breast (served with duck fat whipped potatoes) and Sea Scallops, but ultimately the scallops won. They were nicely seared and buttery-tender, with a hit of texture from crispy disks of pancetta.
Next we ordered one of the "for the table" dishes to share: Riverside Fried Chicken. I love the fact that The Garrison is honoring local history by serving fried chicken and naming it after the Ozarks longtime favorite. But although the meat was so juicy, the chicken lacked flavor and seasoning and was not a hit for us.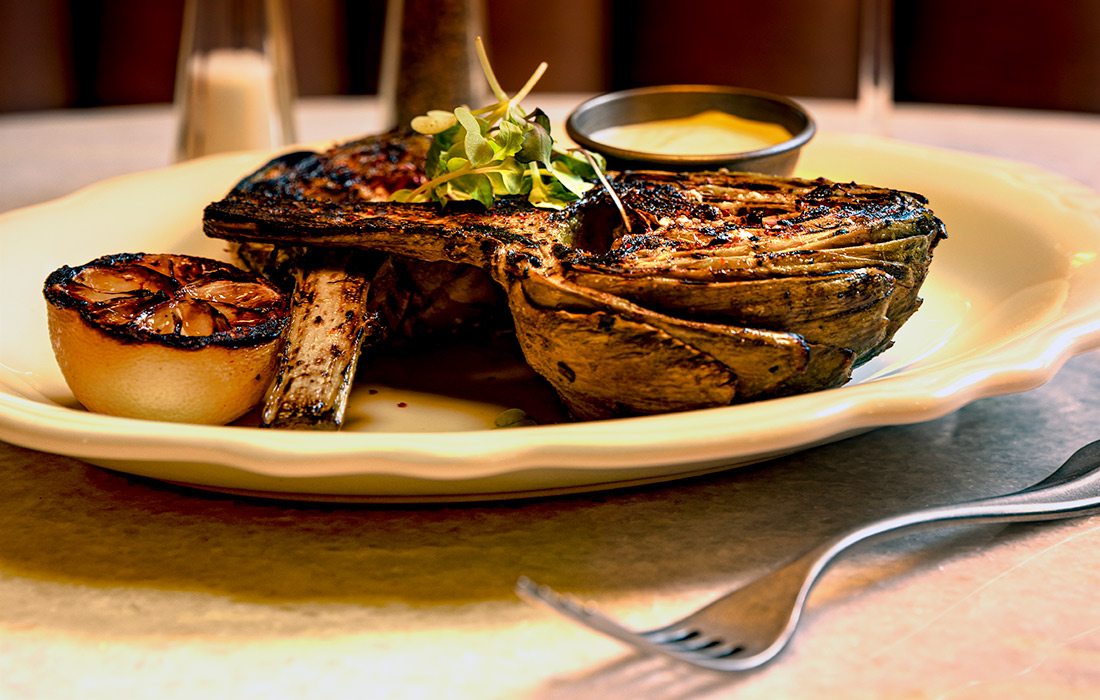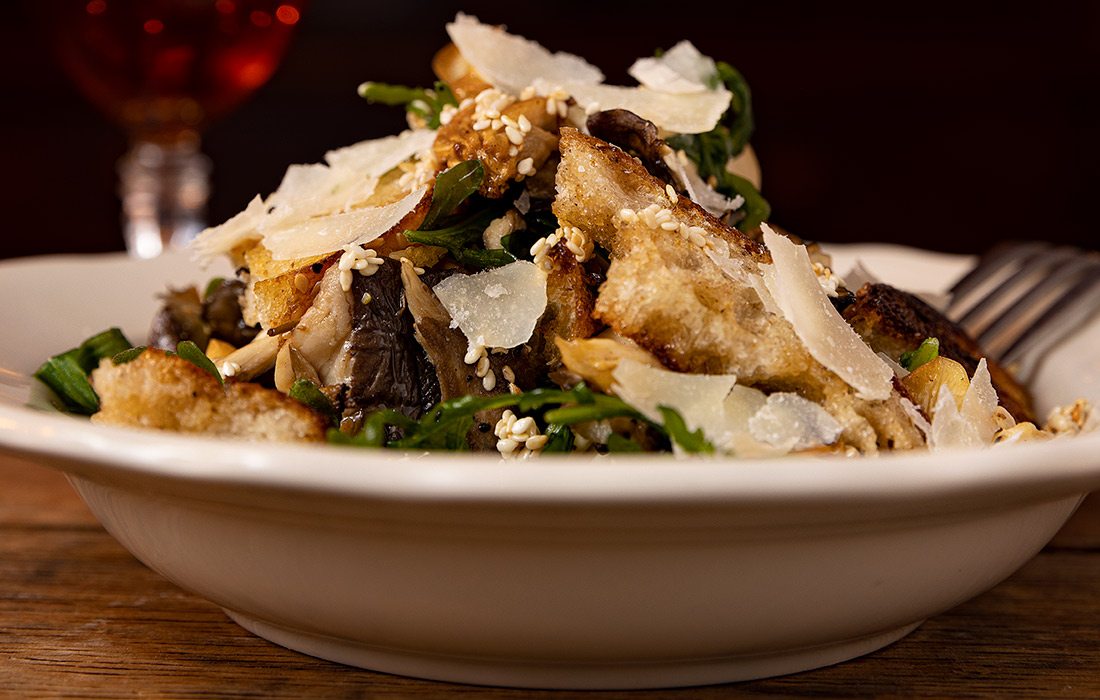 Dessert on the other hand—holy moly. We are obsessed with the Rosemary Pound Cake. It's warmed on a griddle with brown butter, adding a rich, nutty flavor and caramelized, crispy edges. The cake itself was a delight, and we loved the addition of a savory herb to that rich, dense dessert. Plus, the lemon-chamomile ice cream on top was a lovely touch. Herbaceous and sweet, it melted into the warm cake, making every bite moist and decadent.
Of course, we also had to try a few drinks from The Garrison's cocktail menu (which features mill history alongside the drink descriptions). First, Eli ordered a glass of The Runner Stone. It's a burns-on-the-way-down cocktail with a base of candied pecan–infused bourbon. Although it was too much for my whiskey-averse palate, Eli enjoyed every single sip of it.
We both loved The Turbine, a savory-tart concoction of guajillo- and sesame-infused tequila, aloe, passion fruit, Chamoy, agave and Tajin. With those ingredients we expected it to be a bit spicy, but it wasn't at all. That was okay though; we loved its surprising flavor all the same.
But the cocktail I know I'll go back to again and again is The Millpond, a bright and refreshing blend of pisco acholado, lime, simple syrup, cucumber, basil, nasturtium and starflower. It's light, a little sour and just a touch floral—a wonderful complement to everything we ate. 
For our next visit down the rabbit hole, I can see myself sipping one of those on the expansive riverside patio with a Forest Panzanella in front of me.