Reviews
A Seafood Focused Review of Vantage
The raw bar at Vantage Rooftop Lounge & Conservatory offers super-fresh oysters, crab and more—with a bird's eye view of Springfield.
By Katie Pollock Estes
Dec 2022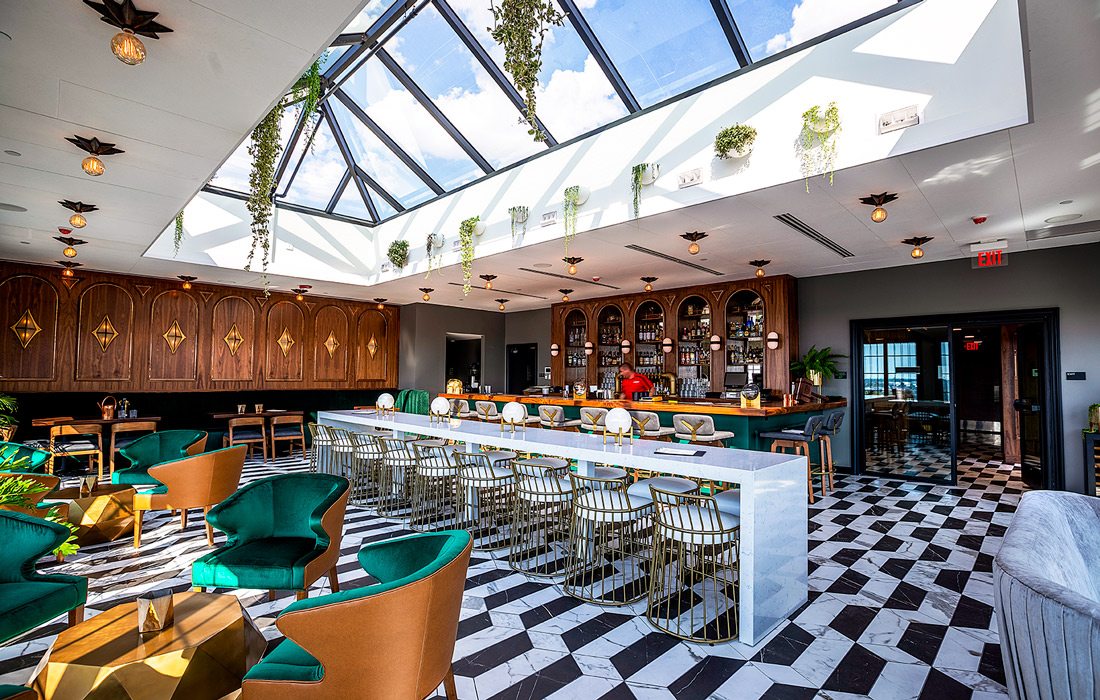 It's always a luxe experience visiting Vantage Rooftop Lounge & Conservatory, the bar located on the top floor of Hotel Vandivort's sister building, V2. You know you'll be treated to a gorgeous modern take on art deco vibes if you stay indoors. And you know if you go outside, you'll get to watch a sunset over Downtown Springfield. All of that, with tasty eats (like our favorite, shareable charcuterie) and seasonal drinks in hand.
Now, the bar has luxed-up its dining game too by adding a raw bar featuring a small but mighty menu of shellfish, all artfully prepared, beautifully served and delivered fresh from the coasts throughout the week. Their main deliveries arrive on Tuesday and Friday, so the restaurant has the freshest possible seafood to start the week and the weekend.
On a recent visit, everything on the raw bar sounded delish, so I ordered a mix and tried a few of the dishes. First up, the scallop ceviche. It was my favorite part of the raw bar. The scallops, sliced into super-thin disks, were fresh and sweet and buttery tender. And although I love the almost overwhelmingly acidic punch of most ceviches I've tried, this one was significantly more subtle, allowing the flavors of the microgreens, cilantro and thinly sliced watermelon radish to stand out and complement the scallops.
The best component, though (well… besides the scallops), was the thinly sliced and spicy Fresno chili peppers. There were only a handful of them throughout the dish, so most bites were mild. But every so often I'd get a bite with a bit of pepper in it, and the hit of spice was a fun addition that added a little variety and surprise—but kept the dish nice and bright.
My second favorite item was the pickled cocktail shrimp. Big, tender shrimp were simply accented with some fresh herbs and onions and served with house-made cocktail sauce. I loved that every bite felt fresh and snappy—with a bold vinegar tang that just brightened everything up.
And of course, what is a raw bar meal without oysters? The raw oysters here are served with lemon slices, hot sauce and homemade cocktail sauce on the side. My favorite way to eat them was with just a hefty squirt of lemon juice for a super-simple bite. The oysters were delicious and tasted like the ocean in the best possible way—without any fishy funk. And that squirt of lemon (or punch of hot sauce if that's more your thing) just adds a little brightness. So delicious.
The thing about all of these dishes was that the seafood was just lovely. The scallops and shrimp were both huge, fresh and expertly  prepared. They were perfectly tender with that just-barely-sweet taste that makes shellfish one of my very favorite foods. All of the shellfish I ate, in fact, had that lovely clean flavor that reminds me of lazy days on the coast. I could have eaten the scallops and shrimp with no other ingredients at all, and they would have been delightful. But in fact, every ingredient thoughtfully added to both these dishes enhanced the seafood perfectly.
Vantage has a handful of other small plates on the menu as well, in case a raw bar isn't your thing—like the shareable Vantage Board with nuts, fruit and olives, or the pork rillette tartine on country bread with pickled onions and herbs. Although I didn't taste the duck paté when I was at Vantage, our art team got a chance to try it when they shot the dishes for this feature. It was universally raved about and a clear favorite.
On my visit, Vantage was out of the snow crab legs served with umami butter. I was so disappointed! It was one of the items I was most excited to try. But I guess this just means I'm due for another trip to Vantage to give the crab legs and the ever-changing daily crudo a try. Honestly, I cannot wait.