Reviews
Live Jazz, Libations and a Southern-Inspired Menu at The Hepcat
A warm, mellow atmosphere, swinging live music and a Southern-inspired menu loaded with comfort food make The Hepcat in downtown a place you'll want to stay awhile
By Claire Porter
Feb 2020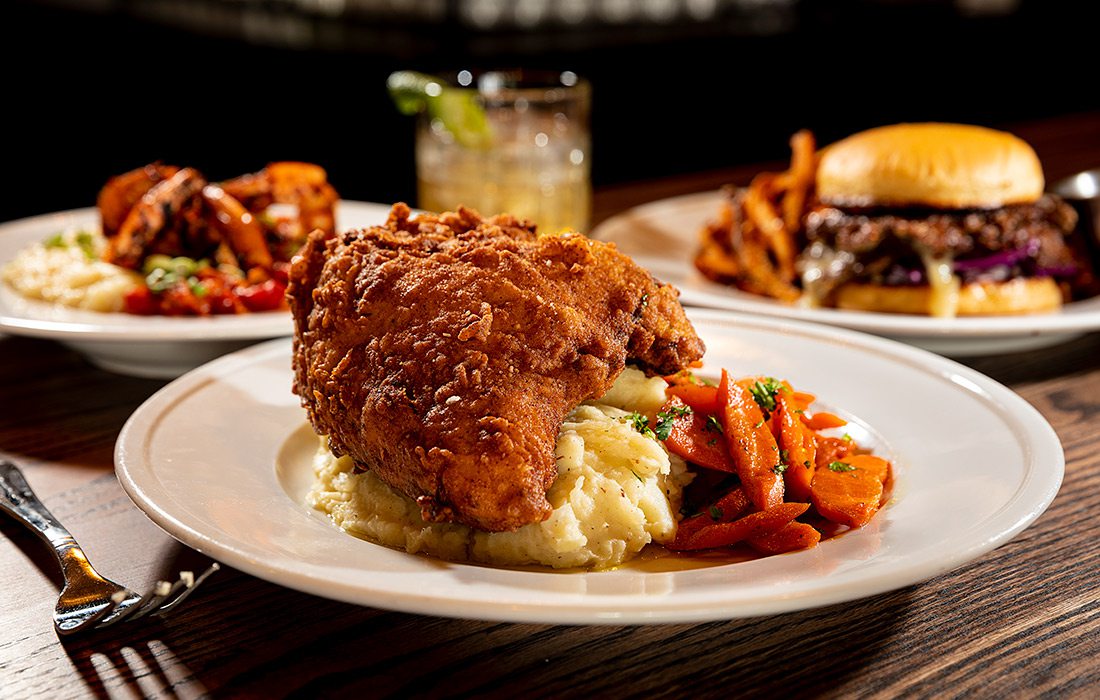 If you haunt your way through Springfield's bars enough, you'll uncover each one's distinct personality. Some places are perfect for tossing a few bean bags with your neighborhood crew; others entice you to surf the night away with a taste of an endless tropical summer and still others invite you to soak in the skyline with your head in the clouds and a fizzy drink in hand. But until recently, there wasn't a cozy, laid-back place to get a great meal and take in live music without cover charges and rowdy crowds. Until The Hepcat opened, that is.
The Hepcat is a jazz bar at the corner of McDaniel Street and Campbell Avenue, featuring live music most nights—always sans cover—from local jazz acts like the Brant Jester Trio and MOJO Lite in a soaring space. The warm, mellow atmosphere ushers in a more seasoned demographic than some of downtown's rowdier college bars, leading to a relaxing experience as you bob your head to the melodies and nurse a cocktail off the seasonally shifting specialty drink menu or from the vast selection of house cocktails.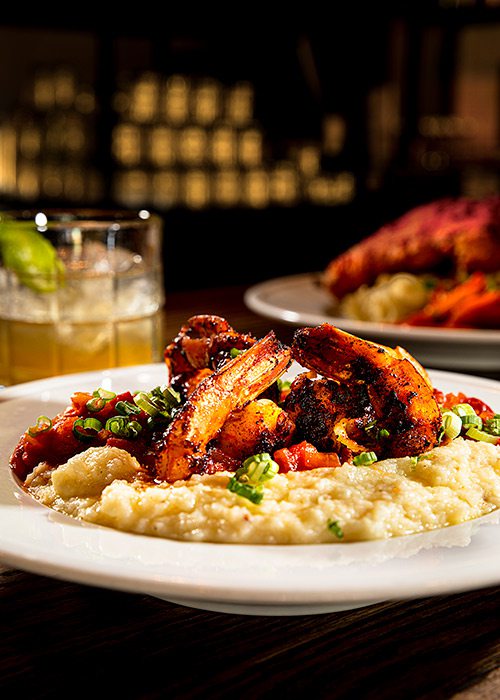 Grits just like grandma made 'em are made even more enticing with a topping of hefty shrimp and tomato-bacon gravy.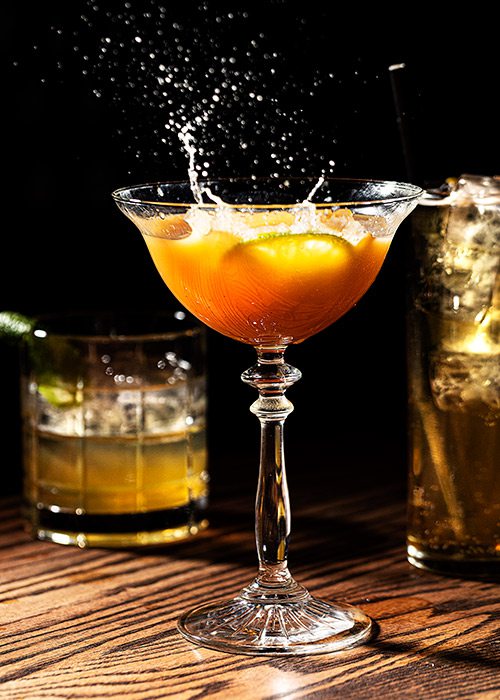 The house-made daiquiri at The Hepcat is just one of the boozy cocktails jazz enthusiasts can enjoy as they imbibe to live music.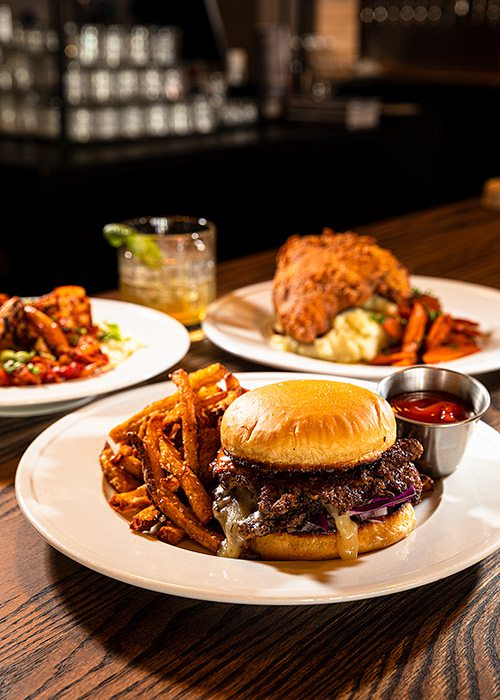 The house burger is a gooey delight with white cheddar cheese and house-made burger sauce.
Photos by Brandon Alms
Even if you aren't keen on jazz, The Hepcat is worth a visit for its late-night kitchen alone, serving Southern-inspired comfort foods as long as the bar is open. (Yes, you can get a full meal past 10 p.m. Dreams really do come true.) The dishes change each season, with the latest winter menu debuting just as this issue goes to print. Produce that's at its peak finds its way into seasonal plates, like the tender beets filling the entirely vegan pierogis, or the hearty root vegetables tucked within the shepherd's pie, both from the fall menu.
"Even if you aren't keen on jazz, The Hepcat is worth a visit for its late-night kitchen alone, serving Southern-inspired comfort foods as long as the bar is open."
Look for touches of Southern soul foods like collard greens and cornbread popping up in dishes. Other entrees lean fully into their comfort-food status: The shrimp and grits pairs plump shrimp with creamy white cheddar grits and a tomato-bacon gravy, and the smoked fried chicken delivers a juicy interior encased in a fried skin so crispy it crackles, leaving a hint of smokiness as you dive into the super-smooth mashed potatoes beneath.
Always keeping in mind that this is still a bar and, if you're ordering food at midnight, sometimes a fork-and-knife entree isn't really in the books for you, chef Dustin Fox also offers classic late-night bites in the form of fries and burgers—including a Jake's Vegan Burger. Griddled smashed patties are covered in white cheddar and a kicky burger sauce then topped with crunchy cabbage and red onion, perfect for soaking up the night's libations.
With its relaxed, inviting atmosphere, comfort food that lives up to the moniker and tunes to float you through the evening, The Hepcat brings its own distinct personality to the varied personas making up downtown's bar scene. Hepcat, it's a pleasure to meet you.


While You're at The Hepcat
Live Jazz
Live jazz acts grace The Hepcat's stage on Tuesdays, Wednesdays, Fridays and Saturdays. Look for performances from bands like the Brant Jester Trio, MOJO Lite and the OMNIBUS Sessions.
Balcony Seating
Take in all the action from above by snagging a seat at the countertop running along the upstairs balcony that affords a great view of the stage below.
Sunday Brunch
Because even night owls need morning fuel, The Hepcat serves brunch on Sunday from 11 a.m.–4 p.m. The menu includes hearty, savory sandwiches, burgers and entrees to banish your hangover, plus lunchy salads and traditional breakfast fare.