Spaces
Give Your Home a High-Tech Makeover
With products like Google Home and Amazon's Echo growing in popularity, more 417-landers are looking to give their homes a high-tech makeover. We spoke with the pros from SCS Home Entertainment, Atlas Security and 3D Smart Homes to find out how to start.
Written by Stephanie Towne Benoit | Photo Courtesy Shutterstock
Apr 2017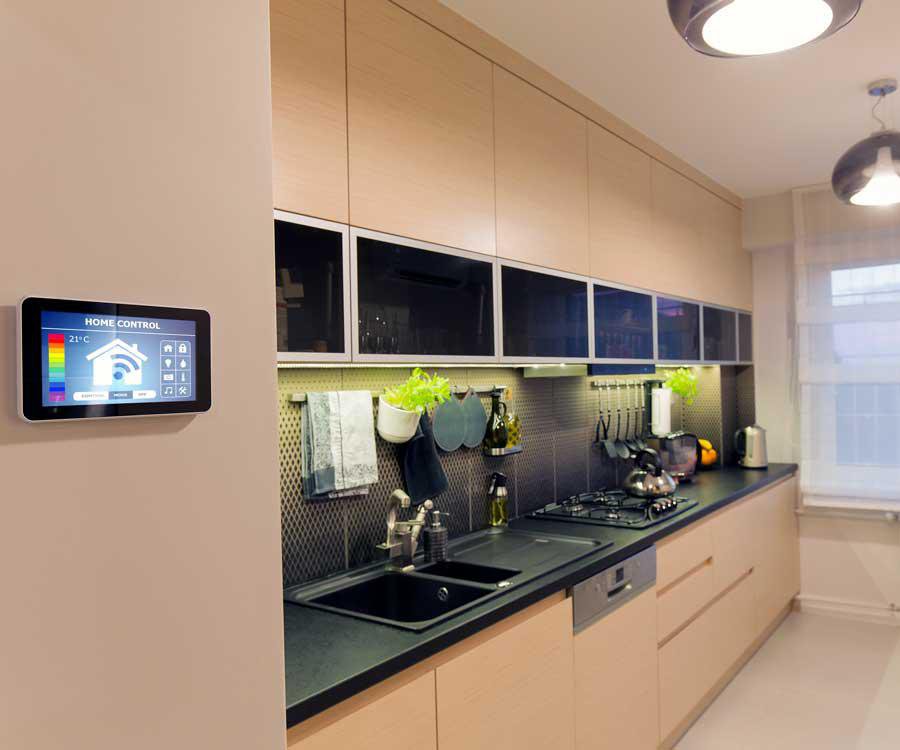 So you're at the office and get a call from a repairman who needs to be let inside your house. Later that day, you realize you left the garage door open but don't have time to go close it. That night, you're out running errands but want to make sure the porch lights are on when your kids come home.
Thanks to today's smart home and home automation technologies, situations like these and countless others can be prevented by programming certain functions in advance or can be solved wherever you are by simply opening an app on your phone. But with so many products on the market, homeowners might not know where to start, says Mark Cloninger, SCS Home Entertainment sales manager, who specializes in custom smart-home installation projects. "Most people don't have a good grasp on what they can do," he says. "They just know that this technology is out there and they are curious about it." 
The good news is that, with some insider tips and insights, finding smart-home bliss is achievable. To start, visit with an expert to evaluate what features would benefit your lifestyle, such as climate control, security systems, home entertainment and infinite others. "It's always wise to at least consult with someone that sells these devices and just kind of see what's out there and how it can integrate and benefit [you], because at the end of the day you want to get the most benefit out of having these devices," says Randy Crews, brand manager of Atlas Security, which can integrate home automation features into its security system.  
Although slick devices like Google Home and Amazon's Echo capture homeowners' interest,
Cloninger notes that you must have a "pretty tricked-out smart home" before they are relevant beyond telling users the weather and playing music. "Alexa [Amazon's voice-activated assistant] on its own is kind of fun and cool, and with smart home design we can do some fun stuff with it, too," he says.
To "trick out" your home, you need the right network-connected hardware. For example, alarm systems, door locks, light switches and much more can connect to your home network, be customized to turn on and off at certain intervals, communicate with devices like Google Home and be managed through smartphone apps. "There is a whole slew of products—there's really hundreds of networking products for throughout the house," Cloninger says. Another requirement is often overlooked, says 3D Smart Homes Lead Programmer Jason Eckstein. "Wi-Fi, Wi-Fi, Wi-Fi," he says. "You have to have a good network because these devices talk wirelessly."
If you're starting from square one or want to take your smart set-up to the next level, Cloninger and Eckstein recommend considering home automation systems such as Control4, Crestron and Savant, which utilize in-home computer processors—what Eckstein calls "the main brain" of the smart home—to communicate with and manage devices. 
Many of these systems also offer their own smartphone apps, allowing homeowners to manage their entire system and each device connected to it in one place. For example, you could adjust the thermostat, the speaker system and the lights down the hall without opening multiple apps, let alone leaving the couch. "That's the difference between having smart devices and having a smart home," Eckstein says.