Style
Lines We Love: Jason Crowe Socks
Jason Crowe is "the sock guy" at work. Explore his pattern-perfect, men's and women's, business professional sock line, made for the stand-out types, the buy-it-locally shoppers and those who love a good story.
By Rebekah Olson
Apr 2018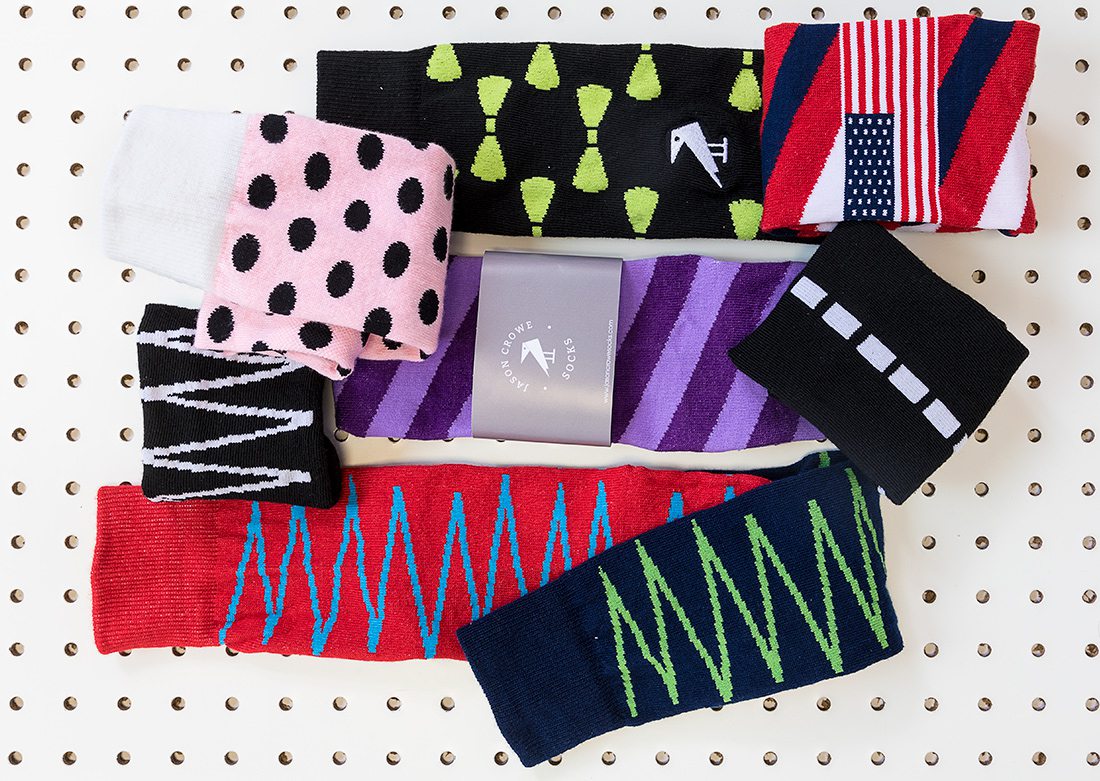 By day, Jason Crowe works full-time as the Human Resources Director of Talent Acquisition and Employee Relations at O'Reilly Auto Parts. By night, he's the Chief Sock Officer for Jason Crowe Socks, a side business Jason founded in 2016. 

The whole thing started with a single sock: Pops Red and Blue, inspired by and designed to honor Jason's late father, "Pops," and his mother. "The project turned out to be exactly what [Jason] needed during the grieving process, a way to think about his dad and honor his memory," says Jennifer Crowe, Jason's wife, who tackles shipping, financials and operations for the business. 

It's not the only design with a story. Brave, a light-pink sock adorned with black dots, is the brand's cancer-awareness sock. And Epic, a classic purple, lilac and white-striped sock, was designed with the help of his two daughters, Hanna Grace and Jayden Love. "I've always been fascinated by brands, what they mean and what they stand for," Jason says. "It's why every sock has a title and a story behind it."

The Jason Crowe product line currently includes seven business professional socks and one athletic sock, all ultra-comfortable and made in the United States from spandex, polyester and nylon "to help wick away sweat," Jason says. 
Jason also designs custom employee- and customer-appreciation socks for other local businesses. And, he's dreaming up a new design "with a summer flair," coming soon to 417-land.

For Jason and his family, faith has played a huge part in their sock-cess. "Our biggest dream would be that if [the business] did take off, it could be a vessel to give back," Jason says. In the meantime, it's a passion and a creative outlet, a conversation starter and a way to have fun, "one sock at a time."
You can't buy Jason Crowe Socks in stores—yet. But, you can buy them online. Use the coupon code "417mag" for 30 percent off your first cart purchase. This coupon is valid through the end of the year and includes free shipping anywhere in the United States.