Dishes
Float Trip Jalapeños at Local Groceries
Plus six other things that passed the test of our taste buds.
By The Editors
Aug 2013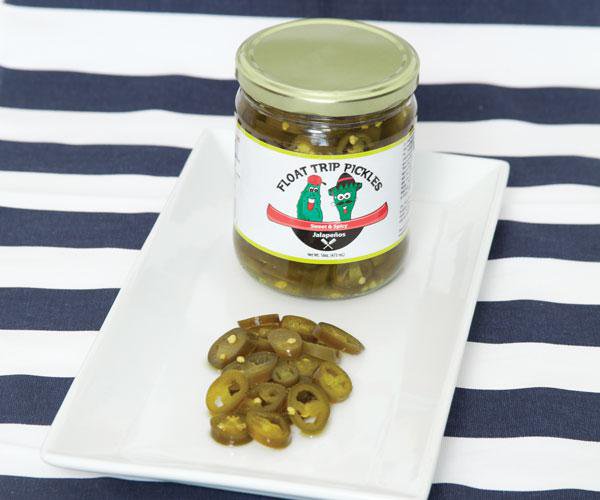 1. In the heat of summer, we just can't get enough Float Trip Jalapeños (available at Harter House, Price Cutter and other local groceries). Like the original Float Trip Pickles, these jalapeños are a delightful mix of spicy and sweet. You could put them on a burger. Or, like us, just eat them by the forkful.

2. The Mama Load smoothie at MaMa Jean's Natural Market (three Springfield locations; mamajeansmarket.com) is our new favorite liquid meal. It combines, well, everything: coconut water, strawberries, blueberries, mango, pineapple, bananas, cacao, maca, flax oil, bee pollen, spirulina, cinnamon, honey and sea salt.
3. The meatballs with risotto appetizer at Nicola's Ristorante (3631 E. Sunshine St., Springfield, 417-886-3700) is plenty of food to share. Or you could do what we do: Make it your meal and keep it all for yourself.
4. Eden Bakery Café (33 South Main St., Webb City, 417-812-6400) is a favorite new discovery, and we can't get enough of their amazing cream of cauliflower soup. 
5. We're a bunch of suckers for homemade chips, and we love the ones at Outback Pub (1914 W. 76 Country Blvd., Branson, 417-334-6306). They have the perfect crunch.
6. When we're in the mood for a whole bunch of veggies with some Thai flair, we always head to Thai Peppers (1411 E. Sunshine St., Springfield, 417-882-1979) to order the Spicy String Bean entree. It comes with tender pork loin that's cooked with tons of fresh green beans plus some zucchini and onion for good measure. The sauce is barely spicy and rich without being heavy.
7. The Holey Moley cupcake from The Cup (325 E. Walnut St., Springfield, 417-865-2287) comes topped with a donut hole. Need we say more?